The Today Show Hosts Go Back In Time For Their Super Bowl 2022 Commercial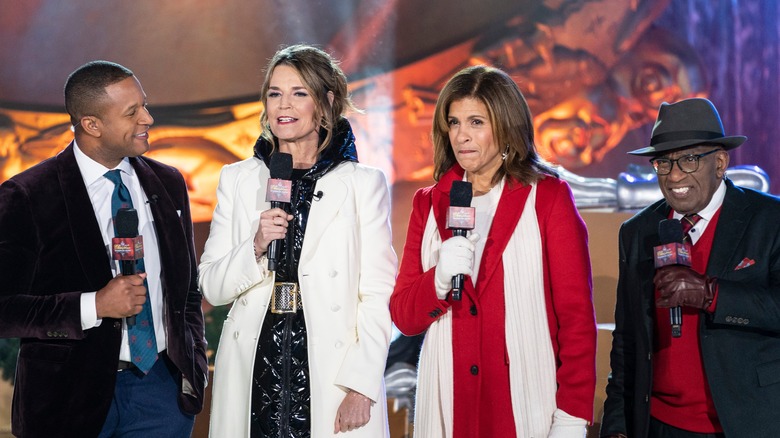 lev radin/Shutterstock
The hosts of "The Today Show" travel through time in a She Can STEM ad that, according to People, will be seen before Sunday's Super Bowl game between the Los Angeles Rams and the Cincinnati Bengals. The campaign helps inspire "girls, non-binary youth, and trans youth" to explore the world of science, technology, engineering, and mathematics (STEM), which can "change the world."
To further promote the message, She Can STEM's official Super Bowl commercial that you can see on February 13 will feature some familiar faces — Savannah Guthrie, Hoda Kotb, Al Roker, Craig Melvin, and Carson Daly! The opening scene shows Kotb and Guthrie finishing up an interview with Karina Popovich of Makers for Change, Mitu Khandaker of Glow Up Games, and Tiffany Kelly of Curastory, who all work in STEM. Afterwards, Guthrie states, "I wish they had those kinds of cool careers for women when we were growing up."
The commercial shines a light on STEM careers
Her wish is granted, as "The Today Show" hosts are shown as their younger selves in a 1970s-style classroom, discussing what they want to be when they grow up. Savannah Guthrie asks, "If I say two jobs, do I get extra credit?" Other students offer up career options like a video game designer and a job in 3D printing, prompting Hoda Kotb, to say, "3D ... like those glasses we wear in the movies." Al Roker shares, "I want to be a meteor," and as he trails off, a fellow classmate helps him out: "You mean a meteorologist?"
The commercial also features those who are part of the AAAS IF/THEN ambassadors program, reports People. It uses women with careers in science, technology, engineering, and mathematics to act as role models for middle school-aged girls, shining a spotlight on the variety of jobs in STEM and the numerous ways STEM affects everyday life.