How Prince Charles' Second COVID-19 Diagnosis Is Affecting The Queen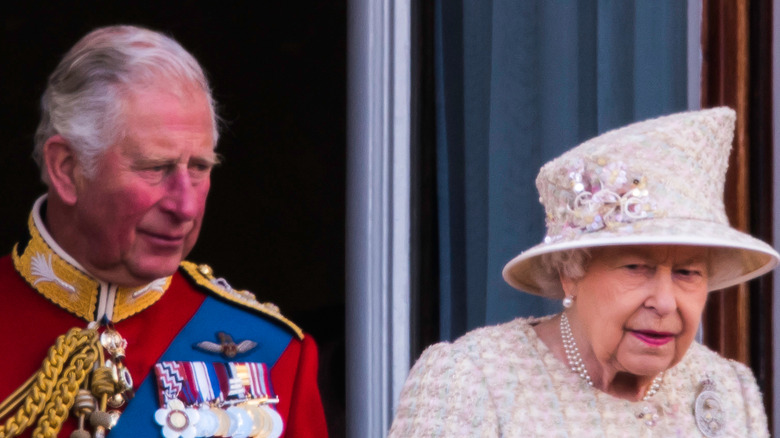 Karl Weller/Shutterstock
On Thursday, February 10, 2022, news broke that Prince Charles had tested positive for COVID-19 for the second time. In March 2020, when the pandemic first began, he was also diagnosed with COVID, but fared well with the virus and was grateful. "I was lucky in my case ... but I've had it, and I can so understand what other people have gone through," Charles told Sky News (via BBC). "I feel particularly for those who have lost their loved ones and have been unable to be with them at the time. That, to me, is the most ghastly thing."
When Charles and Camilla Parker Bowles' Twitter account announced the news of his second case of COVID, the tweet didn't reveal much information on the future king's condition. "This morning The Prince of Wales has tested positive for COVID-19 and is now self-isolating," the announcement read. "HRH is deeply disappointed not to be able to attend today's events in Winchester and will look to reschedule his visit as soon as possible."
In the days prior to his diagnosis, Charles seemed to be very busy attending different events, including on Wednesday night when he and Camilla attended a reception at the British Museum to honor the British Asian Trust, according to People. He also had a visit with his mother, 95-year-old Queen Elizabeth, at Windsor Castle.
The queen's health is being closely watched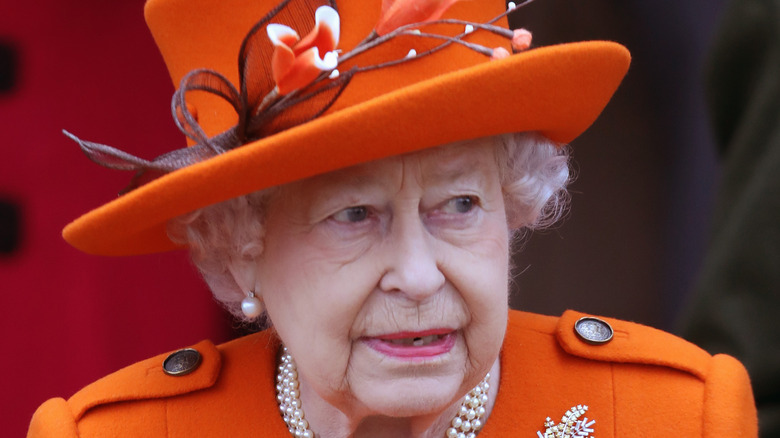 Chris Jackson/Getty Images
With Prince Charles being 73 years old and the queen being 95, both are at heightened risk for more severe illness from COVID-19, as the older you are, the more the virus can affect you. That is why People reports that Queen Elizabeth is being closely monitored but that she had no symptoms as of this writing. Queen Elizabeth had met with her son on Tuesday, two days before Charles tested positive. The queen has also had health issues over the last few months that resulted in one overnight hospital stay, the use of a walking stick, and two canceled planned trips — one to Ireland, and one to Glasgow, Scotland — for the COP-26 global climate summit.
While Buckingham Palace confirmed that the queen received her first shot of the COVID vaccine in January 2021, it has since released no more official information about her immunization status. However, there were reports that she received her second shot in April. In December, Charles and his wife, Camilla Parker Bowles, 74, both announced that they had received their booster shots, but there has been no word on whether the queen received hers. At the time, Charles and Camilla released a statement on the importance of boosters.
"We can only urge you to look at the evidence in our intensive care wards," they said in the statement. "People who are unvaccinated are at least 10 times more likely to be hospitalized or die than those who have had two vaccine doses ...That is why we urge everyone to get vaccinated and to take up the booster, as we have done ourselves" (via BBC).
A milestone week for Queen Elizabeth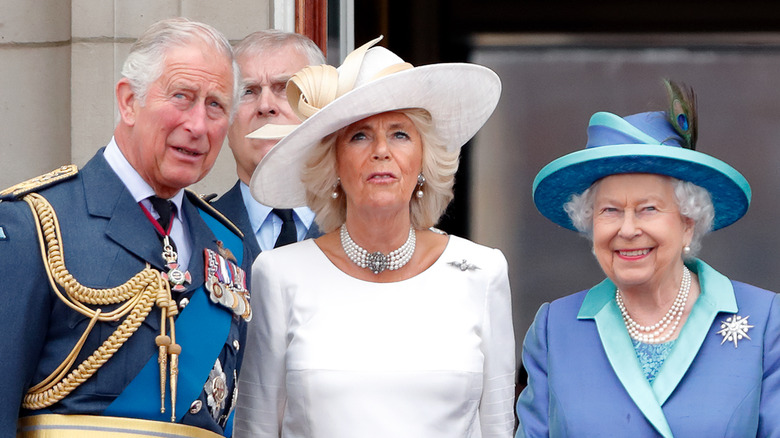 Max Mumby/indigo/Getty Images
Early February was a busy time for Britain's longest-reigning monarch, with Queen Elizabeth II celebrating 70 years on the throne on February 6. In a message to the British people, the queen announced that she would like that Prince Charles' second wife, Camilla Parker Bowles, also known as the Duchess of Cornwall, be called Queen Consort when Charles ascends to the throne after her death. This news surprised royal watchers and the world.
"I would like to express my thanks to you all for your support," the queen's message began. "I remain eternally grateful for, and humbled by, the loyalty and affection that you continue to give me. And when, in the fullness of time, my son Charles becomes King, I know you will give him and his wife Camilla the same support that you have given me; and it is my sincere wish that, when that time comes, Camilla will be known as Queen Consort as she continues her own loyal service."
When Camilla first married Charles in 2005, it was said that her title would be Princess Consort when her husband became king. After the queen's recent announcement, Camilla said she was both "honored" and "touched" by her mother-in-law's wishes (via The Independent). The Daily Mail reported that Charles' son Prince William was supportive of the move although he had no part in his grandmother's momentous decision. As of this writing, there has been no comment yet from William's younger brother, Prince Harry.