Kylie Jenner And Travis Scott Finally Reveal Their Son's Name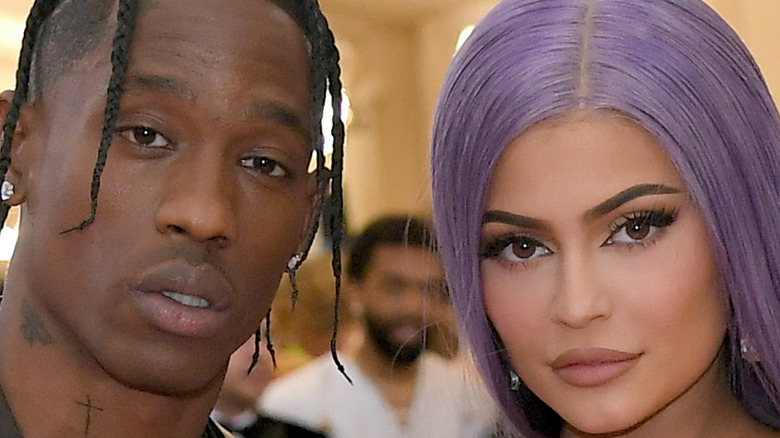 Neilson Barnard/Getty Images
After nine days of keeping the public waiting, Kylie Jenner and Travis Scott have finally revealed the name of their newborn baby boy. In a simple black and white post to her Instagram Stories, the "Keeping Up With the Kardashians" star wrote "Wolf Webster" with a heart emoji. 
It was a surprise to everyone who was expecting a very different announcement. Many people reacted to Jenner's birth announcement by referring to her "angel" — mom Kris Jenner called him "Angel Pie."  The birth also took place on "2/2/2022," a repeating-number combination known as an "angel number." All this led fans to think that the couple were naming their son Angel (via Daily Mail). A few speculated that Jenner had settled on Valentine, in honor of both the baby's February birth and her new Valentine's Collection makeup line.
Vogue tried to tease a baby name out of Jenner in a "73 Questions" video in September 2021, but she fended off the query by saying, "We need to find out the gender first, and we decided to wait." True to her word, the gender was kept secret until the very last minute. Fans thought sisters Kim Kardashian and Kendall Jenner might have let the truth slip when they were spotted shopping for girls' toys along with cribs and strollers, but as we know now, that was a red herring. Not even Jenner's photos of her baby shower helped; the color scheme was a decidedly neutral cream and green combination.
Many celebs like "wild" children's names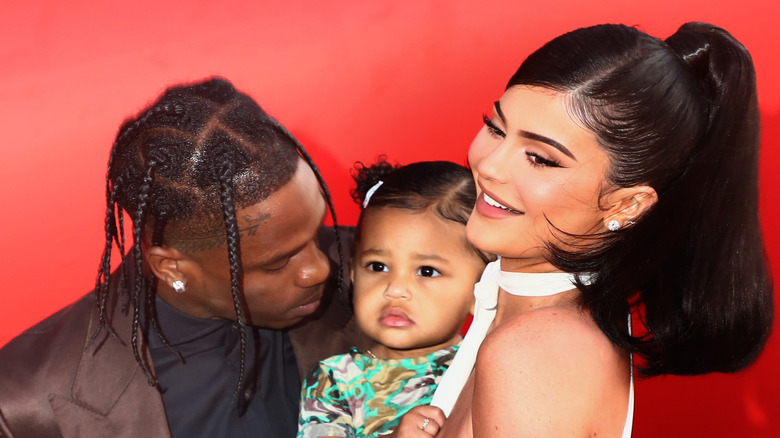 Tommaso Boddi/Getty Images
Wolf Webster's name matches well with that of his big sister, Stormi. Kylie Jenner once said in a YouTube video (via Us Weekly) that she was " looking on nature names, like weather-earth inspired" when she decided to combine the name "Storm" with her own feminine "ie" ending. It also fits with the Kardashian clan's penchant for standout names, though it's not quite as unique as Psalm and Chicago West. While Wolf isn't found on the Social Security Administration's top 200 baby names of the 2010s, it was the 218th most popular name on Nameberry last year. 
But Travis Scott and Jenner are hardly the first parents to look to the wild when deciding on baby names. Other famous folks who've done the same, per People, include Alicia Silverstone (Bear Blu), Amy Lee (Jack Lion), Kate Winslet (Bear Blaze), and Nicole Richie and Joel Madden (Sparrow James). They're not even the first celebs to choose Wolf; Zooey Deschanel has Charlie Wolf, Jason Momoa has Nakoa-Wolf, and Wolfgang "Wolf" Van Halen is the son of the late rocker Eddie. 
Interestingly, studies have shown that we choose baby names based on both their meaning and their sound. Names with lower vowel sounds, like Thomas and Alexander, are subconsciously associated with tallness and higher social rank, per Psychology Today. So, Wolf wins out in terms of both meaning and sound, and he has two famous parents making him one lucky boy all around.