Does Zendaya Wear Makeup On Euphoria?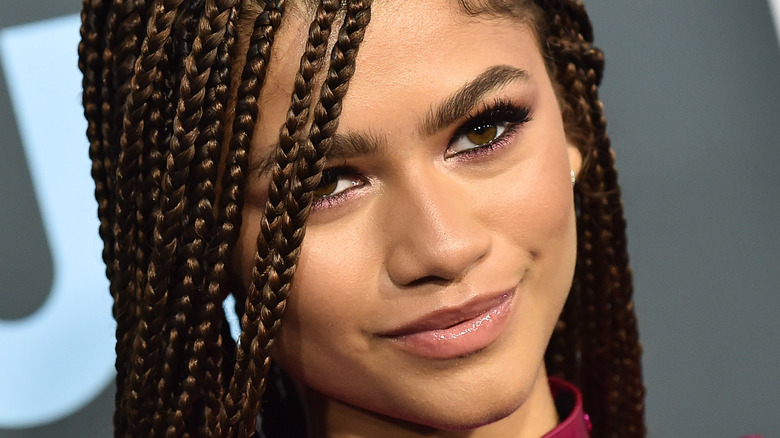 DFree/Shutterstock
Being the on-screen queen that she is, it seems like Zendaya can do it all. And right now, her lead role in "Euphoria" has everyone talking. Zendaya's performance as Rue, a recovering drug addict, has landed her praise from several critics (per Digital Spy). The latest episode of "Euphoria" especially showcases Zendaya's acting chops, featuring an intense scene where her character lashes back at her family and friends who were staging an intervention against her drug use. The acting became so real that Zendaya told Entertainment Weekly, "It was a very tough day. I mean I beat myself up. I still have some scars on my legs and got quite a few bruises."
Considering how realistic Zendaya's portrayal of Rue is, people are questioning whether she wears makeup on "Euphoria." Allure writer Kirbie Johnson took a rare peek into the makeup trailer on "Euphoria's" set and spoke to makeup artist Donni Davy. While several of the characters sport retro-inspired elaborate eye looks, Rue stands out for her subdued, understated appearance. Known for her natural beauty and glamorous red carpet looks in real life, Zendaya's look when she portrays the troubled Rue is actually a result of special effects makeup, cult-favorite beauty products, and even an everyday household item. If you want to know what products Davy uses to transform Zendaya into Rue, keep reading.
The makeup that gives Zendaya her distressed look on Euphoria
While Zendaya's character, Rue, is the lead role in "Euphoria," she actually wears the least amount of makeup on the show (per Allure). As simplistic as her look may be, Rue's makeup is probably not something you'd want to try though, as the character's looks are not always meant to be appealing (per TikTok). Donni Davy told Allure writer Kirbie Johnson that Zendaya comes in with her skincare already done.
Recommended by Zendaya herself, Davy then uses MAC Face and Body Foundation, which provides a sheer tint to even out the skin. During scenes when Rue is under the influence of drugs in the storyline, the artist blends out a long-lasting red eyeshadow around the eyes to look like sunken, tired eyes. She uses Glossier Boy Brow as well as a bit of cream highlighter and Vaseline to keep her skin shiny as well. The cream highlighter she uses is actually a multitasking hero product — Elizabeth Arden Eight Hour Cream Skin Protectant. Davy told W Magazine that she often emphasizes Rue's eye bags, and even uses watercolor paints to sketch veins on her.
Now Rue's natural, no-makeup, makeup look when she is not under the influence is one of the most wearable looks from the show and one you can easily emulate at home, per StyleCaster. Using a skin tint, subtle cream highlighter, and brow gel can be a gorgeous everyday look. Just skip out on the Vaseline and painted-on veins.