Taco Bell's Super Bowl 2022 Commercial Puts This Musical Icon Front And Center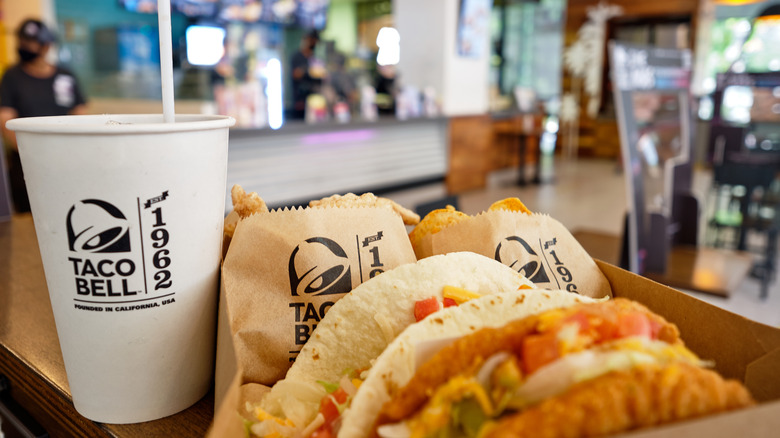 KULLAPONG PARCHERAT/Shutterstock
"Attention students, the ice cream machine is still broken" drones the intercom in the clown school cafeteria. Part scary carnival and part sad performer, this just doesn't look like place anyone would want to visit in the new commercial collaboration titled "The Grand Escape" by Taco Bell. 
Then with a mischievous look, one clown lady grins and then things get moving after finding a surprise under her hat! That clown is none other than Doja Cat and she's ready to "make us over" as she covers the raw, Courtney Love hit "Celebrity Skin" by Hole (via Pitchfork). The clown cars speeds through urban streets as the top flies off and all the makeup begins to come off with Doja Cat driving. Suddenly, the car occupants have reverted back to their unique-yet-regular self. How is this about Taco Bell?
We're still wondering till we "bring in the clowns" again and see the iconic Taco Bell Fire Sauce (that must have been under the hat). The well-known sauce clearly inspired a "great escape" as Doja Cat and crew are now happily dining at Taco Bell.
Escaping the ordinary with Taco Bell
Doja Cat fans had been suspecting a Taco collaboration was coming for a while now, and Super Bowl 2022 did not disappoint. Taco Bell leans in on the nostalgia with Courtney Love's 1998 hit (via Rolling Stone) and what appears to be a nod to Taco Bell's own 1996 ad campaign titled "Nothing Ordinary About It" (via Los Angeles Times). Add a matching '90s-heavy halftime show featuring a significant number of the cast of the "Chronic 2001" album and you've got all of a Xennial's favorite things (actually released in 1999 via The Source).
Yet Doja Cat's appearance and performance brings these favorite memories into the now with a modern twist on our old favorites as well. Fans literally can't get enough of this cover as one describes the behind-the-scenes YouTube version saying, "She's a musical chameleon she fits in so many genres it's insane." Another fan thinks Doja Cat just nailed the MVP spot for this game remarking, "Doja is insanely talented. And it feels like she's only getting started. Can you imagine how much of a beast she'll be in a few years? Definitely GOAT material."
Now excuse us while we eat a taco and listen to this fantastic cover on repeat.