This Is What Happens When You Only Co-Wash Your Hair Every Day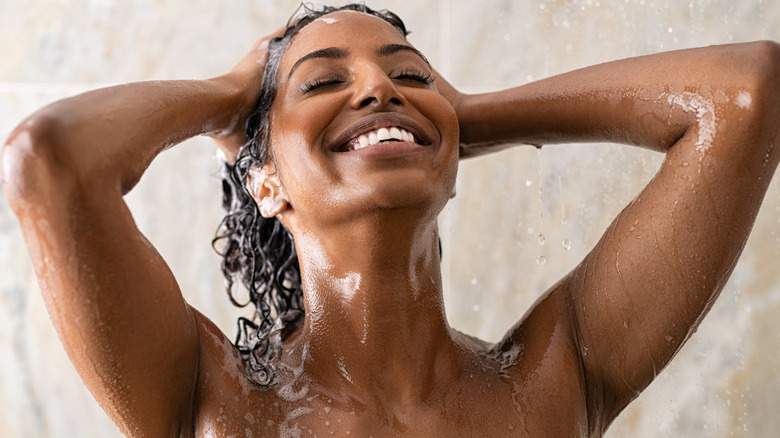 Rido/Shutterstock
In a world filled with shampoos and conditioners, what does "co-washing" mean? According to Health, co-washing is short for conditioner-only washing, meaning that you forego the shampoo in your beauty routine. Per the outlet, this is a gentler way to clean the hair and scalp, especially if you have naturally dry, curly, or frizzy hair. CNN reports that co-washing will leave your hair softer and shinier than washing it with traditional shampoo and conditioner, because most shampoos contain sulfates that can the strip the natural oils from your strands. If you have thick hair, you can use your regular conditioner to co-wash your hair — but those with thinner strands should think about trying cleansing conditioners that are specifically formulated for co-washing.
That said, co-washing is not for everyone. Per CNN, those with straight or fine hair should avoid it (as it can make your strands look flat), and it won't help anyone with an oily scalp or dermatitis. "Co-washing alone doesn't effectively treat either condition," New York City-based dermatologist Jeannette Graf told Real Simple, advising both groups to shampoo and condition regularly. But for those of us who don't fall into either category, how can co-washing be beneficial?
What are the benefits of co-washing your hair?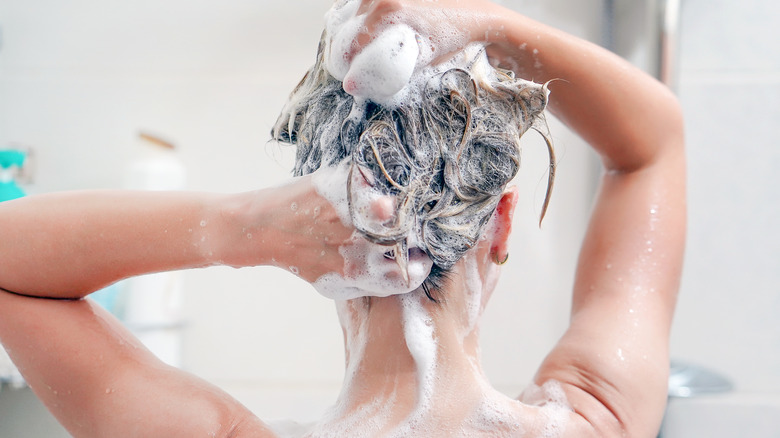 lunopark/Shutterstock
If you have curly, coarse, or wavy hair, co-washing is an excellent option because it gives you smoother and softer strands. Though your hair won't feel as squeaky clean as with a shampoo wash, it will feel more like second-day hair, and your strands will retain more natural oils, according to Real Simple. Second-day hair means that it's easier to style, with fewer flyaways but enough texture to still look clean and healthy. As Health explains, your hair may feel greasier when you first begin co-washing — but it will adjust within a week or so. 
Since you're saving money by skipping shampoo altogether, it can be a good idea to invest in a cleansing conditioner. CNN recommends a host of products, including Lush's Happy Happy Joy Joy cleansing conditioner, which works especially well on bleached and over-processed hair. It also contains ingredients like glycerin and jojoba oil, which help moisturize your strands. Whatever your preference for cleansing conditioner, Healthline recommends that you look for ingredients like emollients, proteins, humectants, and moisturizers. Another good option can be Pantene Pro V's Gold Series Deep Hydrating Co-Wash with Argan Oil, per CNN. "The argan oil in this drugstore mainstay goes easy on dry curls, moisturizing and boosting shine, while keeping them bouncy," the outlet writes. Anyone struggling with frizzy, coarse, or thick hair might find some relief by giving co-washing a try.