TikTok Is Obsessed With This User's Tales Of Romance With His 'Straight Friend'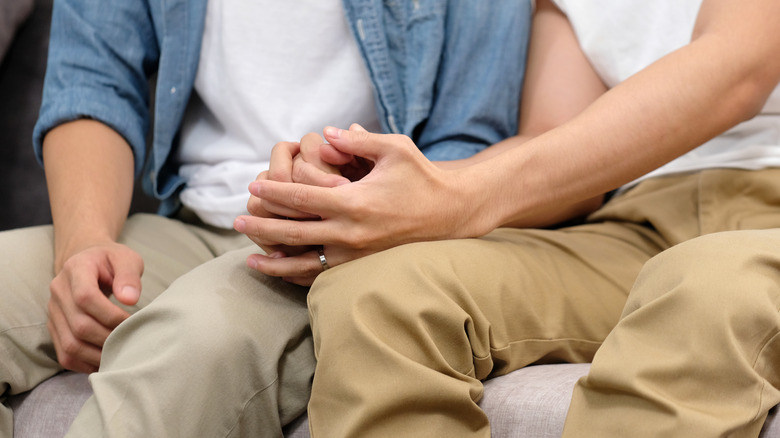 mangpor2004/Shutterstock
Unlike other social media platforms, like Instagram and Facebook, in many cases, TikTok has been a safe haven for many members of the LGBTQ+ community. Aside from the fact that it often provides more anonymity than other platforms, TikTok has also introduced features, like the Blue & Red filter, that allows its users to effortlessly transition from male to female. For many users who had been questioning their gender, this TikTok feature provided a bit of a breakthrough, as Vox reported.
Filters and features aside, few LGBTQ+ influencers have piqued TikTok users' interest like Josh Tvrdy. For the past few months, the poet and teacher from Tuscon, Arizona, has been weaving quite a tantalizing tale about his romantic entanglement with his straight friend in a now-famous TikTok series called "Str8 Tales." Back in October, the poet began revealing small parts of his romance with a straight friend whom he met while working at a diner in his hometown. Their story began innocently enough, with his straight friend (Tvrdy actually calls him "straight friend" in his TikTok videos) booking the pair a couples massage to help ease their shared back pain. "If he's straight, it is straight spelled in the curliest cursive," Tvrdy said in his very first "Str8 Tale" TikTok video.
From his first video, though, TikTok users were riveted, listening to Tvrdy recount his better-than-fiction love story.
Tvrdy's TikTok love story has garnered millions of views — and for good reason
In the first few TikTok videos of the "Str8 Tales" series, Josh Tvrdy revealed that his straight friend, who liked fixing things around his home, had been growing progressively more affectionate — even inviting him to cuddle on his bedroom floor with Tvrdy at one point. However, things finally took a romantic turn between the pair when they shared a romantic kiss in the bed of his straight friend's truck. Over the course of the next few TikTok videos, Tvrdy shared steamy tales of his straight friend finally coming to terms with his attraction to Tvrdy. However, after having a fight about defining their relationship, Tvrdy's straight friend disappeared for months, leaving Tvrdy full of regret for the way that he had handled their last interaction.
Thankfully, his straight friend returned in the way only he could — by appearing out of the blue to fix the tires on Tvrdy's car. Though the pair shared an embrace, his straight friend dropped a bombshell, telling Tvrdy that he was moving three hours away. In a follow-up video, Tvrdy revealed that, while the pair were never going to end up together, they were still friends to this day. "There are elements of the relationship that I didn't reveal in the actual 'Str8 Tales' that just would have made the relationship never work," Tvrdy said in the TikTok video. "It was a beautiful unfolding that we shared, but it would have never, ever, worked in the long term. Just kind of trust me on that. We've moved on. He's got a girlfriend. I'm happy for him."