Can You Lighten Your Hair Without Using Bleach?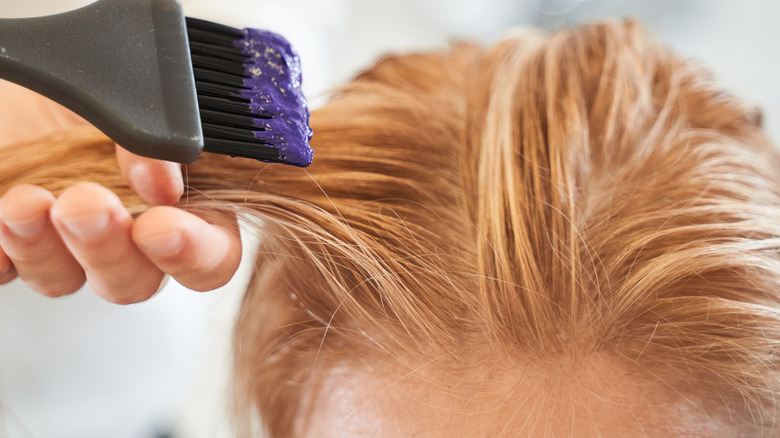 Olena Yakobchuk/Shutterstock
Brunette hair has had a lot of limelight over the last few years, with celebrities like Hailey Bieber going dark in 2021. According to Harper's Bazaar, this seemingly low-maintenance and multidimensional hair color requires less commitment and became the go-to look for many people staying home during the pandemic. However, dark hair doesn't look good on everyone, and dark brown or black hair can make your skin appear older by accentuating the lines and creases on your face (via Hairstyle Camp). No one wants that. If you prefer appearing younger, hairstylists recommend you go a few shades lighter or add lighter highlights to make you look younger. This is because the sun catches your hair in all the right places when lighter (via Southern Living).
With spring around the corner, you want to go lighter like Gigi Hadid. Of course, bleach is the first thing that comes to mind when you consider lightening your hair. After all, it's the simplest and quickest way of doing so. According to Healthline, bleaching your hair breaks your hair proteins to remove the color, making it more prone to breakage, dryness, and frizz. Bleached hair tends to look "fried" and dull because the bleach interrupts the hair cuticles' growth. Taking care of bleached hair is no joke, but if you want less of a commitment without damaging your hair, we have the perfect alternatives.
These are some of the best bleach-free alternatives for lightening hair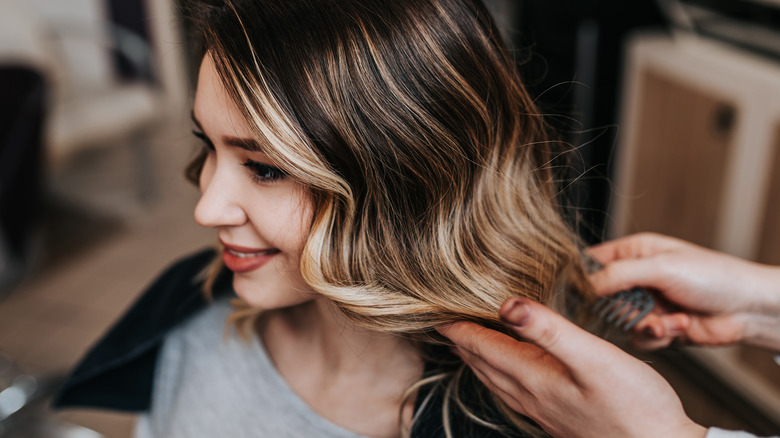 hedgehog94/Shutterstock
If you want to go lighter without damaging your locks, you don't necessarily need to bleach your hair, though you'll probably get the highest level of lift by using bleach. Still, here are some kinder alternatives to bleach.
Lightening your hair with lemon juice and sunshine can work well if you already have lighter hair. "Sitting out in the sunshine helps the process," Jordan Davis, a hairstylist at Roots Salon & Hair Studio in Denver, Colorado, told Dermstore. Plus, this method is incredibly affordable. Other at-home remedies include chamomile and vinegar. Cosmopolitan recommends Oribe Bright Blonde Sun Lightening Hair Mist, which has lemon and chamomile extracts to gently lighten your hair when spritzed all over. For a more affordable option, try Klorane Sun Lightening Spray with Chamomile and Honey.
It can be more challenging to lighten dark hair. "When you are working with darker hair, you are dealing with red and orange undertones, and these will be the first colors to be exposed," Rachel Bodt, a senior colorist at Cutler/Redken salon, told Teen Vogue. Unfortunately, some bleach-free methods only work best on lighter hair. However, before you give up, Wella Professionals offers a solid go-to to lift for brown hair. They carry a selection of bleach-free semi-permanent and permanent hair colors to instantly add layers or highlights to dark hair. It might be best to get this done by a professional, but it's a nice option nonetheless.