Frozen Foods That Are Actually Healthy For You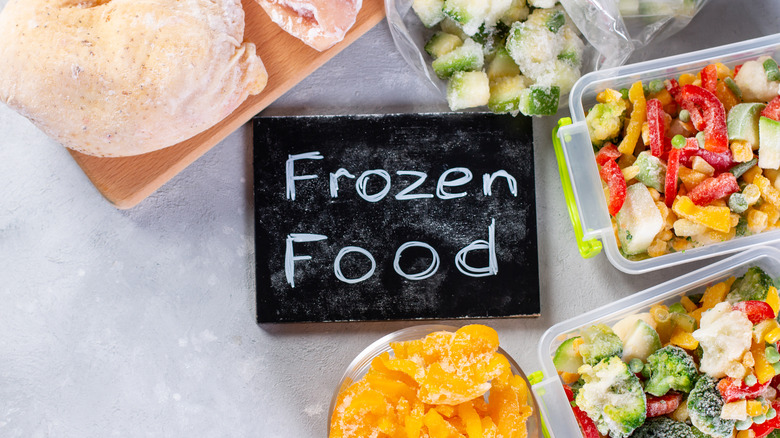 Ahanov Michael/Shutterstock
When you think of frozen foods, you probably consider pizzas or frozen TV dinners. These are especially handy for those with busy lifestyles, as there simply isn't always enough time to cook. When you don't have the time to meal prep or cook, it affects one's attempts at eating healthily, especially as frozen items can be full of salt, fat, sugar, and more. Fortunately, almost all grocery stores have plenty of healthy frozen food selections to help you enjoy a nutritious, affordable meal. According to Healthline, two of the healthiest and most common frozen foods are fruits and vegetables. They're filled with minerals, vitamins, and fiber, and can last a long time when kept frozen. 
In fact, a government-funded study under the name "Vitamin retention in eight fruits and vegetables: a comparison of refrigerated and frozen storage" showed that frozen fruits and vegetables have the same nutritional benefits as their fresh counterparts. Plus, they're excellent ingredients to make a fresh smoothie or stir-fry, both of which can be made quickly (via the National Library of Medicine). Suppose you want a quick and easy dinner, though. In that case, WebMD suggests checking the calories per serving on frozen items and ultimately choosing something between 300 and 400 calories with less than 25 grams of fat for dinner.
These are some of the healthiest frozen foods you can buy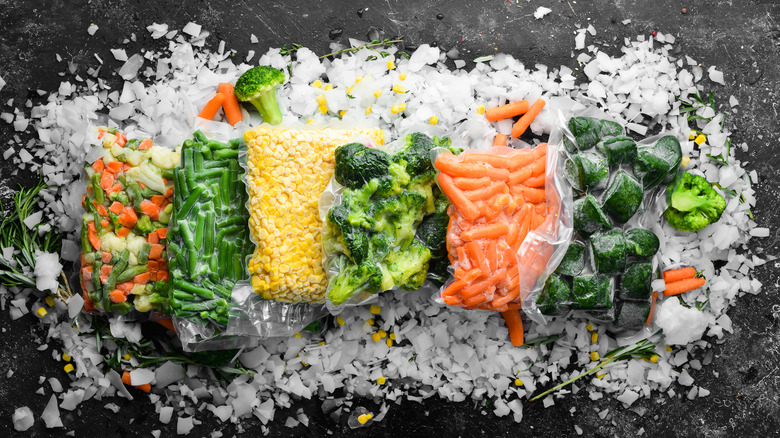 YARUNIV Studio/Shutterstock
You may be tempted to grab fast food after work, but Healthline recommends choosing frozen chicken or fish patties as a healthier and cheaper alternative. Plus, they're better for you than red meat. They're both excellent sources of protein and easy to prepare, too. Furthermore, salmon and tuna burgers are rich in omega-3 fatty acids. Eat This is a fan of shrimp because it is pure protein with minimal fat, and goes great with your side of veggies or brown rice. It fills you up nicely, too. Moreover, Eating Well says you should check the labels for frozen fruits and vegetables to make sure they don't have added sugar or salt, because these can make healthy foods less beneficial. Meanwhile, Good Housekeeping has a great low-carb alternative. Cauliflower rice is a popular low-carb substitute packed with fiber, minerals, and vitamins, and you can enjoy it the same way you would rice.
Ultimately, if you don't have time to cook with fresh ingredients, it's okay. "Frozen meals can absolutely offer a healthy option for any meal throughout the day," Kristen Smith, R.D.N., a spokesperson for the Academy of Nutrition and Dietetics and creator of 360 Family Nutrition, told Everyday Health. For super lazy days, WebMD recommends you keep healthier frozen dinner options like Lean Cuisine Salmon with Basil or Healthy Choice Cajun Shrimp and Chicken on hand because they are all under 300 calories per serving.