Lizzo Opens Up About Her Private Piercing And Playboy Goals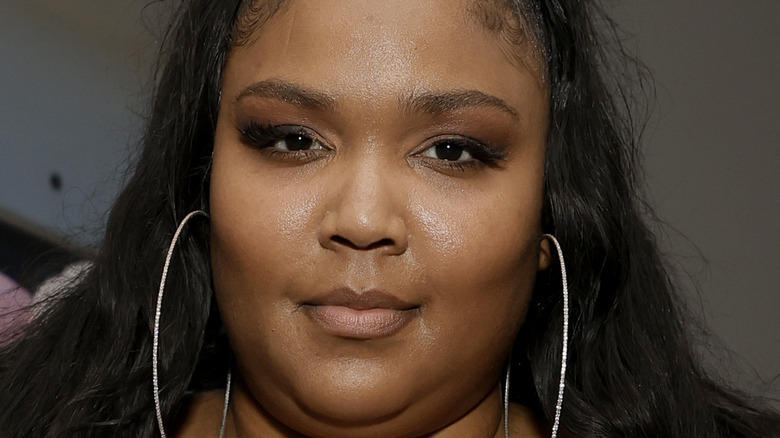 Frazer Harrison/Getty Images
This past Saturday, on the night before the Super Bowl, celebrities and fans crowded under a tent at the Pacific Design Center in Los Angeles to watch Drake perform. Among those in attendance was none other than superstar Lizzo (via Billboard). Drake's set was initially set to be just five songs, but the energy was high and the rapper decided to play for three times as long. Addressing the crowd, he said, "I want to make a toast to how grateful I am for being in this (expletive) room with each and every one of you. I wasn't sure how and when we would be able to do this again. But cheers to each and every one of you. More life."
Those in the crowd were just as happy to be gathered for such an affair as the "Take Care" singer. The event was filled with Super Bowl-themed bells and whistles, from staff clad in football uniforms to upscale versions of game day snacks like vegan chicken wings and pizza were passed around. Fans danced the night away, and cameras caught up with Lizzo for a quick interview following the event (via Page Six). The Grammy winner appeared to be having a great time as she opened up about her piercings and her Playboy aspirations for the future.
Lizzo opened up to cameras on Saturday night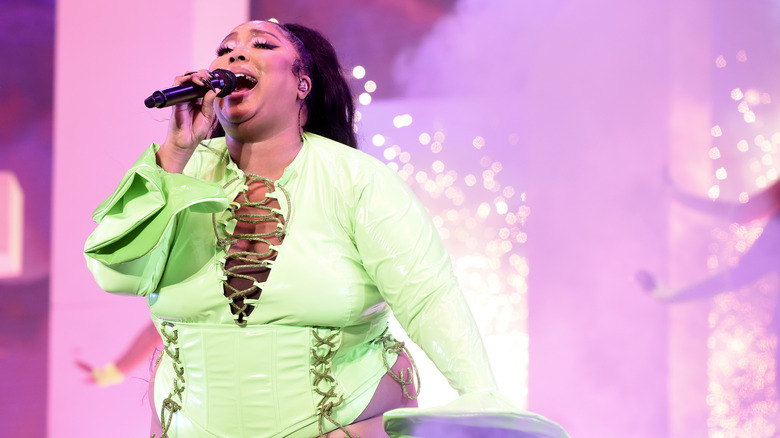 Tim Mosenfelder/Getty Images
On Saturday, prior to the concert, Lizzo uploaded a video to her TikTok page in which she revealed that she hosted a piercing party for her team. In the video, Lizzo is seen getting a simple ear piercing. She's no stranger to the needle, though. She says, "I have so many piercings right now, I never thought I'd be this girl!" Following the ear piercing, Lizzo decided to get another piercing. When TMZ's interviewer found Lizzo following Saturday evening's Drake concert, she gave some details about the event and her piercings.
With a bold yet coy demeanor, Lizzo stated that she won't be able to show the interviewer all of her piercings. Playfully, she said, "You can't see my coochie, I can't show you. I can't show you! I can't show TMZ my p****!" As the interview continued, Lizzo signed autographs for fans and answered questions for the camera. When asked if she would consider posing for playboy, the singer said, "Oh my God, tell Cardi to call me! I LOVE Playboy!," she added. "Yeah, I'll do it!" Cardi B, with whom Lizzo collaborated on "Rumors," became the creative director for the magazine in December (via Page Six).