If You Have Hard Water, Try These Shampoos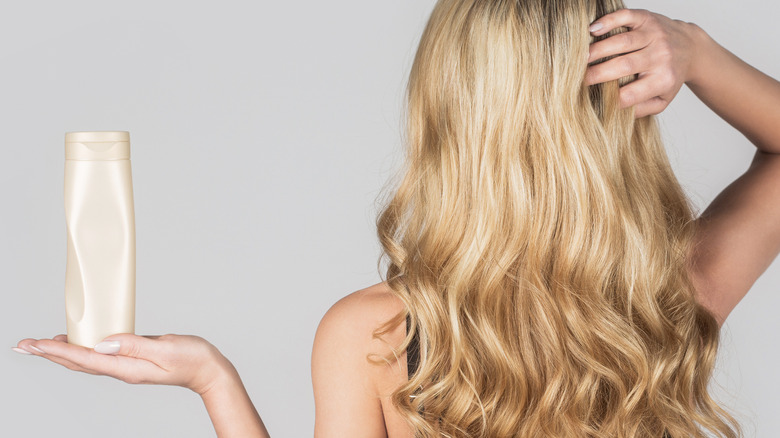 Body Stock/Shutterstock
We may receive a commission on purchases made from links.
Have you noticed how your hands feel slimy after your wash them sometimes, or there is a whitish film on your drinking glasses after washing them? This means you are dealing with hard water. According to the U.S. Geological Survey, hard water contains a large amount of dissolved minerals, such as calcium and magnesium, which can leave a film on your skin and other surfaces.
Hard water isn't dangerous, but it is not doing your skin any favors. After all, it leaves residue behind that can lead to skin issues. "It causes your pores to clog up, which, in turn, can lead to acne and exacerbate skin conditions like eczema and dermatitis," Tess Mauricio, a board-certified dermatologist in Beverly Hills, told Real Simple. She added that prolonged exposure to hard water can cause extra dryness and skin irritation, and worsen conditions like eczema and psoriasis.
Unfortunately, hard water can also damage your hair due to mineral buildup, which can lead to dryness and brittleness. This is because the ingredients in your hair products can't penetrate your hair, per Byrdie. If your hair looks dull and flat, you may have the water to blame. It might not be a bad idea to invest in a specialized shower head to filter out some of the minerals, but you can also add some clarifying shampoos to your routine to fight the effects of hard water.
These are the best shampoos to protect your hair from hard water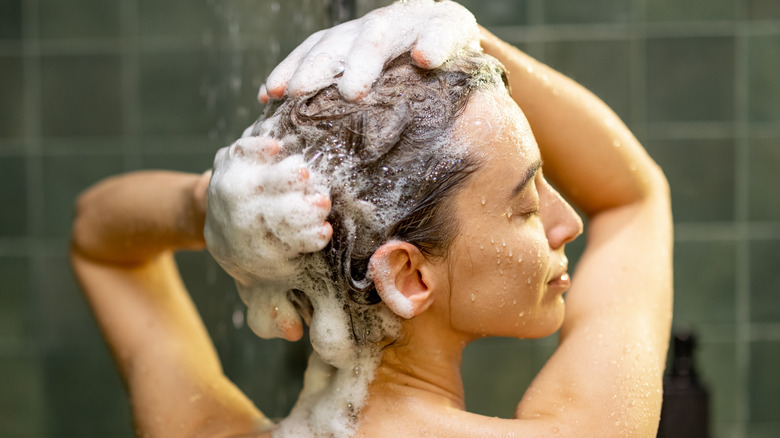 RossHelen/Shutterstock
To combat the effects of hard water, you can either use a stronger chelating shampoo, which works by attaching itself to the minerals and washing them away, or a clarifying shampoo, which helps break down residue from the water buildup (via Byrdie). Celebrity colorist and Mark Ryan Salon co-founder Mark DeBolt shared with Byrdie that Malibu C Hard Water Wellness Shampoo is "the best product in the world for hair affected by hard water." It's sulfate-free, and protects your hair from environmental damage. It further helps remove the minerals that damage the color and quality of your hair, while depositing proteins and moisture.
If the hard water is seriously ruining your hair's volume, StyleCraze recommends Ion Purifying Solutions Hard Water Shampoo because this color-safe shampoo prevents future buildup in your hair, while adding shine and body. It is gentle enough to use daily.
Good Housekeeping's favorite clarifying shampoo is Ouai Detox Shampoo because it cleans your scalp without leaving it dry. It's perfect for all hair textures, and safe for color-treated hair because it deep-cleans without stripping the color. If you are looking for a soothing experience, Marie Claire is a fan of the tried and true Living Proof PHD Triple Detox Shampoo. It removes buildup, absorbs excess oil, and moisturizes the scalp to give you clean and nourished hair.