Ana De Armas And Ben Affleck's Onscreen Chemistry Has Everyone Talking About Them Again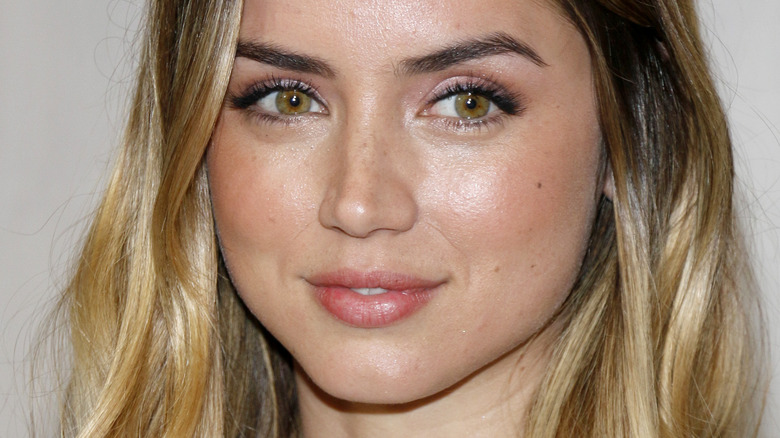 Tinseltown/Shutterstock
Ben Affleck has more than moved on from his relationship with Ana de Armas and is now happily coupled up with the one and only Jennifer Lopez. As a quick refresher, the Oscar winner dated the "Knives Out" star for a year, ending their romance in January of 2021. Affleck quickly rekindled his relationship with Lopez nearly 20 years after they first got together circa 2002 (via Us Weekly).
Of course, let's not forget that the "Argo" director met de Armas while filming "Deep Water" in 2019. Due to COVID-19 setbacks, the movie's release was delayed but fans will finally get to see what's being described as an erotic thriller on Hulu starting March 18 (via Boston.com).
A trailer for "Deep Water" was just released and let's just say it'll get your heart racing, in large part due to the seemingly red hot chemistry between the movie's leads. Twitter is already buzzing about the exes appearing on screen again, with tweets calling the sexual tension between them "steamy" and "off the charts."
And that's only the beginning.
Ben Affleck and Ana de Armas are so hot together, could it upset Jennifer Lopez?
After viewing the trailer of "Deep Water," people were definitely intrigued. "That's crazy. I want to see this," tweeted one person. Another viewer compared the chemistry between Affleck and de Armas to his memorable on-screen relationship with Liv Tyler in "Armageddon."
In the film, de Armas and Affleck star as a married couple who get caught up in "dangerous mind games," according to Variety. That Adrian Lyne also helmed movies like "9½ Weeks," "Fatal Attraction," "Indecent Proposal," and "Unfaithful" should give you an idea of the tone of the upcoming film. Thus, one has to wonder if seeing her boyfriend and his ex on screen in this type of movie is difficult for Lopez, but as a source told E! Online, the on-again couple is "stronger than ever and very much in love."
She also recently told People, "I honestly believe that love rules all. Love always conquers everything — relationships, kids, work, work relationships. It's all about how loving, open and accepting you can be. Not having an ego about things and just embracing all the good, always looking at the positive."