What You Should Know Before Looking For A New Hairstylist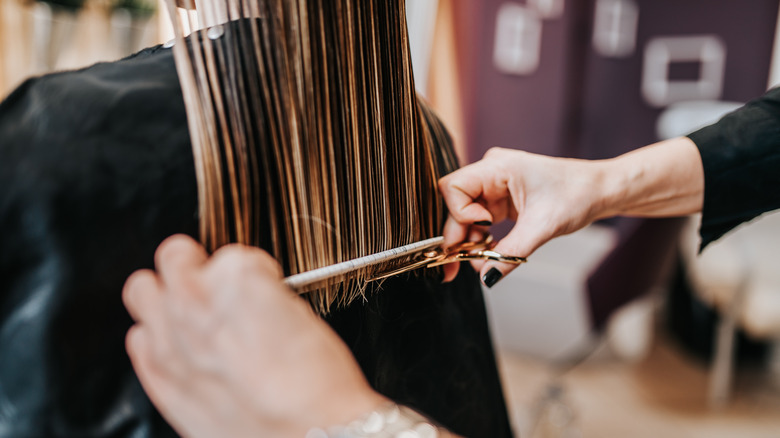 hedgehog94/Shutterstock
Being a good hairstylist involves more than just cutting and coloring hair — these professionals also happen to have the most satisfying careers. Psychologist Barry Schwartz has said that hairstylists make other people happier by combining their technical and communication skills with their creativity (via TED). It's a beautiful feeling to know that doing your job makes someone else's day, as a great haircut can be transformative and elevate someone to a whole new level of happiness.
Your hair is your crowning glory, and you only want to trust the best stylists with any changes you'd like to make. Dr. Tricia Wolanin, a clinical psychologist, told NBC News, "Haircuts are one of the first things people notice when you make a slight alteration," and you want people to notice you for the right reasons.
Finding the perfect hairstylist can be challenging and often takes a bit of work, especially if you move around frequently. Once you find your perfect match, you'll probably never let that person go because you'll understand how tough it was to find them in the first place. However, if you need to find a new hairstylist, follow these useful tips to help you land your new hair BFF.
Keep this in mind when choosing a new hairstylist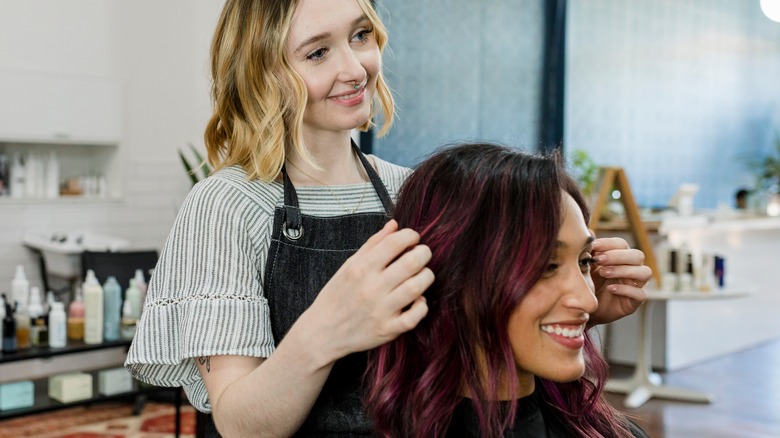 Rawpixel.com/Shutterstock
If you had to part ways with your favorite hairstylist, it's helpful to request details about how your stylist created your preferred look. Allure recommends asking your hairstylist what specific cut you have done, in addition whether they use a custom color, like tortoiseshell. Keep the information handy so you can share it with your new stylist to see if they can replicate what you're typically used to getting.
Good haircuts aren't cheap, so budgeting is important. Celebrity hairstylist Paul Labrecque told NBC News that in larger cities, a great haircut costs, on average, "about $150, and will last about six to seven weeks." Depending on whether you go with a senior hairstylist or a newer one, the same haircuts can have different prices at the same salon. Another hairstylist, Chad Seale, suggests looking at the hairstylists' reviews online, or checking their portfolios on social media before booking an appointment.
Schedule a hair consultation with your potential new stylist to see if the two of you click (per The Aveda Salon). You want the stylist to listen to your expectations and be honest about their skill set and what they're able to do. It's extremely important to choose someone who has experience working with your hair texture and density, because they can make your hair look amazing and make it easier for you to style it (via The Hairstyler.com). If you have curly hair, make sure your hairstylist are trained to cut your hair so they don't ruin your waves or curls.