How To Add A Nude Eyeliner To Your Makeup Routine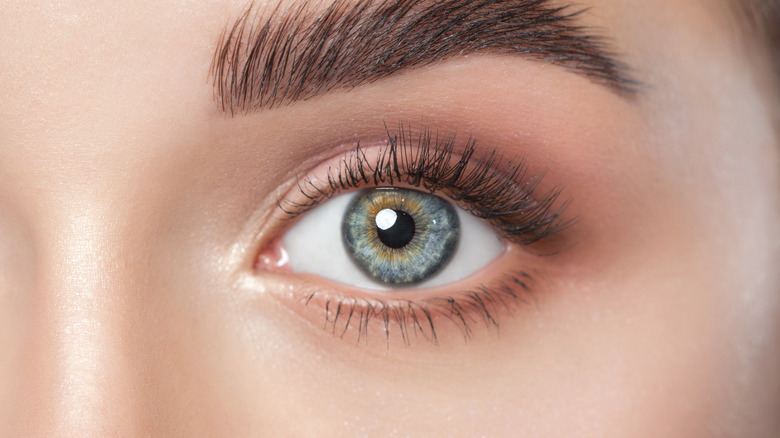 dimid_86/Shutterstock
One of the most popular 2021 makeup trends was the "no-makeup" makeup look that helped most people show off their natural beauty. Achieving this look meant wearing very little makeup, mostly in neutral shades, with more of a focus on fresh and glowing skin (per The Everygirl). Thankfully for those who embraced this trend, nude eyeliners were introduced to the mix, making it even easier to achieve natural, healthy-looking eyes with a polished finish (via Charlotte Tilbury).
Nude eyeliners are actually so stylish these days, you may even be making an eyeliner mistake if you're still applying black instead of nude. New York City-based makeup artist, Kelli J. Bartlett, tells Byrdie that, "Waterline eyeliner can be a very effective way to help brighten and open up the eyes when you use a flesh-toned liner." Bollywood celebrity makeup artist, Sandhya Shekar, totally agrees with this opinion. In an interview with Vogue, Shekar said, "Nude and white eyeliners are my absolute favorite and I use a lot of these in my signature style." 
The makeup artist added, "They instantly open your eyes up, even if you've had a long, tiring day. The trick is to put the white eyeliner or nude pencil at your waterline, and it just takes all the tiredness away." And here's the best part: You don't even have to be a professional, or a celebrity makeup artist, to work this beauty trick into your routine.
Step up your beauty game with nude eyeliners
JAYANNPO/Shutterstock
Nude eyeliners can be worn alone or with other eye makeup products like liquid eyeliner and mascara, per Vogue. Due to their versatility, nude eyeliners can be easily incorporated into your makeup routine to achieve different types of glam (via Loreal Paris).
Everyone knows how important a defined eyebrow is, whether you're going for a natural look or a full glam moment. Thankfully, you can use nude eyeliner in place of a concealer to structure your arch, to clean up your brows, and to achieve a brows-on-fleek look. Nude eyeliners also serve as a great substitute for correcting concealer, according to Loreal Paris. All you need to do is to apply the nude liner on blemishes you want to correct and blend properly with your finger.
If you've always loved the idea of creating an impression of having fuller lips, then you should definitely add nude eyeliner to your makeup bag. Makeup artist Daniela Rother tells Artdeco that, "to make your lips look bigger, choose a lip liner in a natural skin tone and apply it slightly above the lip line before blending it outwards with your fingertips. This will perfectly model your lips and visibly correct any unevenness."