These Are The Best Nude Eyeliners To Try Out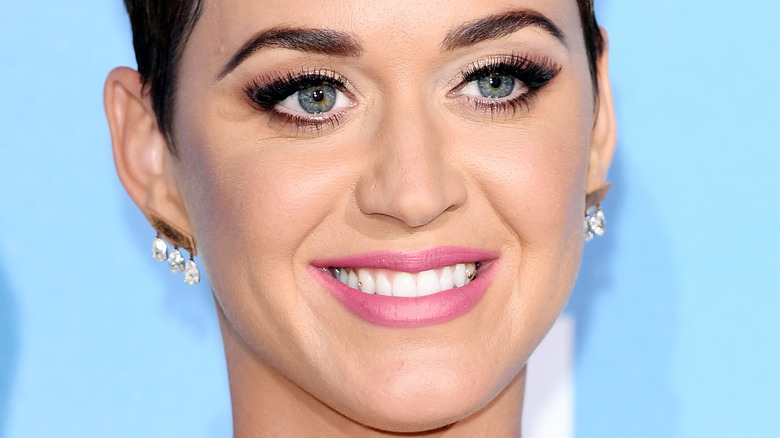 Daniele Venturelli/Getty Images
We may receive a commission on purchases made from links.
Your eyes are the windows to your soul, as they have the power to express feelings without saying a word. Big eyes have often been considered an attractive feature because they symbolize youth (per Herway). Just take a look at the eyes of the Disney princesses, which look huge compared to the rest of their facial features, and you'll understand the appeal.
If you weren't born with big eyes, there are helpful makeup tips you can add to your routine to give the illusion of bigger eyes. According to Allure, you can make your eyes appear bigger by cleaning up your eyebrows, concealing dark circles, and adding multiple coats of lengthening mascara to give you those coveted Bambi eyes. However, one of the easiest tricks to make your eyes look huge is by tightlining your waterline with a nude eye pencil, because it will instantly open them up and make you look more awake (per Byrdie).
Nude eyeliners can give you a more youthful appearance by brightening your eyes and making them look bigger. You can also use nude eyeliners to cover up some blemishes, hide overgrown eyebrow hair, and even overline your lips, per Style Caster.
Nude eyeliners will instantly brighten your eyes for a youthful look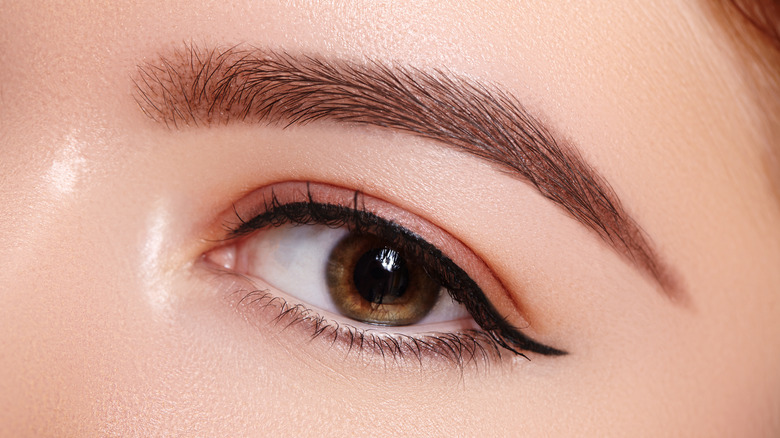 marinafrost/Shutterstock
According to Huda Beauty, lining your lower waterline with a pale-colored eyeliner is one of the easiest beauty tricks to make your eyes look dramatically bigger. It's easy to do, but make sure to take your nude eyeliner with you when you leave the house, as blinking frequently may dissolve the makeup over time.
It's no surprise that Urban Decay 24/7 Glide-On Eye Pencil in Yeyo is the perfect go-to for a nude eyeliner (per Makeup.com). This metallic white, shimmery shade adds a little twinkle to the basic nude, making it perfect for day or nighttime use. It's also long-lasting and waterproof, so unlike other liners, it won't require multiple touchups. Alley Beauty loves the Rimmel Scandaleyes Waterproof Kohl Kajal Liner in Nude for this no-makeup makeup trend that will never go out of style. The color is rich, and this smooth eyeliner is known to last for several hours without issue. Plus, it's excellent for sensitive eyes as it's dermatologist and ophthalmologist tested. 
Byrdie loves Tarte Fake Awake Eyeliner in Universal Nude because they consider it the best eyeliner for your waterline to really make your eyes pop. This highlighting shade also has antioxidants for sensitive eyes. The Cut is a massive fan of the multitasking 2-in-1 Super Nudes Duo Liner by Charlotte Tilbury because the nude works on all skin tones and helps to brighten and instantly neutralize any redness (in case you didn't get enough sleep the night before).