What You Should Know Before Using Truly Beauty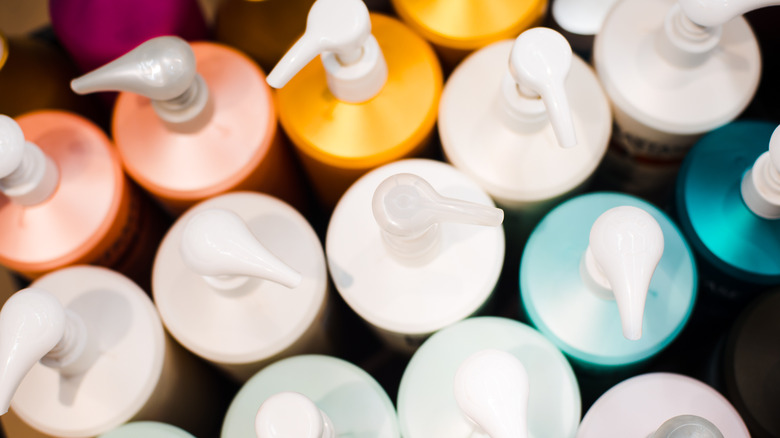 Kisseleva Katya/Shutterstock
We're all used to watching slow, aesthetic vlogs documenting the careful process of applying expensive serums, creams, and jade rollers. These established skincare routine videos with their specific orders of operations are commonplace in the beauty community, and they allow us to relax, discover new products, and just watch someone have their life together, even when we feel like we don't. However, if you're on the beauty side of TikTok, you may have noticed a sudden burst of color, trendy music, and products reminiscent of Play-Doh on your FYP.
If these vlogs are typically supposed to relax you, TikTok's skincare routine videos do the exact opposite. They excite, inform, and hype you up. A particular company that's been going viral for this aesthetic is Truly Beauty, a vegan brand that makes fun and colorful bath and skincare products. The brand currently has 45 million likes on their videos and well over a million followers on TikTok, and it mainly posts videos demonstrating its products. However, there are some things you should know before you invest in Truly Beauty.
Truly Beauty has taken over TikTok, but is it worth it?
When you buy a Truly Beauty product, it seems like you're buying a sensory experience. Shockingly pink serums, moisturizers that blend rainbow colors into one another, and holographic hair treatments are just a few of the brand's best sellers. Its products' names are just as fantastical: Rainbows in Mirrors, Unicorn Fruit Whipped Body Butter, and the Buns of Glowry Glow & Tighten Butt Serum are some of our favorite names. Almost all of these have great reviews, too. Both the Buns of Glowry & Tighten Butt Serum and the Unicorn Fruit Whipped Body Butter have 4.8 stars out 5 at the time of writing. Professional reviewers are raving about them, too. Insider writer Victoria Giardina reviewed three of their bath products and said, "I wanted results, and I got them with Truly's TikTok-recommended regimen."
Truly Beauty even has a bundle of products curated from TikTok if you're not sure what to get first. On its TikTok Bundle page, Truly Beauty describes the bundle as "the products that amassed over 40 MILLION likes on TikTok." However, while the brand notes that it's 100% vegan, it has been sued before, under its former name, for not complying with those claims (via Market Watch). The company rebranded soon after, and has seen success since. Still, it's important to know this as a consumer. Overall, the brand seems to have positive reviews and playful packaging, and is still making rounds on TikTok. It might just be worth trying for yourself.