LeVar Burton Has Something To Say About Banned Books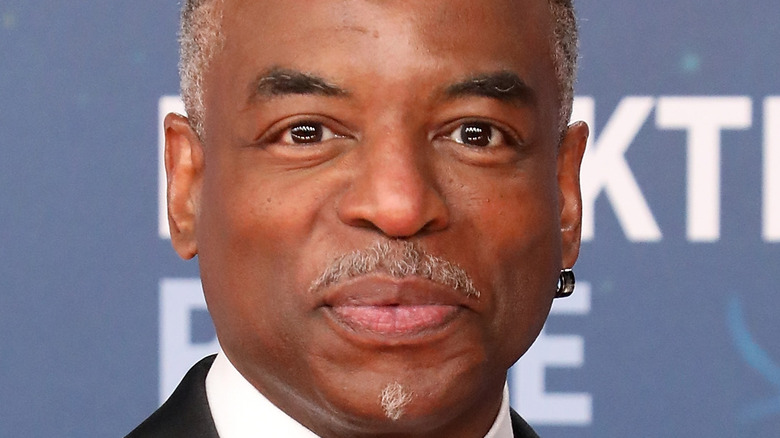 Taylor Hill/Getty Images
Although LeVar Burton has cemented his place in TV history through his roles in the original "Roots" and "Star Trek: The Next Generation," it's his passion for literacy education that will be his most lasting legacy. As host of the long-running PBS series "Reading Rainbow," Burton has introduced generations of children to a rich and diverse collection of stories. But his latest effort to share the joy of reading is meeting with some resistance.
On a segment he taped for "The Daily Show With Trevor Noah" (seen here on Twitter), Burton announces he'll be reading the children's book "Rosa," by Nikki Giovanni. Before he can even open the cover, he's interrupted by a "Content Violation" message. It seems "Rosa" has been banned "because reading about segregation is divisive." So he turns to a book that "doesn't have any people in it at all": "And Tango Makes Three." Once again, he's interrupted by the violation message. Why? The book is about two male penguins who adopt and raise a baby chick, which classifies it as "sexual perversion." Astonished, Burton asks, "What do you guys want? A mommy and a daddy penguin so the kids can make sure the penguins are knockin' boots?!"
The actor gives it one more try, with Dr. Seuss's "Hop on Pop." Surely no one has a problem with a classic 59-year-old phonics book, right? Wrong. That one, too, was nearly banned in Toronto in 2014 because it "encourages children to use violence against their fathers" (via NBC Washington). Burton exclaims, "You gotta be kidding me!"
LeVar Burton wants us to read banned books
Faced with the reality that all the books he chose are being condemned by the authorities, LeVar Burton tells the "Daily Show" audience that "there are plenty of books to choose from" that have never been challenged in libraries and schools. Then the "Reading Rainbow" star changes his mind. "But you know what? No. Read the books they don't want you to," he advises. "That's where the good stuff is."
The sound of a siren signals that the "book police" are coming after Burton. But he gets in one parting shot before he runs off-camera: "Read banned books!"
The sketch is satirical, of course, but the point Burton makes is very real: For decades, award-winning books like "To Kill a Mockingbird," "The Catcher in the Rye," "The Giver," and "The Kite Runner" have been challenged and banned in certain school districts out of a belief that the content is inappropriate for children (via American Library Association). Sometimes the banning backfires: Recently one Tennessee district voted to take "Maus," a graphic novel about the Holocaust, out of schools. Sales of the book soared after the news hit (via NPR).
Burton's followers on Twitter applauded his message. "I did not think it was possible for me to love LeVar Burton more than I already did," said one. Another asked for a list of banned books, then added, "It's ridiculous to be afraid of books because you don't like hearing about how the past wasn't great for everyone, or because you're afraid of beings loving beings. Rise above fear and be strong."