The Most Expensive Items You Can Get At Loft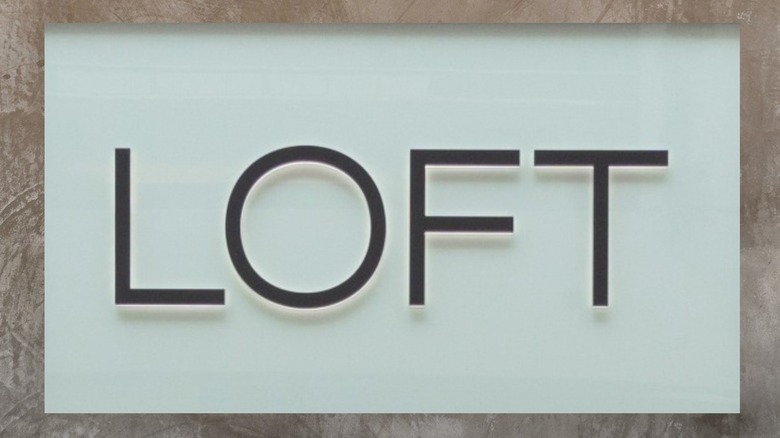 BCFC & wee dezign/Shutterstock
Loft's storied legacy is interesting compared to other clothing companies'. The clothing retailer is an offshoot of the brand Ann Taylor, which, as noted by Insider, was once a major player in fashion. In fact, if you've ever used the phrase "power suit," you can thank the decades-long retailer, long known as the clothier to successful, professional women.
It seems archaic now, but a woman wearing pants to work was once seen as an act of defiance (via HuffPost). Ann Taylor's sleek designs helped change that public perception in the '60s and '70s. From New York's flashy fashion runways to the fluorescent offices of corporate America, the brand was a high-end staple.
Unfortunately, though, younger women — or generally those just beginning their careers — couldn't afford the brand's steep price tags. So, Loft was created in 1998. Originally known as Ann Taylor's Loft, it was a within-reach option for up-and-coming career women. Loft's classic tailored suits, workwear, and upscale casual styles are created with value and versatility in mind. In other words, women can look like a boss without draining their bank account.
So, within a clothing brand known for its high fashion and style yet affordability, what are the most expensive items you can get at Loft?
Timeless, on-trend blazers are big sellers at Loft
True to its Ann Taylor heritage, Loft has remained on-trend, shifting from formal suits and career separates to casual workwear. But, just like The Zoe Report's favorite blazers, Loft's blazers are down for anything. So, whether you pair them with a cute work outfit, a minidress, or denim, you're sure to get your money's worth.
Some people say you can't buy loyalty, but, clearly, they've never experienced the steadfast devotion of tweed. Alas, it will never fail you. A case in point is the Cropped Tweed Jacket, which will, however, set you back $145, at least at the time of writing. As a conservative estimate, you'll likely wear this versatile piece once a week because, well, it's incredibly versatile! Over a year, that averages an investment of less than $3 per wear.
If tweed isn't your thing, you can opt for the similarly priced Brushed Modern Blazer for $140. As with many of Loft's pieces, the blazer is available in a run of sizes, from 00 to 16. Other items at Loft are available in larger sizes, too. In fact, the brand's size inclusivity has garnered dedicated coverage by Who What Wear.
Loft's must-haves are perfect for every occasion
Blazers aside, Loft's racks are overflowing with elevated basics that form the core of any versatile wardrobe. Many of the brand's pieces can serve as closet-chameleons, the multifaceted clothing items you use as the foundation for endless outfits. If you're looking for non-frumpy workwear, BuzzFeed agrees that Loft delivers.
One of the brand's pricier items is the Tall Block Heel Boots. This is basically the Goldilocks of boots: The heel is not too high or too low, but just right for even a conservative office. So, whether you're walking three blocks for your cohort's coffee run or just brunching on the weekend, this boot goes with everything from a miniskirt to leggings.
Rounding out Loft's most expensive items is the $160 Swing Trench Coat. If you're not in on the secret yet, know this. According to Vogue — and any gal who's ever struggled to coordinate a coat with an outfit — every woman needs a trench coat. Also, we're issuing bonus points here because this beauty is machine washable, while many other trench coats aren't. Investing in one of these coats may seem like a frivolous splurge, but keep in mind that trench coats are one of the few things that never go out of style. Ultimately, Loft is worth a look if you want to stay on top of 2022's hottest fashion trends.