Here's What Jennifer Lopez Looks Like Going Makeup-Free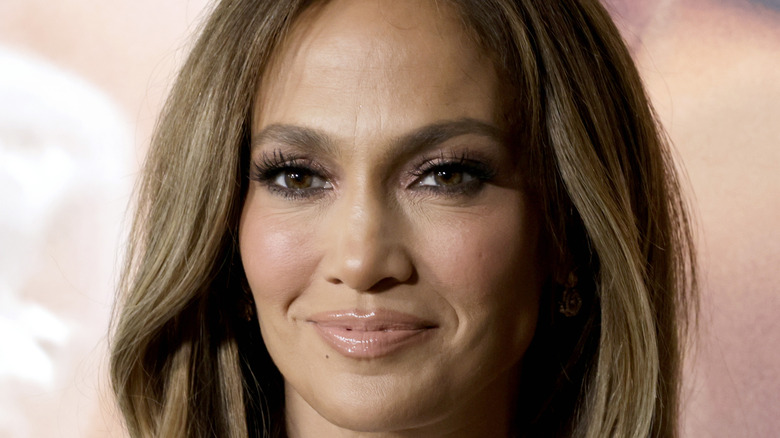 Frazer Harrison/Getty Images
Jennifer Lopez has long been the human embodiment of goddess-like, glowy-skin goals. Not satisfied with representing women's beauty as one-dimensional, though, the songstress has a next-level work ethic. So much so, that she was named on Forbes' 2020 America's Self-Made Women list. It's not music, though. Instead, Lopez has strategically developed and diversified her bankable skills to include modeling for Versace, launching her own DSW shoe-line, and teamed with Designer Parfums on scents such as "Glow."
Then, of course, there's the matter of her Golden Globe nomination for the 2019 movie "Hustlers." Her movie credits include "Maid in Manhattan," "The Wedding Planner," and her latest big-screen movie "Marry Me," which Buzzfeed declares is a rom-com must-see.
More recently, in January 2021, the mega-star launched her skincare line "JLo Beauty," which understandably made the folks at Glamour squeal. So finally, we got a peek behind the curtain and access to the secret of how Jennifer Lopez looks righteously flawless without a drop of makeup.
Jennifer Lopez says makeup is fun, but optional
Fresh-faced selfies are not uncommon on Jennifer Lopez's Instagram. Notably, she's comfortable toggling between the glam-cam moments to sweaty workouts. In fact, the 52-year old shared with fans a video of her morning skincare routine.
Looking cozy in her PJs, she captions the JLO Beauty tutorial, "I'm breaking down my real AM routine for you, so you know exactly how I get THAT glow (ps coffee and H2O are always a must)." Although she swears by the skincare line's That JLo Glow Serum, she also reminds fans of the ever-important, number one rule in skincare — wear sunscreen.
Not one to be idle in the face of ageism, the star's skincare line is built around her beauty philosophy. "It's about realizing your own worth and value and understanding that you're growing and getting better every day" (via JLo Beauty).
In the overwhelming borage of Facetuned images on social media, we can always count on "Jenny From the Block" to keep it real.