Malia Baker Reveals What It's Really Like Working With Alicia Silverstone - Exclusive
Amanda Bynes, Josh Peck, and Drake Bell all have to step aside: A new generation of teen television and film stars are here to prove that talent knows no age. Among them is Malia Baker, the Canadian actress known for her work on Netflix's "The Baby-Sitters Club," though her CV also includes "Are You Afraid of the Dark?," "A Million Little Things," and even the CW's "The Flash."
Now, Baker is making a name for herself as a star in Lifetime's latest original film. Titled "Caught in His Web," this film sees Baker portraying Olivia, a high schooler who experiences digital harassment from an anonymous person using the name Blake. Two other teen girls experience this same harassment, leading the three of them to uniting against their common harasser. Together, they work with a detective to uncover the harasser's identity and stop them for good.
Luckily for us at The List, we got to chat with Baker recently about all things "Caught in His Web," and she dished on "The Baby-Sitters Club," too. More specifically, she revealed what it's really like to work with Alicia Silverstone, her costar on "The Baby-Sitters Club" who had her new film "The Requin" hit theaters in January (via IMDb).
Alicia Silverstone is 'hilarious' and fun to work with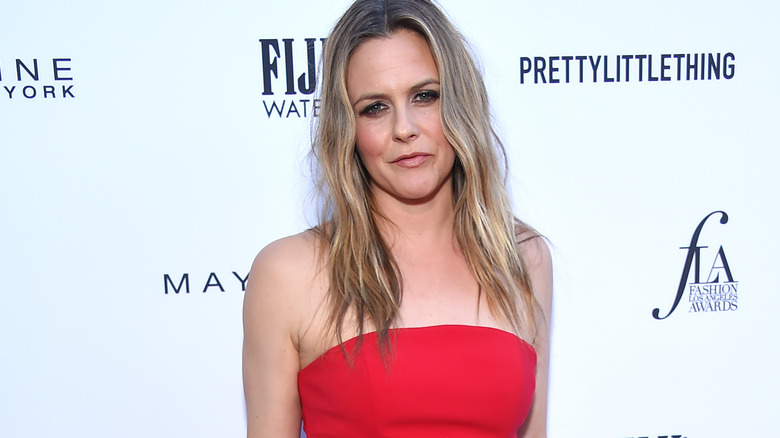 DFree/Shutterstock
If you've ever wondered what Alicia Silverstone has been up to, you can look no further. She currently stars in the ensemble cast of Netflix's "The Baby-Sitters Club," which has currently aired two seasons so far (via IMDb). Here, she works with "Caught in His Web's" Malia Baker, who recently told us exclusively about her experience working with Silverstone. "Oh my god, Alicia, she's hilarious," Baker told us. "We would go to set and every day she would be bringing her kid Bear, and they would bear hug you straight away. It was a really cute introduction to everything."
In fact, everyone on the "Baby-Sitters Club" set was stunned to be working with Silverstone. "I remember on the first season, we were all freaking out, 'This is the girl from 'Clueless,"" Baker explained. "I remember I was in the bathroom when my mom told me and at first I was like, 'Who's Alicia Silverstone?' I searched and I knew her face immediately and I called the 'BSC' girls and it was this big, exciting moment and she was lovely on the first season."
For Baker, working with Silverstone became "almost like an internship" because of Silverstone's experience in the industry, as well as because of her acting prowess. "[Working] with people that have been in the industry for a really long time, you can learn things and ... hopefully one day, being a mentor to other people as well. It's really powerful and it's really cool, and I feel like Alicia was that for all of us," Baker concluded.
You can catch Malia Baker in "Caught in His Web" on Lifetime.