The Best Makeup Looks For Blue Eyes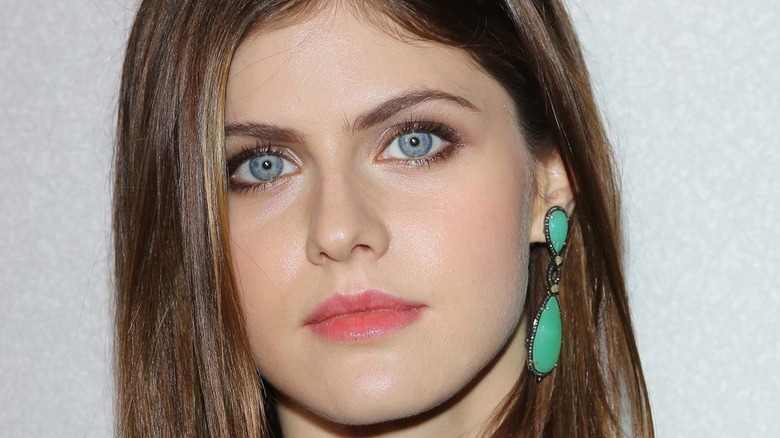 s_bukley/Shutterstock
We may receive a commission on purchases made from links.
The world is fascinated with blue eyes. Over the years, there have been countless songs dedicated to eyes that match the color of the sky, and the mesmerizing emotions that go along with them. Do you remember the song "Sweet Child O'Mine" by Guns N' Roses? It includes the lyrics, "She's got eyes of the bluest skies/as if they were thought of rain" (via Genius).
Blue eyes are perceived as the ideal of beauty due to their rarity. According to Vision Center, approximately 8-10% of the world's population has blue eyes. Did you know that blue eyes are caused by a lack of melanin, the same pigment responsible for giving color to your hair and skin? This lack of melanin can cause the light to hit your eyes and split into a color spectrum called Rayleigh Scattering. That's why the shade of blue your eyes are can change depending on what you're wearing, or how much light you're exposed to in a specific setting.
"It makes sense that the rarer colors tend to be more captivating," says clinical psychologist Carla Marie Manly, Ph.D. (via Mindbodygreen). Dr. Manly added that the human mind is drawn to different and rare things, which can explain why so many people are attracted to blue eyes. Now that you know why people have blue eyes, and why they're so captivating, let's discuss the best makeup tips for those ocean eyes to make them even more mesmerizing. Let us warn you though: You might end up breaking more hearts in the process!
Gorgeous makeup tips to make your baby blues pop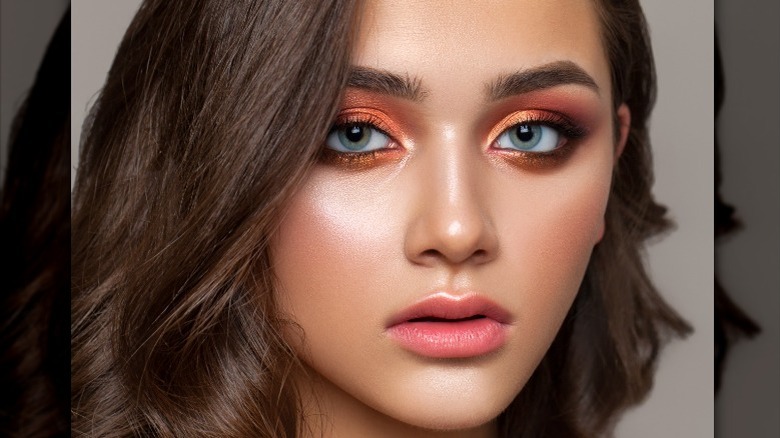 Tata Mamai/Shutterstock
Makeup trends are all about self-expression, and while you need to do what you love, particular looks can make your blue eyes appear bolder and brighter.
Remember the color wheel? Harper's Bazaar recommends going for bronze shadows with an orange undertone to make your blue eyes pop. Celebrity makeup artist Ricky Wilson told the publication, "This is because orange is the opposite of blue on the color wheel," and added that using complementary colors side-by-side can make your eyes look more vibrant. Byrdie seconds this helpful tip and recommends the Natasha Denona Sunset Eyeshadow Palette to create a range of sunset-inspired looks by blending reds, bronzes, and oranges together. You might not have thought of this, but orange eyeshadow is perfect for blue eyes.
Black eyeliner can be a bit harsh for blue eyes; therefore, choosing a navy liner is the perfect neutral option because the dark blue color can accentuate your eyes even more. YSL Crushliner in Bleu Enigmatique is the perfect option because this long-lasting eye pencil can create precise lines or smoky shadows. To create smoldering, smoky eyes, opt for warm browns and deep espressos to create a dramatic effect. Remember, black can be unforgiving on your lighter features. Editorialist recommends Urban Decay Naked3 Eyeshadow Palette as it has a range of smooth mattes for base, as well as shimmer finishes to highlight so you can decide how dark you want to go.