The Reason Hillary Clinton Got Name-Dropped At Donald Trump's Hearing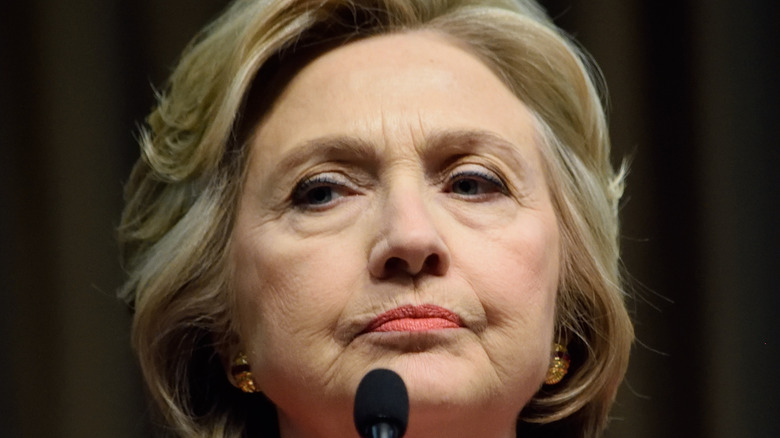 Evan El-Amin/Shutterstock
Wherever former president Donald Trump goes, Hillary Clinton is inevitably brought up — this time it was in the middle of a court hearing. The hearing had nothing to do with Clinton, and everything to do with the Trump Organization's business dealings which begs the question: Why was the former secretary of state brought up in the first place? 
New York State Attorney General Letitia James has launched both a civil and criminal investigation into whether or not the Trump Organization were "fraudulent or misleading in how they reported their assets to get economic benefits," Forbes reports. While these investigations normally take a long time, the Trump Organization has stalled as much as possible. According to Forbes, James has had to "repeatedly ... get a judge to compel testimony and documents from the Trump family because they won't cooperate voluntarily." 
On February 17, the investigation into the Trump Organization took a new step forward as New York Supreme Court Justice Arthur Engoron ruled that Donald and his children, Ivanka Trump and Donald Trump Jr., can be deposed by the New York State Attorney General's office. The Trumps are also being compelled to turn over requested documents within two weeks, per Forbes. 
"They have an absolute right to refuse to answer questions that they claim may incriminate them," Engoron wrote in his eight-page order, Politico reports. "For [Office of the Attorney General] not to have investigated the original respondents, and not have subpoenaed the New Trump Respondents, would have been a blatant dereliction of duty," he added. 
This is why Donald Trump still believes Hillary Clinton needs to be investigated too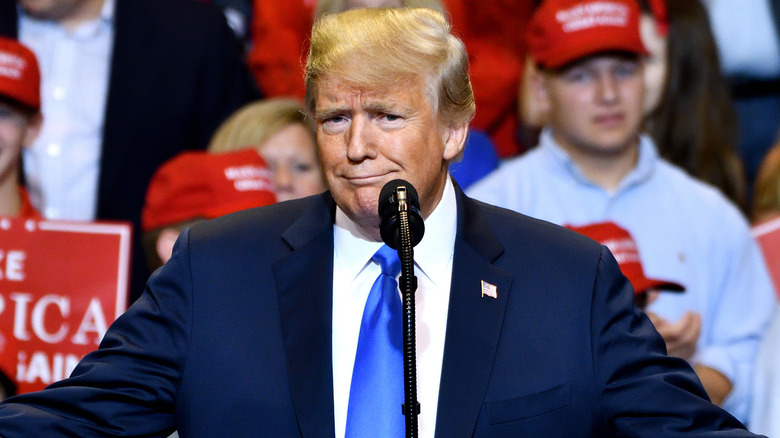 Evan El-Amin/Shutterstock
In his order, New York Supreme Court Justice Arthur Engoron also shot down the argument that the Trump Organization was "vindicated" by the recent announcement made by the company's accounting firm. The judge wrote that the idea of not being able to trust "a decade's worth of financial statements that it issued based on numbers submitted by an entity somehow exonerates that entity and renders an investigation into its past practices moot is reminiscent of Lewis Carroll ... George Orwell,'" per Politico.
But those weren't the only arguments Engoron had to put down this week. Former president Donald Trump's newest lawyer, Alina Habba, brought up numerous other issues, including why Hillary Clinton is not being investigated. "Are you going to go after Hillary Clinton for what she's doing to my client?" Habba asked the attorney general of New York and Kevin Wallace, an attorney representing her in the hearing, according to Insider. "That she spied at Trump Tower in your state? Are you going to look into her business dealings?"
A conspiracy theory has recently resurfaced that Clinton spied on Trump while he was in the White House, Insider reports. The theory is built around a "misreading of court documents" that reported a lawyer with "connections to Clinton" accessed data legally from the White House, though it was "nonpublic data."
Engoron's response to the questions raised about Clinton was, "[T]he Clintons are not before me."