Musical Performances Guaranteed To Make You Cry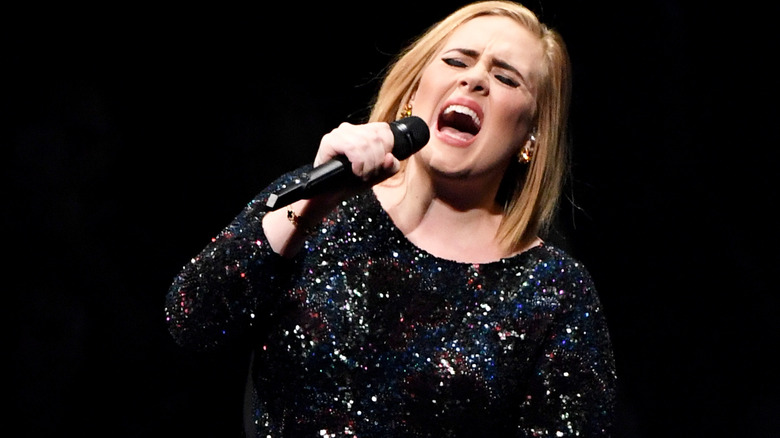 Getty Images
Some musical performances will make just about anybody cry. It could be because the performer got emotional or because the song itself is so darn sad. It's often because we have some sort of emotional connection to the song, but that's a subjective matter and hey, you do you. 
The following are musical performances that are pretty much guaranteed to make just about anyone cry. These performances were sourced from the staff here at The List, from my Facebook family, and a few subjective choices of my own. Can you guess which ones those are?
Either way, get out the tissues, kick back with the beverage of your choice, and get ready to do some ugly crying. 
Ashly Williams on The X Factor USA (2013) - I Will Always Love You
Ashly Williams performed this rendition of "I Will Always Love You," a song written by Dolly Parton and made popular by Whitney Houston, on The X Factor. When Williams was just 14, her mother was murdered, and Williams performed this song just before what would have been her mother's birthday. Not only is her vocal performance spot-on, the emotion that comes through is pure, real, and tangible. She soars through the song, and at the end, among thunderous applause, she points to the heavens and mouths "for you" to her mom. If that doesn't get you, what will?
Williams went on to compete on Kelly Rowland's reality show Chasing Destiny in 2016, and her girl group, June's Diary, just released a mixtape called Male Edition that features covers of "Hey Jude," "Poison," "Stay," and other songs by male groups. This performance, though, dedicated to her Guardian Angel, is what led the way to her success.
Kelly Clarkson on American Idol The Farewell Season (2016) - Piece by Piece
The first winner of American Idol, vocal powerhouse Kelly Clarkson, performed "Piece by Piece" during the final season of the show. Clarkson wrote the song when she was pregnant with her first child, River, because of a conversation she had with her sister. They talked about their father's abandonment of them and how different their experience was in relation to their own children—they are both happily married to loving men. So it's no surprise that Clarkson got choked up during the song, and practically everyone in the world cried along with her. Especially Keith Urban. He looks positively wrung out, emotionally speaking, by the end of the song. Us too, Keith.
Josh Daniel on The X Factor UK (2015) - Jealous
Young car mechanic Josh Daniel's lyrical reinterpretation of Labrinth's "Jealous" on The X Factor UK came from a very sad place. His very best friend died tragically at only 18 years old, and it hit the talented young man hard. In the interview portion, Daniel said that he's jealous that his best friend is happy in heaven and not around anymore. 
The performance itself is heart-wrenching and beautiful, but when you see how hard Simon Cowell is trying (and failing) to fight tears you cry along with him. Cowell later told Ruth and Jane of Loose Women that it was, indeed, emotional and that he had a hard time because he'd just lost his mother. Watch it again and see if you don't cry even harder.
Connie Talbot on Britain's Got Talent (2007) - Somewhere Over The Rainbow
Little Connie Talbot was only 6 years old when she performed "Somewhere Over the Rainbow" on Britain's Got Talent in 2007. As if an adorable little girl with a British accent wasn't enough, her voice is otherworldly. She has no front teeth, and isn't sure how she'd feel about singing in front of the Queen, but she holds the judges and audience in rapt attention during her a capella performance. Talbot came in second, and is still singing. 
Jordan Smith on The Voice (2015) - Hallelujah
It may be a song that's done to death on singing competitions, but Jordan Smith's stellar performance of Leonard Cohen's "Hallelujah" on the ninth season of The Voice simply brought the house down. The guy seriously has a voice like an angel. Every one of his performances that season was fantastic, and he won the season. Smith, the son of musicians, grew up singing in church. His 2016 album, Something Beautiful, topped the iTune's pop chart soon after. 
Sara Bareilles at the Rock and Roll Hall of Fame Induction for Laura Nyro (2012) - Stoney End
Barbra Streisand originally had a hit with this song written by acclaimed singer/songwriter Laura Nyro, who died of ovarian cancer at only 49 years old in 1997. It was the same disease that her mother died battling. Nyro's eclectic style was an inspiration for a number of recording artists, including Suzanne Vega, Kate Bush, and Tori Amos. 
In 2012, Nyro was inducted into the Rock and Roll Hall of Fame and Sara Bareilles performed "Stoney End," one Nyro's most famous hits. While it's not a sad song, per se, the story behind it and Nyro's tremendous talent, combined with Bareilles's tribute, make for tears in both longtime fans and those new to Nyro's music.
Esperanza Spalding at the White House Poetry Jam (2009) - Tell Him
Esperanza Spalding's cover of Lauryn Hill's "Tell Him" not only gives you chills, but could give you a few tears as well. While it's not better than Lauryn Hill's version, it is so intimate and personal that it hits you right in the feels. Spalding, now four-time Grammy winner, gave this performance during a 2009 White House web cast and Mike Hale of The New York Times called it a "high point." It sure was.
Whitney Houston at Super Bowl XXV (1991) - The Star Spangled Banner
The sad fact that Whitney Houston is no longer with us is enough to make us cry, but emotions were especially high during this performance in 1991 because of the Persian Gulf War, and patriotism was strong. Add that voice, and it makes you cry for a country that's currently in crisis. 
Houston's crystal clear, pitch perfect performance came ten days after Operation Desert Storm started in the Persian Gulf. She was already a star, but in that moment she was so much more. Jordan Runtagh, in a remembrance for People, said, "armed with no more than a song, Houston galvanized an uncertain nation." 
Lucinda Williams in Melbourne (1989) - Lake Charles
Lucinda Williams wrote this song about Clyde Woodward, a former boyfriend who Margaret Moser (a friend of Woodward's), says "was a cultural chameleon capable of conjuring jaw-dropping magic." Moser was with Woodward when he died of liver failure, while Williams was, as Bill Buford writes in a 2000 article for The New Yorker, on her way to say goodbye. Buford says, "The song is the only one in her repertoire that affects her in unpredictable ways, and when she performs it she sometimes breaks down." Us too, Lucinda. 
Chris Stapleton at the Greek Theater, Berkeley (2016) - Nothing Compares To You
A surprise to fans, Chris Stapleton played this song live for the first time at the Greek Theater in Berkeley, California on April 23, 2016, just two days after Prince died on April 21. Even though Stapleton told Rolling Stone Country that Prince "was a remarkable musician and an anomaly. There are few like him and there won't be another one," he said in the same article that Prince is "a tough one to cover." Seems like Stapleton did just fine, and his bluesy howl ripped the hearts right out of all of our chests. 
Lady Gaga on Howard Stern Show (2011) - Edge of Glory
Gaga got a little choked up when explaining the meaning behind "The Edge of Glory" to Howard Stern on his show in 2011. Then, she sang the living heck out of the song and it is so soulful, so emotional, that by the time she hits the last note your heart will be beating fast and you may have to fight back some tears. 
During a Q & A with Jon Pareles, Gaga expanded on the story behind the song, saying "I wrote that song about my grandpa when he passed away, and it means a lot to me...as I began to write the song, I thought about, you know, living on the edge of your life in a way that when you reach that moment it is glorious." 
Linda Ronstadt at the Fox Theater, Atlanta (1977) - Sorrow Lives Here
A beautiful, clear performance of a sad, sad song can certainly make you cry. Linda Ronstadt's 1977 performance of "Sorrow Lives Here" is simply stunning. In a 1977 Rolling Stone album review by Peter Herbst, he says "She gets Eric Kaz' complex 'Sorrow Lives Here'...just right. The lines 'Everything seems to spin all around/But I can't see/Whether it happens/With or without me' unite emotional and philosophical confusion dramatically, and Ronstadt sings them as if she wrote them." Boy howdy, she sure does, and you can feel it.
James Arthur on The X Factor UK (2012) - I Can't Make You Love Me
Queen Bonnie obviously does the most iconic version of her own song, but this insecure kiddo on The X Factor UK stole everybody's heart. James Arthur sang "I Can't Make You Love Me" at the judges' house portion of the show, and he advanced to the live show. Arthur opened up about his difficult past, and it opened a piece of him that allowed him to give a truly stunning, tear-jerking performance. 
Morrissey at the Move Festival, Manchester (2004) - Everyday is Like Sunday
For this performance of "Everyday is Like Sunday" the crowd is so totally engaged, and Morrissey is so completely overwhelmed that they know the words, that he shows uncharacteristic emotion that can set a fan right over the edge. Plus, the girl in the crowd crying and singing along really hits home to anyone who has gotten to see their very favorite artist sing their very favorite song. Reportedly, the song is inspired by Nevil Shute's novel On the Beach, which is about nuclear winter. It's a devastating topic, but you might not cry every time you watch Morrissey perform this song. This time, though, you will.
Norah Jones at Detroit Fox Theatre (2017) - Black Hole Sun
A tribute to the fallen Chris Cornell, Norah Jones uses her otherworldly voice to wrench the hearts right out of the folks at Detroit Fox Theatre on May 23, 2017. Her cover of "Black Hole Sun" came just days after Cornell's death, in the same theatre where Soundgarden played their final show. She said, "Thanks for giving us a lot of love. We love you."
Simon & Garfunkel at The Concert in Central Park (1982) - Bridge Over Troubled Water
Simon and Garfunkel were a popular singing duo before they first broke up in 1970. The reunited a few times, most notably perhaps at The Concert in Central Park in 1982. Art Gurfunkel got up and did his famous song — with tears in his eyes — perfectly. One YouTube commenter said "I was at that concert. When he sang this you could have heard a pin drop." That's quite a feat for an event that had 500,000 attendees. Watching it all these years later, you can see why.
Music moves us, and that's a good thing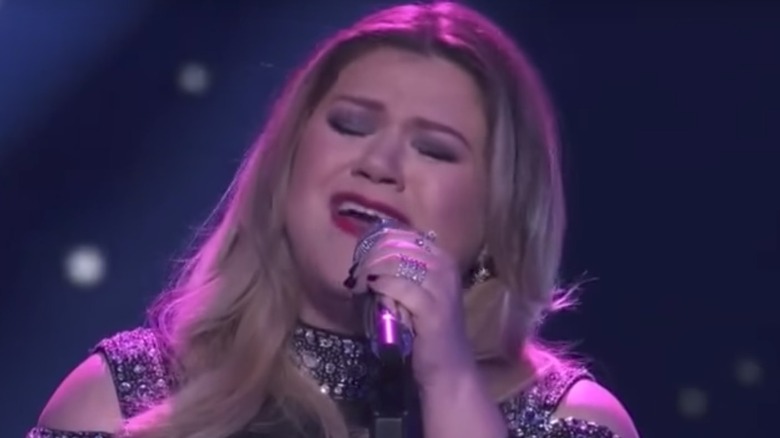 YouTube
It's a magical thing when a song, or the performance of a song, can elicit strong enough emotion to make people cry. So don't be ashamed as you sit there clutching a handful of soggy tissues. Those are tissues filled with the magic of gifted songwriting and passionate performance.