The MyPillow Guy's Latest Scheme Just Went Bust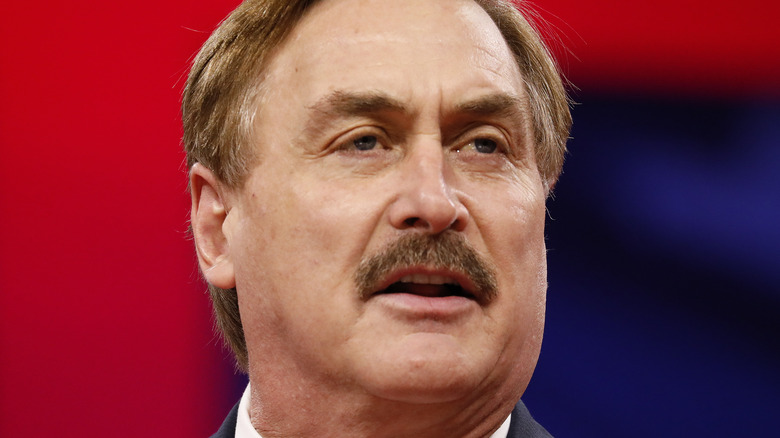 Bloomberg/Getty Images
Mike Lindell, the man behind My Pillow, is dedicated to the causes he chooses to embrace. Since Donald Trump left the White House in 2021, Lindell has been accused of peddling conspiracy theories about how the elections were stolen from his friend Trump, despite official audits that confirm otherwise. Even though Joe Biden won the 2020 election, Lindell continues to push unsubstantiated claims involving nationwide fraud, which he says marred the elections.
Meanwhile, Lindell also recently devised a plan to send his My Pillow merchandise to truckers protesting anti-vaccine mandates in Canada. During an interview with the Right Side Broadcasting Network (via The Independent), Lindell said, "all of our employees are busy making pillows right now for the truckers in Canada. We're going to try and get them through. I'm not going to say what day or you know there will be obstructionists." He continued, "We're gonna get these brave truckers, and it's going on around the world now. It's amazing. We're winning." 
Mike Lindell wanted to airlift pillows to striking Canadian truckers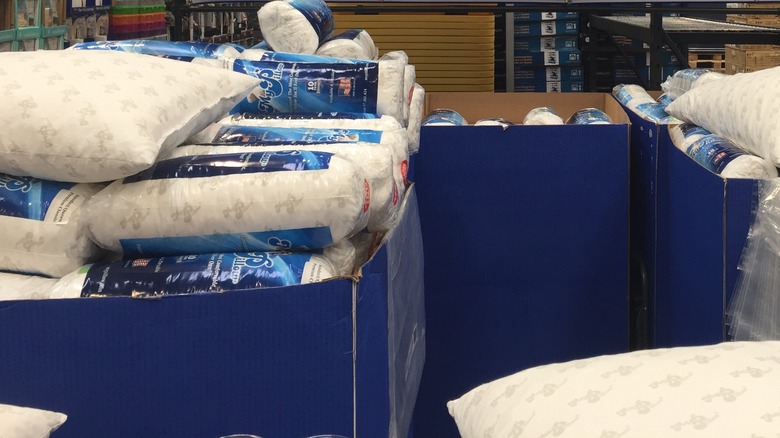 melissamn/Shutterstock
Things eventually didn't to go the way they were planned for Lindell, whose products were blocked from entering Canada. Undeterred, the man with the plan came back with a backup idea designed to bring his pillows to stricking truckers. He told The Daily Beast he would airlift the pillows and then drop them "with little parachutes attached." But that was the only detail Lindell was willing to share, because as he put it, "I cannot give the location out, and it is no joke! I just confirmed with them [the helicopter company], and yes, this is the plan. We have the helicopter confirmed."
However, it appears Lindell might have missed the opportunity to express his solidarity with the truckers, because days after the My Pillow Guy said he was working on the pillow drop, Canadian police cleared downtown Ottawa of striking protesters, arresting a few hundred people. Per The Guardian, some of the charges include "obstructing police, disobeying a court order, assault, mischief, possessing a weapon and assaulting a police officer," according to Ottawa's interim police chief, Steve Bell. 
Striking Canadian truckers received support from U.S. conservatives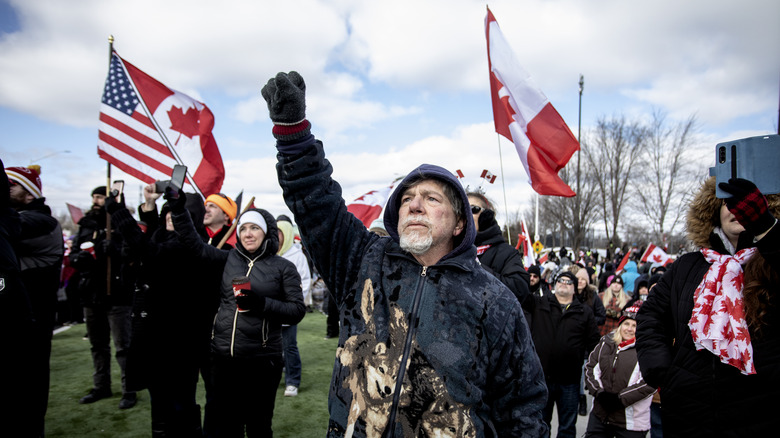 Barbara Davidson/Getty Images
Lindell was just one of many conservative voices out of the United States who had expressed their support for the striking Canadian truckers. The protesting Canadians, who referred to themselves as the "Freedom Convoy," had been cheered on by Fox news personalities Sean Hannity, Tucker Carlson, and Laura Ingram, per The New Republic. Media Matters for America reported that as of February 18, 2022, the network had devoted more than 20 hours to covering the truckers and their allies. 
Athough, the demonstrators did not represent Canadian truckers, since the Canadian Trucking Alliance has said that "a great number of these protestors have no connection to the trucking industry" and almost 90% of Canadian truckers are vaccinated. Media Matters further said that nearly 65% of those polled were against the protests. 
Meanwhile, PBS says about 44% of the money raised to fund the protests came from U.S. donors, and the State University of New York historical studies professor, Ian Reifowitz, says the protests gave conservative supporters fresh impetus to raise money. "They constantly need fresh outrages ... It's a terrific (issue) eight or nine months before the election for them."
However, the Canadians are not amused. Before the Ottawa protest site was disbanded, a furious Canadian minister of public safety Bill Blair said, "What this country is facing is a largely foreign-funded, targeted and coordinated attack on critical infrastructure and our democratic institutions."