What Happens To Costumes From The Set Of General Hospital?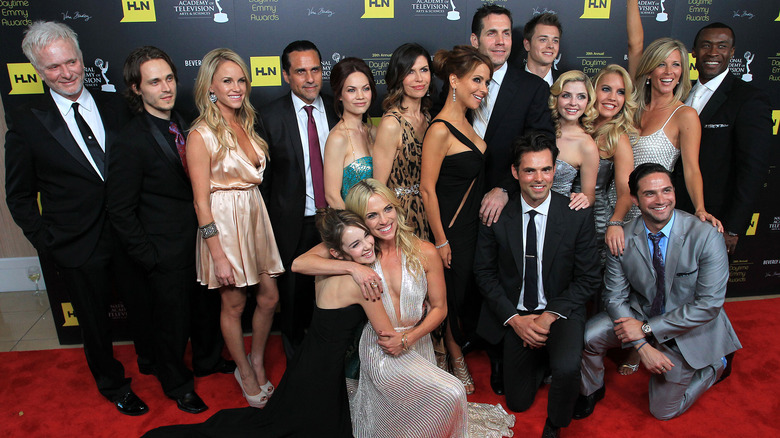 Frederick M. Brown/Getty Images
When a new soap opera day begins, it's always fun to see what your favorite characters are wearing — especially because a typical 24-hour soap day can take a full two weeks worth of episodes to play out. What did they change into after being in the same outfit for what might have been half the month? On "General Hospital," it's always fun for fans to wonder what blazer Brook Lynn Quartermaine (Amanda Setton) will wear — will she take it off when stuck in the sauna or will she leave it on as she has done before?
All characters have their own personality and sense of style even when it comes to the Nurses' Ball, which is typically the most glamorous event of the "General Hospital" year. But, what happens to all those costumes your favorite soap opera stars are wearing when the set goes dark and everyone goes home for the day?
Each General Hospital character has their own wardrobe
Soap opera actors have their own sense of style and so do their characters, with the fashion sense on "General Hospital" coming from costume designer Shawn Reeves. Each item of clothing is designated to a character and does not leave the studio even if the performer would love to wear an outfit outside the show. 
Instead, everything is each and every piece of clothing and all individual accessories get cataloged and put away in a drawer designated to a character so that when it's time to tape the same soap day on a different real-world calendar day, the way an actor dresses for the camera remains consistent, according to ABC-13.
Each drawer also has a character name and a picture of what they looked like the day prior, also for consistency. Eagle-eyed fans can often tell when a show doesn't make sure every detail of a character's wardrobe flows, so the wardrobe department's job is of the utmost importance. But, what about that Nurses' Ball and all those changes Lucy Coe has to make every year?
The Nurses Ball has costume challenges
"General Hospital" fans get a thrill each year as the Nurses' Ball airs with its red carpet moments, fashionable musical numbers, and all of Lucy's costume changes, with wardrobe malfunctions and all. When "GH" brought the Nurses' Ball back in 2013 after not airing it for several years, it was a challenge for costume designer Shawn Reeves.
"There's the evening show, and there's the talent show," Reeves told Entertainment Weekly. "We have two different shows going on at once. [A lot of the costumes] for the talent show we had custom-made, but bringing it back was exciting."
By 2015, Reeves seemed to have things down pat and kept a giant wardrobe full of elaborate ball gowns just for the occasion. Still, Reeves made sure to keep characters in mind even if he didn't personally like the style. "There are a lot of trends I don't like, but I find a way to like it and I have to justify it for the character," Reeves told ABC-13. " If it works for them, then we're going to do it."