The Fruity Skincare Product That's Going Viral On TikTok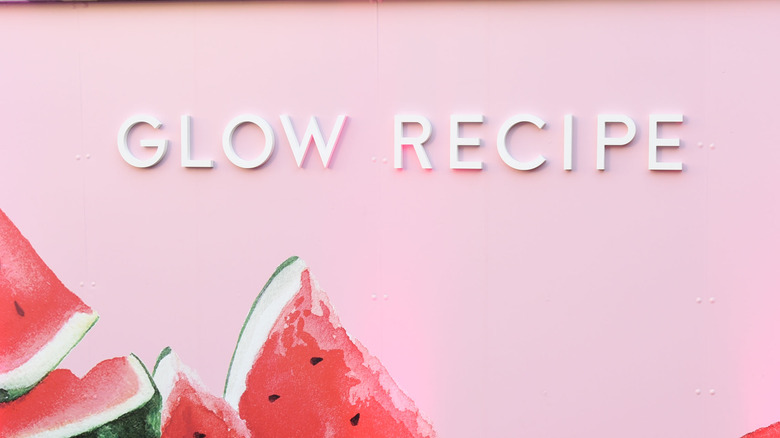 Lilly Lawrence/Getty Images
Over the years, we've watched the makeup world slowly but surely transition from the trend of matte skin to slightly glowy skin, all before evolving entirely into glass skin. Originally a Korean beauty trend, glass skin is when you've achieved a level of flow and dewiness that essentially make your face a reflective surface (via Dermstore). There are quite a few ways of tapping into this ultimate dewiness. Steps can be taken with your makeup, such as using hydrating and glowy foundations, or skipping the foundation altogether and opting for a tinted moisturizer, as Glamour recommends. However, like any makeup goal, it all begins with the base.
You can use the dewiest of makeup products, but sometimes you still can't quite achieve that shiny glass skin effect to the fullest. Here's where skincare comes into play. You can slather on whatever you'd like, but if the building blocks underneath aren't helping, they can only hurt you. Perfecting the ideal skincare routine to get your skin to glow perfectly is the first step, no matter if you invest in some seriously hydrating products or try the TikTok slugging trend as explained by Teen Vogue. As with most makeup trends, TikTok is always right on the pulse of telling you the perfect viral product to give you the results you're looking for. Cue Glow Recipe, the latest brand making waves on the short form video platform.
Glow Recipe's Watermelon Glow Dew Drops are a must-try
Since launching in 2014, Glow Recipe has been a fan-favorite beauty company, and its products are perfect for Gen Z, as shown in Cosmetics Business. Providing fun, unique skincare products that are vegan and cruelty-free while being based entirely around fruity ingredients, its cute packaging and addictively scented products have been a huge hit. The brand first emerged with its Watermelon Glow Sleeping Mask, and have since evolved into an avocado, banana, and even blueberry range, all complete with every product you could need to fully equip your skincare bag. While each product it launches has its own viral moment, none have quite compared to the phenomenon that is its Watermelon Glow Niacinamide Dew Drops.
TikTokers have always been huge fans of the brand, constantly recommending its products (via InStyle). But the Dew Drops have their own chokehold on the platform. On the drops' website page, Glow Recipe claims that the drops are a hybrid of skincare and makeup that "visibly brighten skin and deliver an effortless glow instantly and over time, while helping to reduce hyperpigmentation and without leaving a gray cast." Fans across TikTok shared countless product review videos showing just how beautifully glowy the drops leave their skin. Byrdie also reviewed it and said, "This product gives you that 'just finished my PM skincare routine,' almost wet-looking type of glow, except it actually dries down and stays in place," while Southern Living deemed it a "magic serum." Ultimately, they may give you a glow like you've never seen before.