Bethenny Frankel Details Scary Medical Emergency She Suffered In Front Of Her Daughter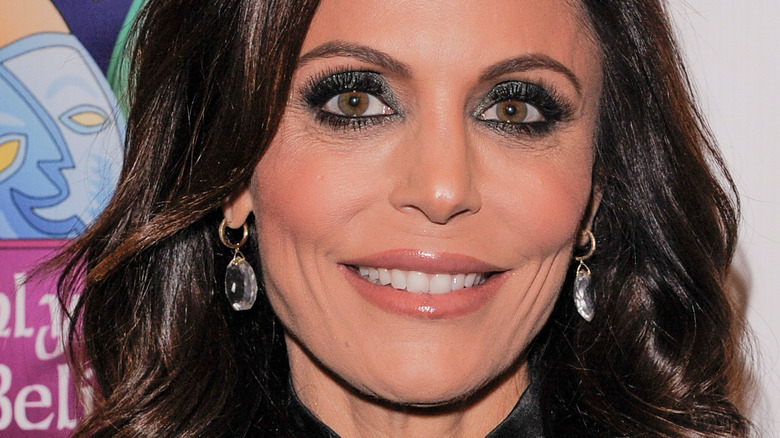 lev radin/Shutterstock
Die-hard fans of reality star and mogul Bethenny Frankel know she has a very serious allergy to fish. In 2018, she nearly died after accidentally consuming soup made with fish (via BravoTV). The newly-engaged 51-year-old has also shared the aftermath of a friend kissing her face after eating fish, posting a photo of her red and swollen chin to Instagram with the caption, "My friend had lox for lunch and gave [me] a smooch good by[e]."
Unfortunately, Frankel just had another scary brush with a severe allergic reaction and this time, her daughter Bryn was with her to witness the upsetting incident. Following the scare, the star took to TikTok to share advice for fans with severe allergies like hers Frankel (via People). Her caption read, "Be prepared for a 911 & have a medical plan while traveling."
In the accompanying video, Frankel urged sufferers to always carry an EpiPen, and relayed the story of why hers came in handy while eating out with her 11-year-old.
Bethenny Frankel's food allergy emergency was very upsetting for her daughter
As Frankel shared in her TikTok video recounting her frightening food allergy ordeal, she and her daughter ordered off the vegan menu, but the server accidentally brought them someone else's food. On Twitter, Frankel also stressed, "I have eliminated all fish and eat mostly vegan. This was a mistake in what was brought to my table."
"We realized too late," Frankel soberly recounted in her TikTok, adding, "It was a crisis. It was a medical emergency." The star had to receive shots and informed her followers that the incident ended up being traumatizing for Bryn, who according to Frankel's Instagram Story had to administer the live-saving EpiPen to her mom (via People).
"My girl being terrified while I slept was the worst part but she's learning to be safe & prepared in how to act in a crisis," Frankel also tweeted after the accident, going on to advise, "Plus I have the platform to remind people to be cautious & have a med plan when traveling. Always have 1 point person's info that responds at all times."