Why We Can't Wait To Ditch Bustier Tops In 2022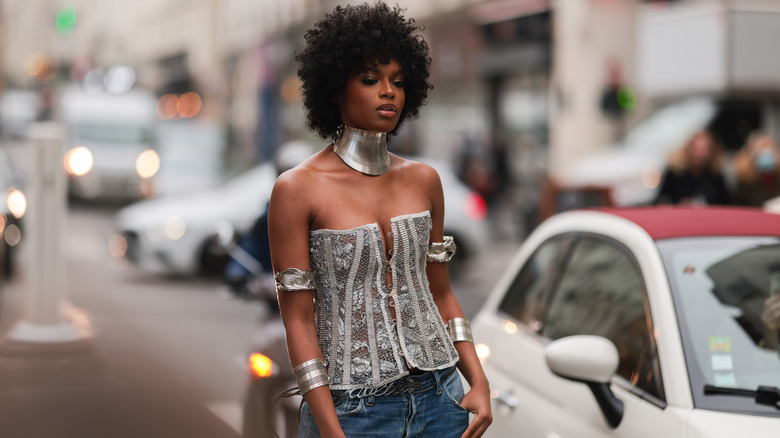 Jeremy Moeller/Getty Images
Crop tops have been a fashion mainstay for years, and barely there tops were a cozy staple as we tucked ourselves away during the pandemic. It's only reasonable, then, that itty-bitty tops would get a super-sultry update, just as we finally broke out of quarantine. Whether for going out or just running errands, structured corsets and bustiers became a big trend in 2021, worn by celebrities like Kourtney Kardashian and a pre-pregnancy Rihanna (via Nylon).
According to The Zoe Report, bustier tops are part of the "regencycore" style, an aesthetic that is just as romantic as it is regal. Think Netflix's "Bridgerton," Juliet from "Romeo and Juliet," or the kind of clothes you'd wear to frolic around a prairie. Regencycore put puff sleeves, pearls, and, yes, bustier tops at the top of the trends lists, replacing normcore's sweatpants and sneakers, as explained by Elle.
But the bustier top trend felt more than just classic and cute. It received a contemporary update, daring to show a lot more skin than you'd ever see on a "Bridgerton" character. And while some bustier tops came in dusty pastels or sweet florals, others featured punchy colors and bold prints.
The bustier top trend was fun in 2021, but we're so ready to leave it behind in 2022.
Bustier tops are tough to pull off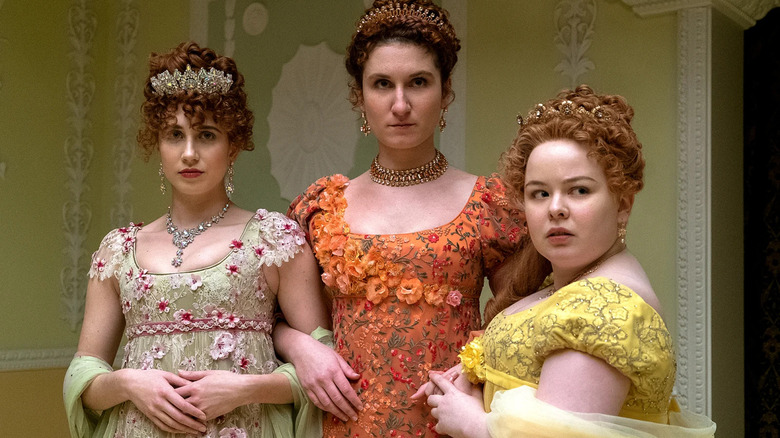 Liam Daniel/Netflix
While the new style of bustier tops may look easy to wear on the stars, looks can be deceiving. Bustiers were originally created to push up the chest, creating a strong hourglass shape (via Nylon). Even though modern bustier tops may not be as tight as they once were, they're still ultra-constrictive. Anything that stops us from finishing our plate of pasta just isn't worth it.
After comfort dressing through the pandemic, bustier tops were the daring trend many of us needed to bust out of our loose sweats. However, in 2022, we're ready to scale it back, finding a happy medium, sartorially speaking.
There are several ways to enjoy the regencycore style that are much more forgiving to the body and comfy on the waist. Empire waist dresses leave plenty of space around the chest and midsection, while blouses adorned with ribbons and frills give off a maximalist vibe. To embrace this trend through accessories, try ballet flats, bedazzled hairpieces, and lace gloves.
If you're not ready to part ways with your comfortable clothes, skip the bustier tops and add drama to your wardrobe with other romantic pieces.