Tortoise Shell Nails Are The Newest Trend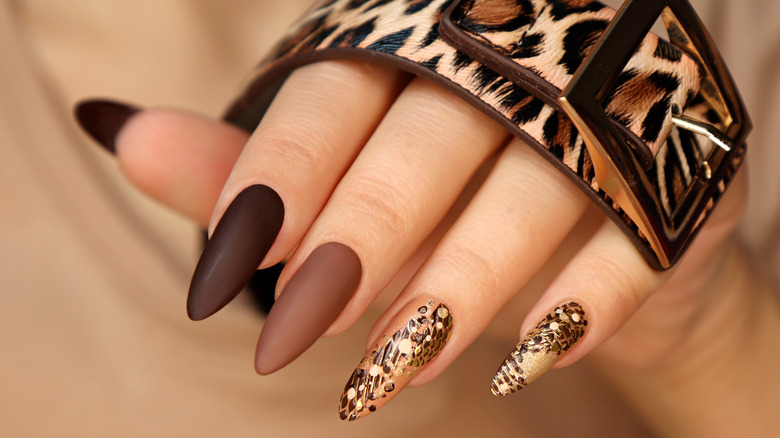 marigo20/Shutterstock
Tortoise shell has been a favorite pattern among fashion enthusiasts for years. The subtle pattern features dark neutral hues and gives everything from purses to sunglasses a sleek update with a fashion-forward vibe. Lately, the pattern has been cropping up in nail salons, as manicurists have been seeing an uptick in requests for tortoiseshell nails — proving that the trend is having a major moment in the sun.
Case in point: The black-and-brown speckled nail art nail art has been spotted on the fingertips of several A-listers, including retired Victoria's Secret Angel Alessandra Ambrosio and actress Lana Condor, per Refinery29. Since its initial introduction to the world of wild-inspired nail art, tortoise shell tips have been popping up all over Instagram on the nails of "It" girls everywhere. Not only does the pattern make a statement, it pairs well with almost any color and pattern, making it both versatile and modern. Even better? There are tons of variations to choose from. Some adaptors of the trend have gone for a patterned French-style tip, while others have opted to add an accent nail (or two) for a bold pop of color, as InStyle reported. If you're thinking about taking on the trend too, here's what you need to know.
Your tortoise shell nail options are endless
US-based nail artist Taryn Multack swears by the versatility of the tortoise shell manicure and calls it "a unique alternative" to more common nail trends, according to InStyle. Multack was one of the first artists to embrace tortoise shell, and she continues to see tons of requests for the pattern. "Tortoise shell translates so well as people are starting to experiment and gravitate towards the unexpected," she told the outlet. "The depth and layers to tortoise shell makes this specific look really unique, plus the more imperfect the better!" Multack also notes that the look can be achieved at home rather easily, as an unsteady hand can still bring the pattern to life. She does recommend mixing a bit of base coat into your polishes to make them spread more easily on your nails, per InStyle.
But if going to the nail salon for an elaborate manicure, or fussing with nail polish brushes at home isn't your thing, don't give up on the tortoise shell manicure trend just yet. One quick search on Etsy, Amazon, Urban Outfitters, or any major retailer will reveal tons of options for press-ons and nail stickers, per Refinery29. Simply pop them on for a night out and enjoy a major nail moment.