Food Network Star Alex Guarnaschelli Has Sad Relationship News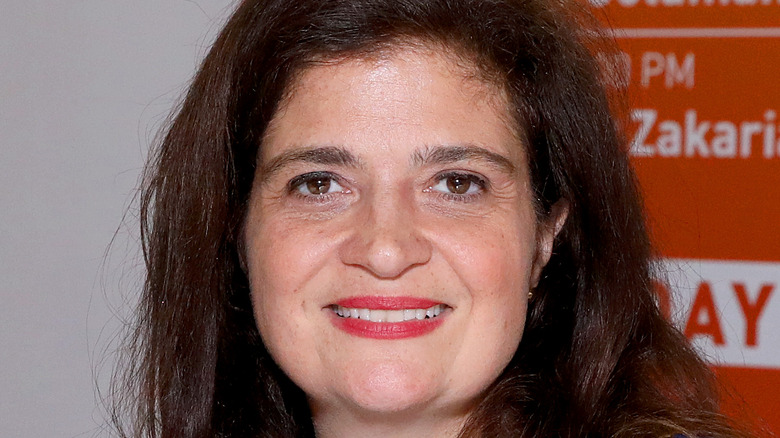 Robin Marchant/Getty Images
Whether you know her as the unstoppable "Iron Chef" competitor, or as the critical judge on "Chopped," Alex Guarnaschelli is a force to be reckoned with in the food world. Also known as the "ICAG," this St. Louis-born star grew up surrounded by food. Her culinary journey began at a young age, partly due to the fact that her late mother, Maria Guarnaschelli, was a respected cookbook editor. On her official website, Guarnaschelli states that she was "raised on the cuisine of whatever book her mother happened to be working on at the time." After completing a work study at La Varenne Culinary School, and working under Guy Savoy at his Michelin star restaurant, Guarnaschelli continued to climb up the culinary ladder, per The Daily Meal. For almost 20 years, the famous cookbook author has been the executive chef at "Butter" (yes, the very same restaurant that Blair Waldorf once took her cronies to in "Gossip Girl," as Thrillist reported).
Behind the Chopping Block, the mother-of-one is focused on raising her 14-year-old daughter, Ava Clark, whom she shares with ex-husband Brandon Clark. More recently, the "Supermarket Stakeout" star has been linked with Michael Castellon, a chef and fellow Food Network competitor. Back in 2020, The Daily Mail reported that Castellon asked Guarnaschelli to marry him with a gorgeous emerald and diamond ring. Unfortunately, the famous foodies recently shared a relationship update, and it's not one that's going to bring a smile to your face.
Alex Guarnaschelli and Michael Castellon split after five years together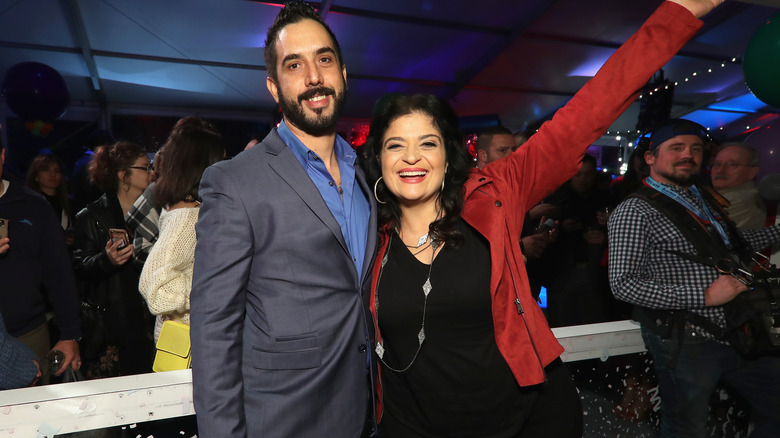 Cindy Ord/Getty
Unfortunately, not every celebrity engagement ends in marriage, and not all relationships are built to last. Case in point: two years after Michael Castellon first proposed to Alex Guarnaschelli, and five years after they began dating, Page Six reported that the couple has split. At this time, a rep for Guarnaschelli has not responded to the outlet's request for comment. For his part, Castellon kept things amicable. "Wishing her nothing but the best," he stated in an exclusive with Closer. 
Following the former couple's engagement in 2020, Guarnaschelli told People that they were in no rush to walk down the aisle, but were "excited to plan a big celebration." The two exes met for the first time when the "Chopped" judge dined at the 39-year-old chef's restaurant. "I was out to dinner with a friend, and at a restaurant, and I knew the waiter," Guarnaschelli recalled in an interview with People. After Guarnaschelli commented on how good the steak was, "the waiter  ... said, 'Oh my god, my best friend is the cook, the chef, here. He's amazing. You got to meet him.' "I went in to meet him and tell him the steak was delicious and that was it," Guarnaschelli added. It's unsurprising that Guarnaschelli, of all people, was won over by a tasty meal! Here's to hoping that her next partner also knows their way around the kitchen.