The Best Lip Treatments For Cold And Dry Winter Weather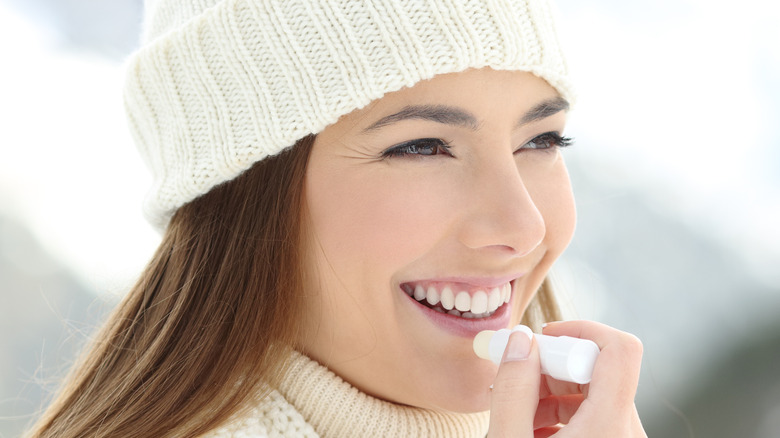 Antonio Guillem/Shutterstock
Now that we're in the thick of winter, making sure our lips stay hydrated is quite the feat. If you find yourself dealing with dry lips that only get exacerbated this time of year, you're not alone. According to Healthline, the main culprits behind cracked, dry lips are climate and weather. In the winter, the dry climate and typically cooler temperatures can especially aggravate dry lips. 
Licking your lips too much can also dehydrate your lips, as come certain medications. Dr. Brent Ridge, a physician and co-founder of Beekman 1802, told Healthline, "Our current need to wear masks dries out the lips even more. The fabric wicks away moisture. And we often breathe more through our mouths when wearing a mask, which also dries out the lips." With some places upholding their indoor mask mandates, and the winter climate becoming increasingly drier, it's important to keep lip treatments handy to soothe and hydrate chapped lips. Not all lip treatments are created equally, though.
If you have irritated lips, avoid lip plumpers as they contain irritants that are designed to cause a plumping reaction (per NBC News). It's also best to avoid menthol, essential oils, silicone, and petroleum when you're experiencing dry lips. Lip balms with too much wax can be detrimental as well, since they draw out moisture instead of locking it in. Instead, look for products with ingredients like humectants, such as glycerin and hyaluronic acid, which draw moisture into the lips. Plant-based fatty acids, such as cocoa butter, are highly-recommended. 
Lip treatments to keep in your purse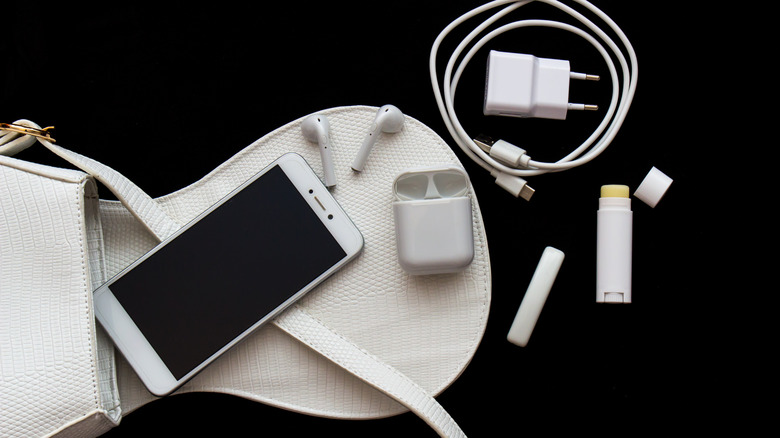 Camelia Dudu/Shutterstock
Allure recommends Lanolips 101 Ointment Multipurpose Superbalm as one of the best lip treatments for cold and dry winter weather. Not only does this help moisturize chapped lips, but it can also be applied on dry patches across your entire body. Similarly, 707 Flora's 707 Balm is another hydrating, multipurpose product that can be used to heal dry lips and elbows. The balm, which contains encapsulated micro-algae and CBD oil, won PR Web's 2020 Best Lip Balm title. The 707 Balm works to soothe lips and repair the skin barrier. A more affordable suggestion from Allure that can be used on dry patches on your lips and body is Dr. Pawpaw Multi-Purpose Soothing Balm.
If you suffer from severely cracked and inflamed lips, then First Aid Beauty Ultra Repair Therapy will come to the rescue (per Healthline). Besides hyaluronic acid, glycerin, and shea butter, the formula also contains colloidal oatmeal, which works to calm the inflammation and repair the damaged skin barrier. If you want to spoil your lips with a decadent treat, then try Irene Forte Pistachio Lip Balm. The rich formula contains pistachio oil, olive oil, vitamin E, and shea butter to deeply moisturize your lips.
For anyone who wants their lip gloss to be "poppin'" like Lil' Mama, then Allure recommends UZ 38oC Lip Treatment. This Japanese lip treatment is the love child of a moisturizing lip balm and a slick gloss. The innovative formula continuously rehydrates you throughout the day, and it comes in a wide range of colors.
Treatments that heal your lips overnight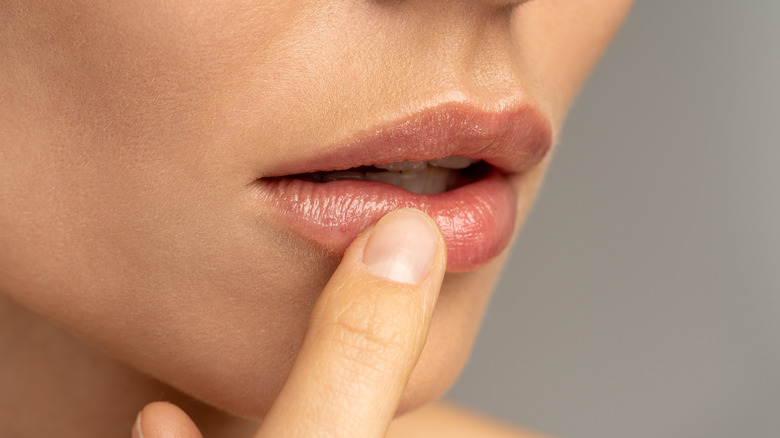 DimaBerlin/Shutterstock
A major holy grail for several beauty enthusiasts is none other than Laneige Lip Sleeping Mask. According to Today, hyaluronic acid, antioxidants, and brightening vitamin C all work to repair your lips overnight when you apply this incredible sleeping mask.
If you're looking for rich moisturization that is buttery-soft, you might want to try CosRX Lip Sleep Ceramide Lip Butter Sleep Mask, which contains skin-repairing ceramides, as well as nourishing coconut oil, shea butter, and jojoba seed oil. For a more affordable overnight lip treatment, Healthline recommends Burt's Bees Overnight Intensive Lip Treatment, while Allure suggests Chapstick Total Hydration with Sea Minerals Overnight Lip Treatment. The ceramides in the Burt's Bees treatment protect and heal the skin barrier, while the aloe and shea butter in Chapstick's treatment soothe and moisturize cracked lips.
Of course, using a lip scrub is imperative for those struggling with peeling lips. Today recommends Fresh Sugar Lip Polish, which contains exfoliating brown sugar crystals, as well as moisturizing shea butter and jojoba oil.
You can get an even better value by purchasing Avya Two-in-One Lip Treatment, which contains a lip balm and sugar scrub in innovative packaging (via Skin Inc). Both the scrub and balm contain marula seed oil and mango butter to nourish and soothe chapped lips. They also contain antioxidants and vitamin E that repair skin damage. With any of these lip treatments, cracked lips are sure to be a thing of the past.