Here's What Megan Thee Stallion Looks Like Going Makeup-Free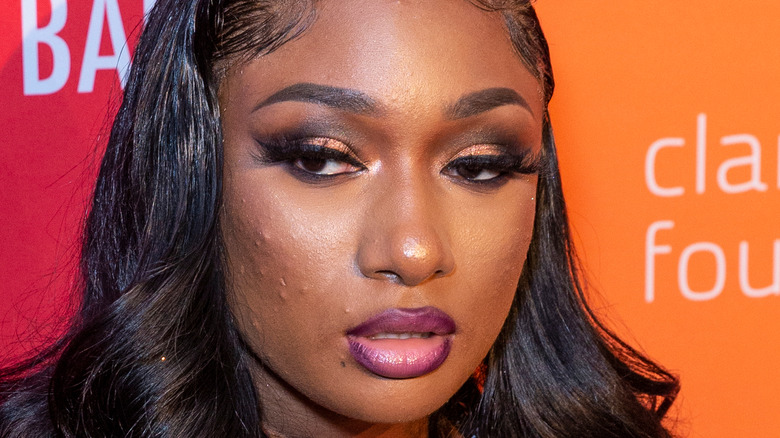 Lev Radin/Shutterstock
Megan Thee Stallion's transformation is nothing but inspirational. The Houston native went from being a shy rapper to a bonafide hot girl, selling records while attending college classes (Megan recently graduated from Texas Southern University). She's also known for creating anthems for hot girls everywhere, from her 2019 single "Hot Girl Summer" to her recent album "Something for Thee Hotties."
Her own hot girl image goes hand in hand with her signature strong, vampy makeup look. She joked in a video for Harper's Bazaar that she has to wash off "20 pounds of makeup" every night. In that same video, Megan Thee Stallion shared her nighttime skincare routine, noting that she has sensitive, acne-prone skin and that removing all makeup before bed is a must to avoid breakouts.
But in front of her fans, Megan rarely goes makeup-free until she shared a glimpse of her bare face in a photo on her Instagram account.
Megan Thee Stallion stuns with no makeup
Megan Thee Stallion showed off her flawless skin, natural hair, and curvy physique in an Instagram carousel post. She left a simple caption for the outdoor bikini photos, saying only, "While I was away," suggesting that the photo is her off-duty look. Megan appears to be wearing little to no makeup, with perhaps only a light filter boosting her natural glow.
The pared-down look is a major departure from her usual heavy makeup that's integral to her vixen aesthetic. However, it serves as proof that being a hot girl truly comes from the inside (and maybe from taking a vacation every once in a while). And, according to Megan's philosophy, it really doesn't matter if you choose to embrace a face full of foundation or not. Megan says in the Harper's Bazaar video, "Apparently the boys like me better with no makeup. But I really don't care what the boys think. I like me."