Here's The Lip Color Katie Holmes Wore As Joey Potter In Dawson's Creek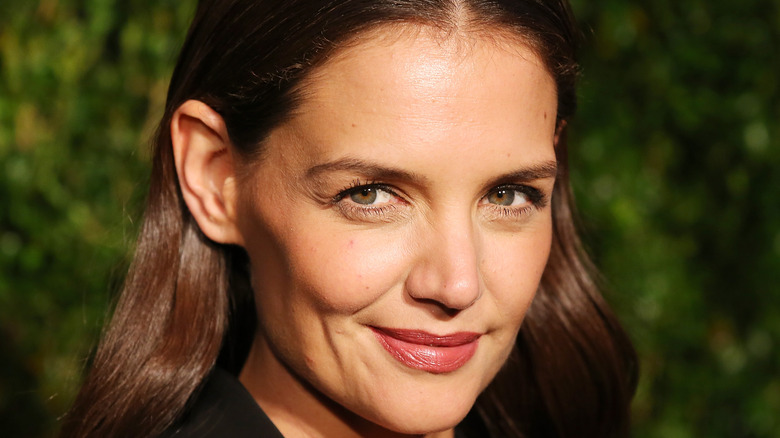 Jemal Countess/Getty Images
"Dawson's Creek" was the show of the moment during its original run, from 1998 to 2003. But, these days, it's enjoying something of a resurgence as viewers of a certain age rediscover the show on Hulu, per Entertainment Weekly. The whole cast reunited to celebrate the 20th anniversary in 2018, with showrunner Greg Berlanti, who now works on "Riverdale," arguing "Dawson's Creek" was so popular because, "It was really wholesome and it was really Americana." 
Berlanti continued, "I think if people want a perfect snapshot of what it was like to come of age in the '90s and be a young person in that moment, 'Dawson's' will always be a time capsule of that." Michelle Williams, who played fan favorite Jen Lindley, added, "I loved that we were able to get in there in those formative years for people. That's why people, I think, are so connected to it. When something affects you while you were growing up, it kind of stays in there forever." 
The whole crew helped viewers watching at home, but if you were something of a tomboy growing up, there was nobody cooler than Joey Potter. As portrayed by the lovable Katie Holmes, Joey was the coolest chick in town precisely because she couldn't care less what anybody thought of her. And, if you're looking to inject some of that no nonsense attitude into your own life, this is the exact lip color she wore on the show. 
Joey Potter kept things super natural on Dawson's Creek
Joey Potter was the furthest thing from a girly girl, so it stands to reason makeup artists didn't put a huge amount of makeup on actor Katie Holmes, who played her throughout the show's celebrated run. As MUA Brittany Cale revealed on TikTok, to give Holmes Joey's all-American glow, without alerting viewers to how much product she was actually wearing, artists chose a natural-looking MAC lipstick in the shade, Twig. 
Retailing for $19 online, the color is described as a "soft muted brownish-pink," which was obviously ideal for a young woman who would've never been caught dead applying attention-grabbing lipstick — at least, at first, anyway. Elsewhere, when artists working on "Dawson's Creek" wanted to go super natural for Joey, they simply used the classic Dr. Hauschka lip care stick, which you can pick up for $15 from their online store. 
Playing Joey clearly meant as much to Holmes as it did to all of us watching at home. She enthused, in a 2016 interview with ABC News, "He [creator Kevin Williamson] created this world and these characters that really made teenagers feel heard because he had all of us talking these big words and these thoughts and really expressing ourselves, and I think that it's really a testament to him." Holmes added, "I just feel lucky that I got to play her."