Christine Brown Lands A Surprising New Job After Breaking Up With Kody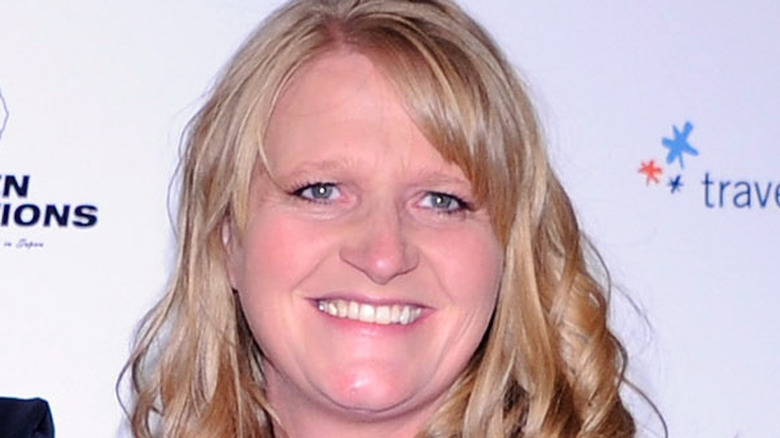 Ethan Miller/Getty Images
"Sister Wives" reality star Christine Brown is moving on with her life after making the difficult decision to split from her husband Kody Brown. The former couple — who share children Mykelti, Aspyn, Ysabel, Paedon, Gwendlyn, and Truley — were in a polygamous union along with Kody's other wives Meri, Janelle, and Robyn. The entire clan had documented their lives on the TLC show "Sister Wives" for 16 seasons. Because Christine and Kody had been experiencing marital issues for quite some time, viewers weren't exactly shocked to hear about the breakup. "I don't want polygamy, that's for sure," Christine told Hollywood Life in February 2022. "Part of the reason I'm leaving is because I don't believe in it for me anymore. God's like, 'You did it. You can go. Check!'"
Since ending things with Kody, Christine moved out of Arizona and is now residing in Utah near her daughter Aspyn, according to The Sun. It's clear she's looking forward to the future as a single woman. "So many of us have a tendency to fear change. However, I have chosen to embrace positive changes this year," the reality star posted on Instagram in November 2021. "Change can lead to beautiful things, views, and outcomes. ...Watching & waiting doesn't move anyone forward but rather creates a delay in results. If I can offer you a piece of wisdom it would be — be open to the thought of change — you never know what you're missing."
Christine Brown is hosting her own digital cooking show for TLC
Speaking of new opportunities, Christine Brown is embracing a new digital cooking show called, "Cooking with Just Christine," which is airing on TLC. "You know me from 'Sister Wives,' but what you might not know is how much I love to cook," she explains on a preview of the web series. "I'm sharing some of my favorite recipes. They're not only delicious, but they're super easy to make." The video also shows Christine in the kitchen with her daughters Truely and Mykelti. For her part, Mykleti jokes that the leftovers likely won't make their way home to her husband Antonio "Tony" Padron, whom she married in 2016. "I'll probably just eat them in the car," she laughs.
While Christine is happy with her new life, she understands that her decision to leave Kody Brown impacted a lot of people. "It's not fun breaking people's hearts," she said on an episode of "Sister Wives," according to People. "I mean, at my core, I just want people to be happy and I just want people to feel loved. But I knew I was making a decision that would break hearts and it tore me apart. And it was super, super sad." However, at the end of the day, Christine knows she has to put her own happiness first. "I just think that God's fine if I just want to be happy," she added, per People.