Jerry Lewis' Former Co-Stars Come Forward With Allegations Against The Comedian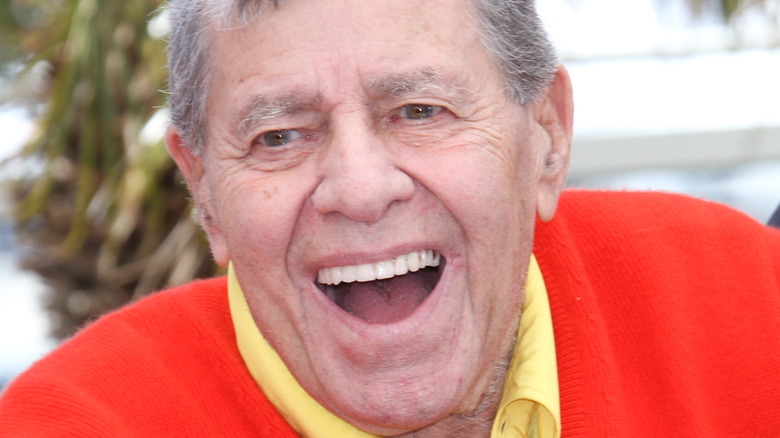 Denis Makarenko/Shutterstock
The following article includes allegations of sexual assault.
Jerry Lewis was known worldwide as a brilliant slapstick comedian, long-time acting partner to Dean Martin, and a humanitarian whose annual Labor Day telethons raised millions for the Muscular Dystrophy Association (via Britannica). But an explosive new report alleges that behind the scenes, the beloved clown was sexually harassing his co-stars.
Vanity Fair spoke to a number of Lewis's former women co-stars about his off-set behavior. Karen Sharpe, who had previously acted with Clint Eastwood and John Wayne, played the comedian's love interest in the 1964 film "The Disorderly Orderly." She told the magazine that Lewis insisted that she model her costumes for him in his office, then sent away his guards. "He grabbed me. He began to fondle me. He unzipped his pants. Quite frankly, I was dumbstruck," she recalls. Sharpe rebuffed him, which made him "furious," and from then on, she claims Lewis wouldn't even speak to her unless they were filming (via Variety).
Other actresses tell similarly horrifying tales. Hope Holiday, who worked with Lewis in the aptly named "The Ladies Man," reveals that Lewis invited her to his dressing room for a discussion, then locked the door and said, "Y'know, you could be very attractive but you wear pants all the time. I have never seen you in a skirt. You have nice legs and you've got good boobs." Then, she reports, he pleasured himself in front of her.
Jerry Lewis's co-stars are finally speaking their truth about the actor's harassment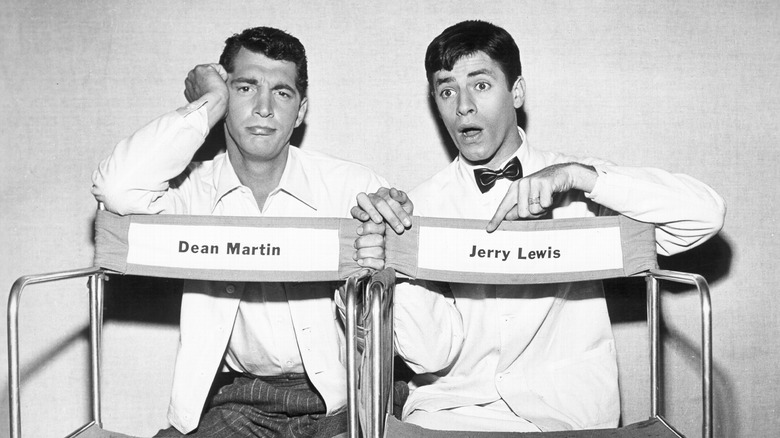 Michael Ochs Archives/Getty Images
Jerry Lewis had a reputation for being "an insecure egomaniac with an enormous sex drive," according to Vanity Fair, whose writers include the filmmakers behind the documentary "Allen v. Farrow." In the pre-#MeToo movement era, Lewis was among the many movie stars who harassed and sexually assaulted their women co-stars, knowing the women wouldn't dare to speak up for fear of destroying their careers. He was still at it as recently as 2014 when he was nearly 90. Lewis and Amy Schumer were doing a Friars roast together when he allegedly tried to push her down so that he could play-act having sex with her (via USA Today).
Lewis' psychological attacks could be just as damaging as his physical ones. Lainie Kazan (from "My Big Fat Greek Wedding") recalls that the actor's harsh comments about her body and nose made her feel unworthy and insecure for decades. "He really came on to me, but he [also] wanted me to feel like gravel," she revealed (via People). "Who wants to take the innocence away from young girls and make themselves feel important by crushing them?" Connie Stevens reports that Lewis "could be cruel" to people who didn't appreciate his humor, per Vanity Fair.
The actresses interviewed by Vanity Fair appreciate being able to speak their truth after so many years. Hope Holiday added, "Now women feel they have a place, and if we keep fighting and open our mouths and let them have what they deserve, then we've got a chance. We won't be treated like secondhand nothings."
Lewis was reportedly cruel to other people in his life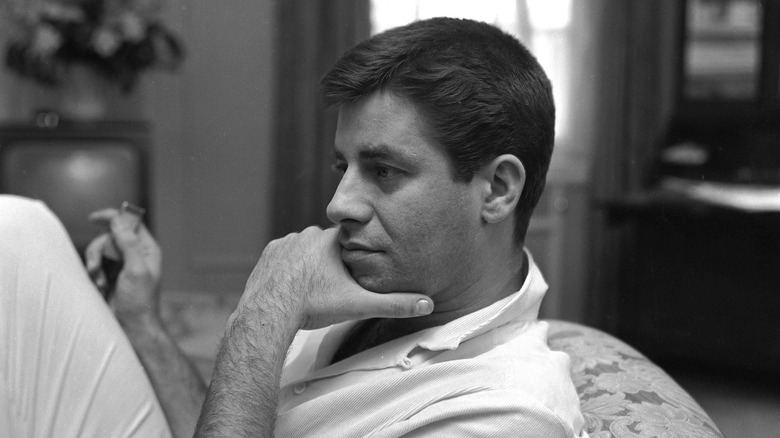 V&a Images/Getty Images
Outside of his brutal antics on set, Jerry Lewis also displayed cruelty towards those he claimed to love the most. According to AmoMama, Lewis was an emotionally abusive father to his six children and two wives. In multiple accounts from his children over the years, they claimed that Lewis was cold and cruel throughout their lives — and even cut his children out of his will before his death in 2017. When Lewis' first wife, Patti Palmer, filed for divorce from her husband, ending their 36-year marriage, she cited his constant infidelity as the reason for their split.
Dean Martin, Lewis' longtime acting partner, went decades without speaking to the actor. In his memoir, "Dean & Me: A Love Story," Lewis admitted to being a bully and egomaniac at that point in his life, and that his antics contributed to the destruction of their friendship, per USA Today. Though the pair eventually reunited, their relationship was never the same as it was when they were starring in films together. 
The Daily Mail also reports that Lewis was notorious for having an explosive temper and violent outbursts — despite attempting to give the impression that he was a charitable, "socially-conscious" man to the public. "He blatantly tells you on network TV that he is the epitome of the socially conscious man, a great humanitarian . . . Actually, he's one of the most hostile and unpleasant guys I've ever seen," actor Elliot Gould told Daily Mail. 
If you or anyone you know has been a victim of sexual assault, help is available. Visit the Rape, Abuse & Incest National Network website or contact RAINN's National Helpline at 1-800-656-HOPE (4673).