Celebs With Truly Incredible Homes
It's possible to both believe that celebs deserve privacy, and desperately want to see what the inside of their homes look like. Does Kylie Jenner have a special mirror for applying those lip swatches to her arm? Does Miley Cyrus swing from a wrecking ball to get from her bedroom to her kitchen? Does Beyoncé... WHERE DOES BEYONCÉ LIVE?!?
While some famous people are pretty guarded about their abodes, there's a lot to be learned from real estate listings, the backgrounds of Instagram photos, and the occasional home tour offered to Vogue. Here's a rundown of celebrities who have homes as glamorous as you'd imagine.
Taylor Swift
If you're one of the 102 million people who follow Taylor Swift on Instagram, you've probably seen peeks of her $20 million Tribeca loft during that phase in 2015 when she relentlessly posted photos of her squad doing activities together. 
There's the rustic living room with the light-up 1989 sign where she posed with besties Gigi Hadid, Karlie Kloss, Marnie Hunt, and Ashley Avignone (above), the kitchen where she cooked dinner with Tavi, and the long wooden dining room table where she entertains friends for dinner parties/social media backdrops. And over on InStyle, you can see detailed photos of the various rooms, which include the 8,300 square foot kitchen with exposed ceiling beams and white marble countertops, the massive but cozy living room with a fireplace, and seven bedrooms (one for each current member of the squad?).
Mindy Kaling
Mindy Kaling's real life style is similar to her Mindy Project TV character Mindy Lahiri — bright colors, interesting prints, and stuff that looks so well-made you know it costs a lot of money. Her new home in the Hancock Park neighborhood of Los Angeles, which she recently shared with Architectural Digest, stays true to this unique, fun look. 
Kaling hired interior designer Katie Ridder to fill her home with beautiful details and interesting patterns. The pink pineapple wallpapered powder room is a stunner. Kaling told AD that she really wanted to live in this historic neighborhood, but it took a while to find the right place. "It's one of these places that no one ever leaves. I fell in love with three houses, but I kept losing to these Chinese billionaires who were paying in all cash. I wish I were an Indian billionaire. Finally, I found a house that wasn't listed — a pocket listing — and I came in over asking." She wrote on Instagram that the study, seen above, is her favorite room.
Gwyneth Paltrow
Gwyneth Paltrow's home is exactly what you think it is. Her "dreamy cloud" New York City apartment, which just sold for $10 million, has a swing made from an antique Indian door in the living room and a bed so big she had to have custom sheets made to fit it. (Think about how many times you could roll over in your sleep without falling off!) 
Everything in the place is bright white, which looks clean and peaceful. It's a bold move for a home with kids in it...or is it a power move? Goop has posted a home tour so you can see the modern all-white kitchen and the English all-white foyer up close. It could give a regular person stain stress just to look at.
Johnny Depp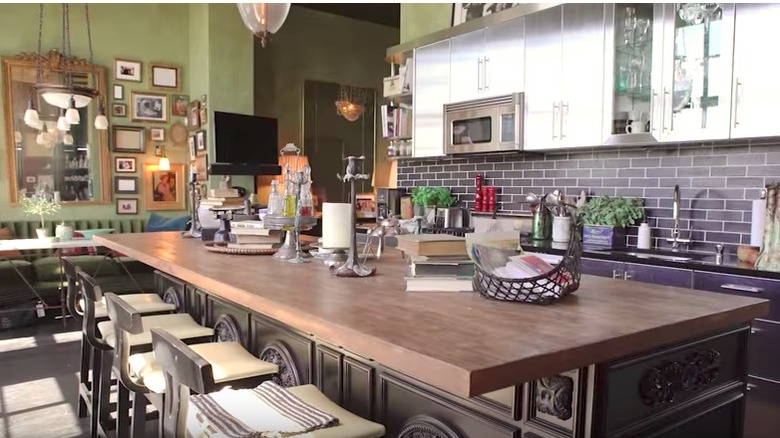 YouTube
Johnny Depp is currently involved in a very public legal dispute with his business managers about his finances, and some of the best 2017 summer reading so far is the released email where Depp asks if they advise him to sell his art, bikes, cars, or the "semblance of a soul" he has left. One thing he did put on the market last year is his LA penthouse, which is actually five adjacent penthouses put together! Yes, he's so rich that he treats five penthouses as one penthouse. Not bad. He also reportedly spends $30,000 a month on wine, so hopefully he has a cellar or gigantic multi-story wine rack or something.
Oprah Winfrey
Just north of Los Angeles lies a spot where the mountains meet the sea and the wind whispers through the trees, "Oprah." Look, Oprah obviously has a lot of houses. And one includes a $28.85 million Montecito horse farm with 23 acres that include an avocado grove. Oprah doesn't have an avocado tree, she has an avocado grove. 
According to Oprah.com, she bought the house particularly because of the beautiful view. She built a teahouse on the land and uses this spot to rest, relax, and meditate, choosing never to hold any meetings there. She also is proud of the grout color, which she chose herself. 
"I chose the color of the grout, and I chose the particular kind of gravel that was right for the rose garden, and another kind for the pathways. Grout color and gravel size would drive most people nuts. But it's all part of the process for me."
George Clooney
George Clooney doesn't summer in the Hamptons or Ibiza or somewhere obvious. He's George Clooney! So he spends the warmer months in Italy in the Lake Como villa that he bought for $10 million from the Heinz family in 2002. You know the 18th-century home is classy because it even has its own name: Villa Oleandra. 
Clooney and wife Amal spend a lot of time in this 22-room home in the small Laglio village. Their newborn twins even made their first public appearance on their way there while deboarding a private jet in Milan. (Well, George and Amal deboarded while holding them.)
Paris Hilton
When you walk into Paris Hilton's home, you see a picture of her, then another one, then another one. Her mansion, which was featured in the movie The Bling Ring, features tons of huge portraits of herself as well as framed mirror selfies taken with a phone. All of this was on display when she gave W a tour of her home in 2017. Outside, there's a pool and a two-story replica dog mansion for her five pups, of course.
Drake
Like George Clooney's Villa Oleandra, Drake's home also has an official name: the YOLO Estate. He originally had a sign outside his three-acre California compound with the home's title, but it kept getting stolen. While the rapper is not the only celebrity with a huge mansion near LA, what's notable about this pad is the pool. 
Drake told Rolling Stone, "One of my goals in life is to have the biggest residential pool on the planet." He already has a pretty extravagant one. It includes waterfalls, huge statues of women in bikinis, a wet bar, illuminated wading pools, flamed torches, and a water slide.
Reese Witherspoon
Reese Witherspoon did one of those awkward, fascinating videos for Vogue where she answers 73 questions while giving a tour of her home. Her LA house is stylish, tasteful, and has a ground-level outdoor trampoline. She has a classic, homey dining room and a huge built-in bookshelf with quirky art mounted throughout. It kind of looks like one of those elegant homes that a Nancy Meyers rom-com movie character might live in. Maybe one played by Reese Witherspoon?
Kylie Jenner
The Kardashian clan has a bevy of homes all over the celebrity-filled Calabasas suburb of Los Angeles, and Kylie Jenner in particular has a bunch of homes there herself. She bought and then put back on the market or rented three smaller Calabasas mansions before settling on her current place, a more mansion-y $12 million mansion. 
It has eight bedrooms and 11 bathrooms, which is a generous 1.375 bathrooms per bedroom. And now, while she gets work done on that house — hopefully to add more bathrooms because that could be fun — she's staying in another awesome place. TMZ reports that she's currently renting a cliffside Beverly Hills mansion for $125,000 a month. You know it's fancy because it has a pool, a screening room, and one of those ladders that goes to nowhere.
Somewhere to lay your awards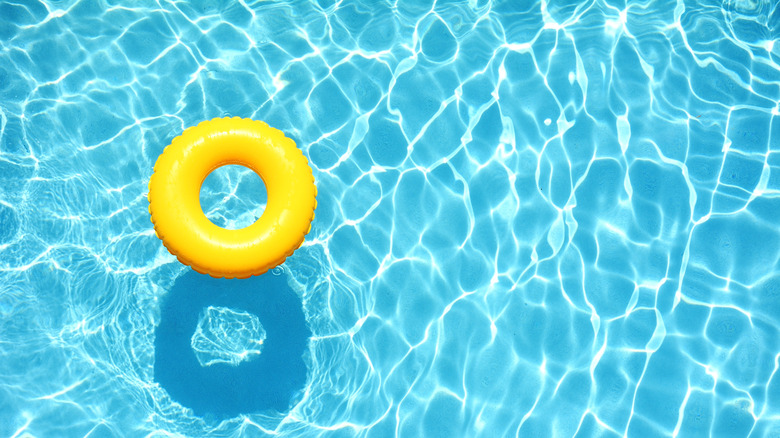 Shutterstock
All of these famous people express themselves through their living spaces in different ways. Some go glam. Some go elegant. Some create a cozy enclave for their families and friends. Some craft an awesome party space for lavish soirees. But at the end of the day, all of these homes have two essential things in common: pools, and lots and lots of money.