Melania Trump Could Be The Driving Force Behind A New Season Of A TV Show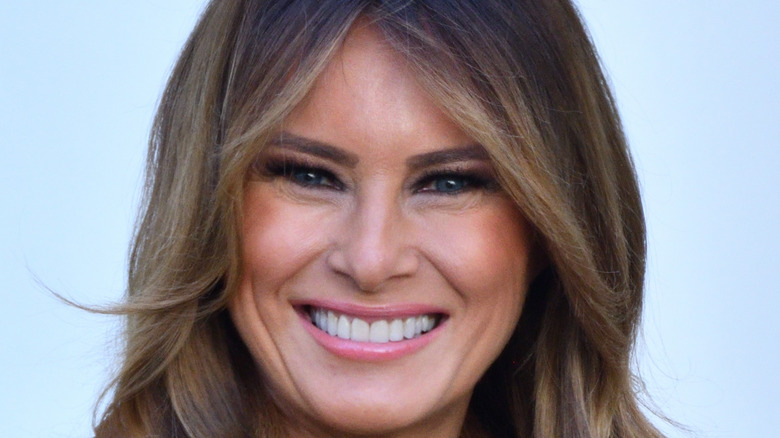 Evan El-Amin/Shutterstock
It's possible that former first lady Melania Trump could be featured in a new series that focuses on a "reframing of American leadership through the lens of the First Ladies," per Showtime.
On April 17, 2022, "The First Lady" will premiere, starring Viola Davis as Michelle Obama, Michelle Pfeiffer as Betty Ford, and Gillian Anderson as Eleanor Roosevelt. IMDb shows that their husbands will be played by O-T Fagbenle, Aaron Eckhart, and Kiefer Sutherland, respectively.
During a press tour for the Television Critics Association, the series' showrunner, Cathy Schulman, pointed out the similarities and differences among these three women, via Yahoo! 
"Eleanor wanted to be there, but only if she could be president," she said. "Betty went into the White House kicking and screaming. And Michelle was absolutely terrified for the lives of herself and her family."
Which other American first ladies could show up in this anthology drama?
The team behind The First Lady is open to including Melania Trump
At a virtual Television Critics Association panel, Gillian Anderson, who portrays Eleanor Roosevelt in "The First Lady," discussed possible future seasons of the show, via Yahoo! 
"There will be the opportunity to have many, many more first ladies represented," she said. "Maybe 104."
In particular, the panel was asked about the possibility of telling Melania Trump's story on "The First Lady." In response, Susanne Bier, the show's director and executive producer, laughed. "Look, I do think that the series could do with a fun season, so let's talk about that," she said.
Bier and showrunner Cathy Shulman also mentioned their interest in focusing on Hillary Clinton (with Bier adding that "her position was so complicated"), Jackie Kennedy (only if it "didn't tell the same old story again," noted Schulman), Edith Wilson, Martha Washington, Dolly Madison, and Rosalynn Carter, per the Daily Mail.
"The First Lady" — which also includes Dakota Fanning, Judy Greer, and Lily Rabe in its cast, per IMDb — will air on April 17, 2022, on Showtime and internationally on Paramount+ this summer.