The Primrose Oil Skincare Products You Need To Try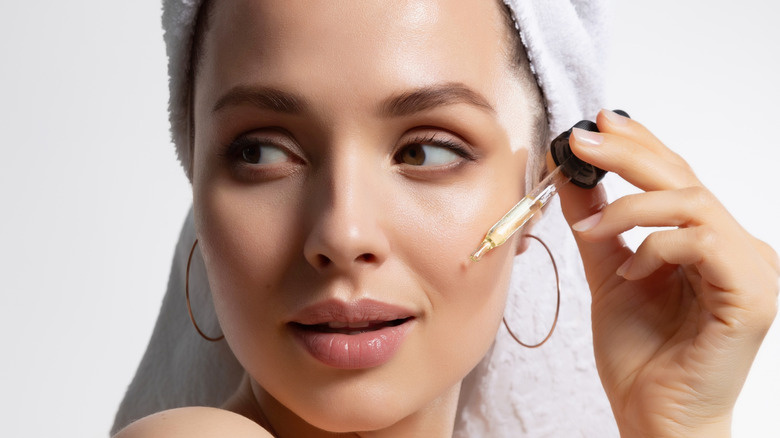 popcorner/Shutterstock
We may receive a commission on purchases made from links.
Winter can be harsh on your skin. The dry heat inside and the chilly wind outside both contribute to lower humidity, which can be terrible for the dermis. Most of you probably switch to a thicker moisturizer during the cooler months, especially if you have ultra-dry skin. People with dry skin also tend to experience more redness and irritation due to flakiness, or skin conditions like eczema and psoriasis, which require additional products to treat (per The Cleveland Clinic). If you suffer from any of these issues, you have to use caution when experimenting with new skincare products, even if everyone is raving about a specific type of face oil.
That being said, we may have found the perfect oil for you to deeply moisturize your face without causing any irritation. Evening primrose oil (EPO) is a seed oil derived from the evening primrose plant. Dermatologist Sheila Farhang told Byrdie, "It's a very thick oil that helps improve skin's moisture by reducing transepidermal water loss." Dr. Farhang added that EPO has anti-inflammatory linoleic acid in it, so it's a great option in terms of treating skin conditions like atopic dermatitis and eczema.
EPO may be beneficial in treating acne-prone skin if you're taking acne medication, as dry skin can be one of the side effects of these prescriptions. According to Healthline, there has been no proof that primrose oil can help with cystic acne and scarring, though Native Americans have been using the leaf juices and the stems of the plant to treat inflammation and small wounds for centuries.
Evening primrose oil is your BFF if you have dry skin
One of the best things about evening primrose oil (EPO) is that it hasn't been known to react negatively with other skincare ingredients. As clean cosmetic chemist Krupa Koestline told Byrdie, "Evening primrose oil works well with other plant-based oils, as well as in oil formulations that contain potentially irritating ingredients such as retinol." This is good news for those who are prone to irritation and inflammation. Koestline recommends Tata Harper Concentrated Brightening Serum, because the formula is considered COSMOS NATURAL, meaning the ingredients have been double-checked and confirmed for authenticity. EPO beautifully balances triple natural retinoic acid in this serum to help reduce fine lines on dry skin.
Healthline recommends Dermalogica Barrier Repair Moisturizer because this waterless moisturizer is perfect for repairing the skin barrier on sensitive skin. EPO and emollient silicones work together to give your skin a velvety feel while strengthening the dermis and protecting it from further damage. It also has shea butter to help with hydration. If you prefer a purer version, you can try Botanical Beauty Organic Evening Primrose Oil, an organic and concentrated oil that you can use directly on your dry scalp. It's also a great emollient for mature skin. 
Finally, Well+Good raves about Mara Beauty Evening Primrose + Green Tea® Algae Retinol Face Oil because this luxurious face oil has 1.2% retinol for anti-aging and EPO to support plump, glowing skin.