Mary Holland Reveals How Kristen Bell Had Her Back In The Woman In The House - Exclusive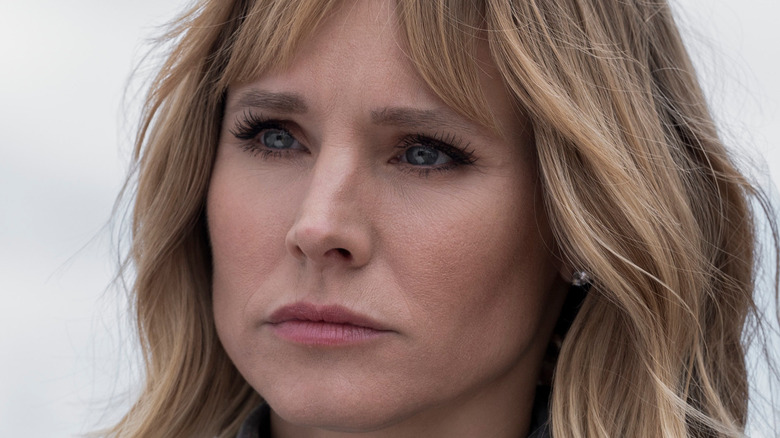 Netflix
Between onscreen spa days and some major bonding moments, Mary Holland and Kristen Bell gave off some serious BFF vibes in "The Woman in the House Across the Street From the Girl in the Window." As a series that sits firmly in the satirical horror genre, there's a whole lot of absurdity going on in the show. However, Anna's (Bell) friendship with Sloane (Holland) is the one relationship that really grounds the series instead of amplifying its ridiculousness. As it turns out, not all of their bonding moments in the show were fictional. 
Bell's costars always have great things to say about the actress, but Bell took control of a situation that could have been really awkward for Holland and saved the day with her quick thinking and ability to command a room. During an exclusive interview with The List, Mary Holland revealed how Kristen Bell had her back while filming their spa scene in "The Woman in the House." And honestly, isn't that just the dream? 
Kristen Bell's onscreen bestie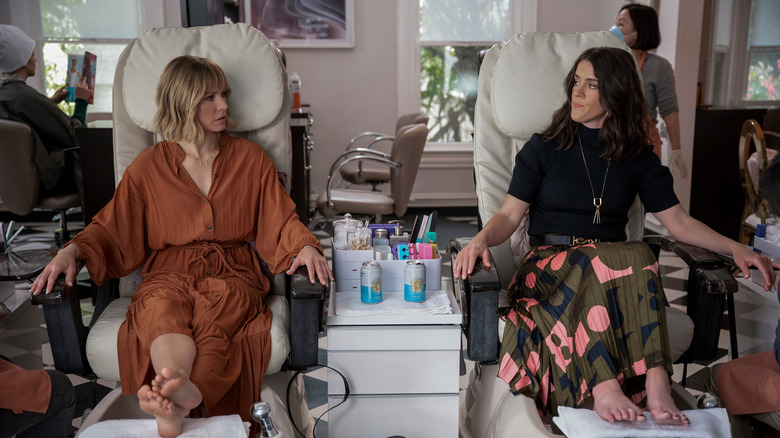 Netflix
On what it was like getting to work with Bell and having a spa day with her, Holland said, "I adore Kristen Bell. I was a fan of her for years before getting to do this show with her ... I could talk to her for hours. She's so lovely. She's so generous. She's so smart. It was a dream come true getting to get pampered in a spa with her." She added, "Right before we did that scene, and this speaks to what a kind and loving person she is ... I didn't know what I was going to be wearing for that scene until I showed up for work that day. I hadn't shaved my legs in a while, and I saw I was going to be wearing a skirt and that our feet were going to be [onscreen]." When it comes to not shaving for a day, most people would be able to throw on a pair of pants or leggings and call it a day. However, actors don't have that option. 
Holland recalled, "I was like, 'Oh my God, I haven't shaved my legs,' so she was like, 'Okay, we'll get you some shaving cream.' She managed to wrangle me shaving cream and a razor and then just sat beside me while we were waiting for the scene to get set up and while I just shaved my legs with no water. She is the greatest." Well, add white knight to Bell's ever-expanding resume.
Spa days are the best days
Netflix
One of the best scenes in "The Woman in the House" comes when Shelley Hennig's character Lisa has a passive-aggressive moment with Bell's Anna when Lisa throws out Anna's gift for Emma. At the suggestion that it would have been fun for Sloane to have joined in on that passive-aggressive fun, Holland said, "I would've loved that. The interactions with Shelley and Kristen were so smiley, and the tension underneath was so palpable. It would've been a joy to get to smile along with the rest of them and pretend like nothing's wrong."
On Holland's favorite scene to be a part of, she was pumped for her scenes with Bell — and who can blame her? "Oh God, all of those scenes with Kristen were so much fun. Any and all of my scenes were with Kristen. I walked away any time I got to do a scene with Kristen and was like, 'That was the best,"' Holland said. "I really love this scene where we're getting our nails done. We played around a lot in that scene when we were shooting it and just had a great time. I think the one that really made me laugh when we were doing it was when I show up outside her car, for some reason, when she's backing out. Yeah, that was really fun to do. I love that one." 
The first season of "The Woman in the House" is now streaming on Netflix.