Meghan Markle And Prince Harry Speak Out About Ukraine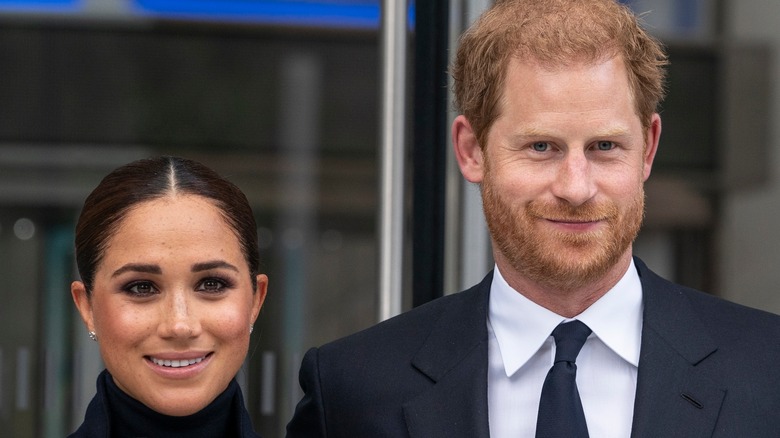 lev radin/Shutterstock
While Russia's President Vladimir Putin long assured the global community he hadn't any plans to invade Ukraine, a European democratic nation that is home to 44 million people, the world has now been watching in horror for days as Putin's forces invade the country (via BBC). Putin claims that Russia cannot feel "safe, develop, and exist" due to what he calls a constant threat from Ukraine, and in response to that "threat," Putin has sent his troops to invade Ukraine from the north, south, and east. Currently, Russian troops are on the border of Kyiv, the country's capitol.
While political leaders and celebrities alike have been sharing their thoughts on the subject and praying for peace, one particular couple is garnering a great deal of attention for their statement on the matter. Prince Harry and Meghan Markle, the Duke and Duchess of Sussex, posted the following comment on the website of Archwell, the couple's charity: "Prince Harry and Meghan, The Duke and Duchess of Sussex and all of us at Archewell stand with the people of Ukraine against this breach of international and humanitarian law and encourage the global community and its leaders to do the same" (via Daily Mail). 
How people have reacted to the royal couple's statement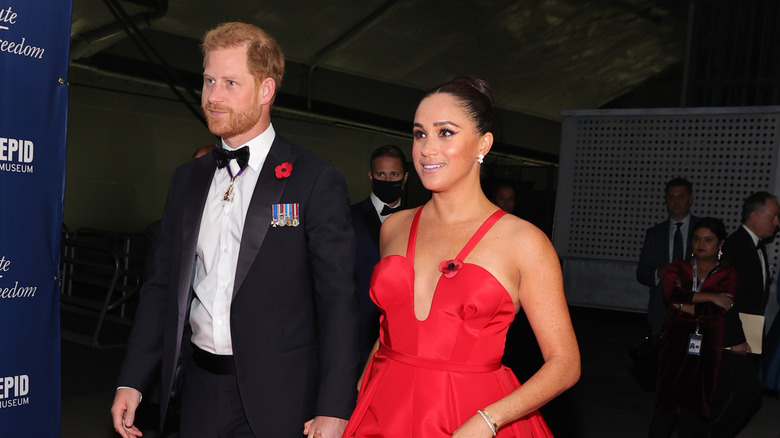 Theo Wargo/Getty Images
While some felt it was admirable and proper for Meghan and Harry, as global political figures and celebrities with a far reach, to make such a statement, others poked fun at the couple and accused them of making a terrible, dangerous occurrence thousands of miles from their California mansion about themselves (via Daily Mail). In fact, GB News host Colin Brazier, host of GB News in the UK, commented, "Nothing throws an invasion into reverse like a lightning strike from the Sussexes." Similarly, Piers Morgan shared equally sarcastic commentary on Twitter, saying, "'This will really rattle Putin."
Such comments do seem to forget that while Prince Harry is now living in the United States and has stepped back from his duties as part of the British Royal Family, his opinions on global policy, especially where it comes to conflict, are rooted in experience. Harry served for a decade in the British Army and served two tours in Afghanistan as an air controller and also as an Apache attack helicopter pilot (via Daily Mail).