These Are The Best Orange Blushes Out There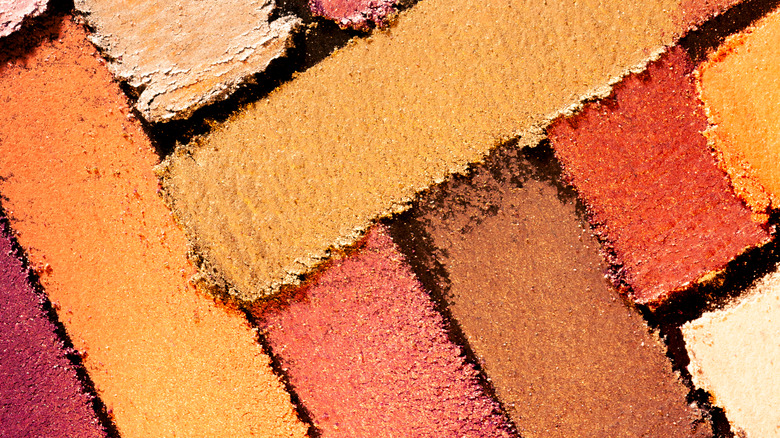 Fotaro1965/Shutterstock
We may receive a commission on purchases made from links.
Blush has made a major comeback since 2020, with bold colors especially taking over all our Instagram feeds. And this trend is going to continue for the foreseeable future. But if you get intimidated watching those videos of influencers trying on vivid violet blushes and radiant red shades, consider this your sign to ignore your inhibitions and join the resurgence of the bold blush trend. While purple and red shades may be out of most people's comfort zones, there are other bright shades of blush you can try if you're just dipping your feet into this style.
Orange is easily one of the most wearable bright blush colors, as there is a mandarin-toned hue out there for just about every skin tone (per makeup.com). There are subdued shades like peach and apricot, and bold hues like tangerine and blood orange. With the wide variety of orange blushes out there, trying to find the perfect shade may feel like searching for a needle in a haystack. You can rest assured, though, that there is an orange blush for each and every person. 
The top orange blush shades for each skin tone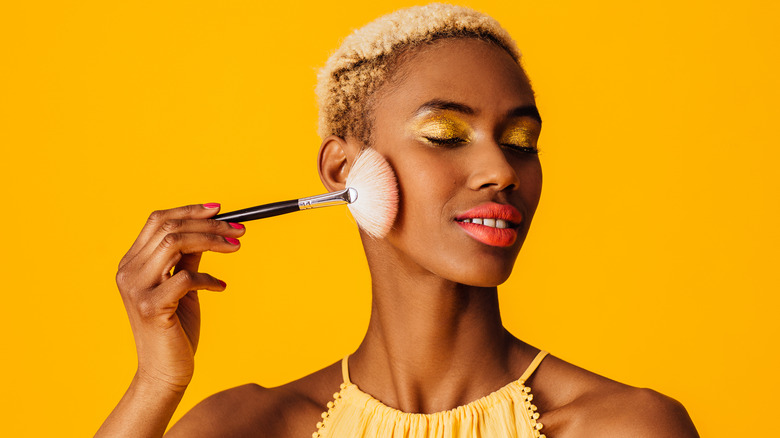 CarlosDavid/Shutterstock
Orange blush especially stands out on deeper skin tones. Makeup.com suggests trying a pinky-copper shimmer shade like Lancome Blush Subtil in French Rose. If you want to unveil your inner goddess glow, and rock a bolder take on orange, Allure says to go with the bright blood orange shade NARS Powder Blush in Exhibit A. People with medium skin tones can also shine with orange blush, which is why makeup.com thinks going with a vivid "sunset orange" like Lime Crime Softwear Blush in Firewall is a solid bet. The same outlet has advice for those with pale skin, who may shy away from juicy mandarin hues: A lighter, peachier shade like Giorgio Armani A-Line Liquid Blush in Peach can provide a soft, diffused apricot flush.
For those with olive skin tones, finding an orange blush that won't clash with your undertone can be more difficult. Makeup.com recommends "a coral orange shade" in a sheer finish so that you get a gentle flush of warmth on your cheeks that won't wash you out. According to The Zoe Report (TZR), Milani Cheek Kiss Liquid Blush in Cheeky Coral is the perfect coral cream blush, and one that can especially complement an olive undertone. TZR also recommends trying a golden-orange blush, like Tata Harper Vitamin-Infused Cream Blush in Lucky, to highlight the more golden undertones in those with warmer olive skin tones.
Universally-flattering orange blush shades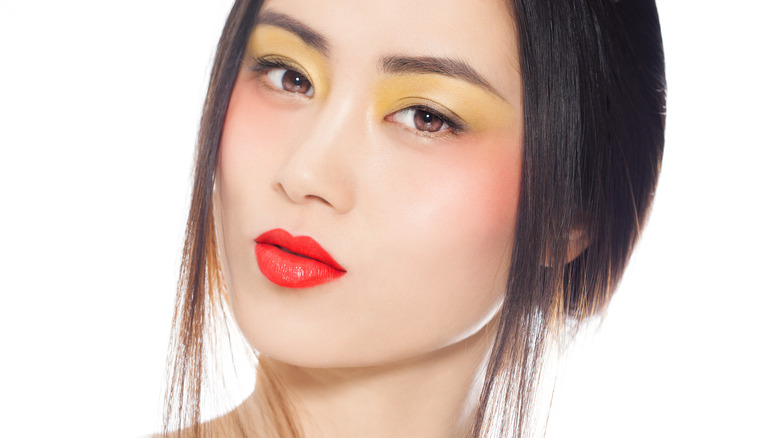 iconogenic/Shutterstock
Temptalia, a beauty blogger known for her wide encyclopedia of swatches, compiled a list that ranked the best orange blushes she has tried. For a shimmery tangerine color, she recommended a cream and powder option, Fenty Beauty Cheeks Out Cream Blush in Fuego Flush and NARS Powder Blush in Taj Mahal. If you want the same color, but in a satin finish, Temptalia says to go for Surratt Beauty Artistique Blush in Cantaloup. Also on the list is Glossier Cloud Paint's cult-favorite cream blush, which dries to a powder-matte finish. The shade Dawn offers a sheer, true orange wash on the cheeks.
If the thought of bright orange on your cheeks scares you, then you could try more neutral-toned blushes with orange undertones. The Zoe Report recommends Flower Beauty Blush Bomb Color Drops in Nectar. The orange-brown shade is a buildable liquid-cream formula that is absolutely beginner-friendly. Another wearable blush is Canmake Cream Cheek in Sweet Apricot, a pinky-orange shade. TZR says the cream-gel formula "blends into skin seamlessly and dries down instantly." For the ultimate warm flush that won't leave skin dry, TZR suggests trying a peach tone like Honest Beauty Creme Cheek Blush in Coral Peach. The skincare-infused formula sinks into the skin effortlessly, while leaving a "dewy" glow to the skin. 
With the infinite amount of orange blush options out there, you're guaranteed to be telling yourself, "Orange you glad you tried that orange blush trend?"