Who Is Ketanji Brown Jackson's Husband?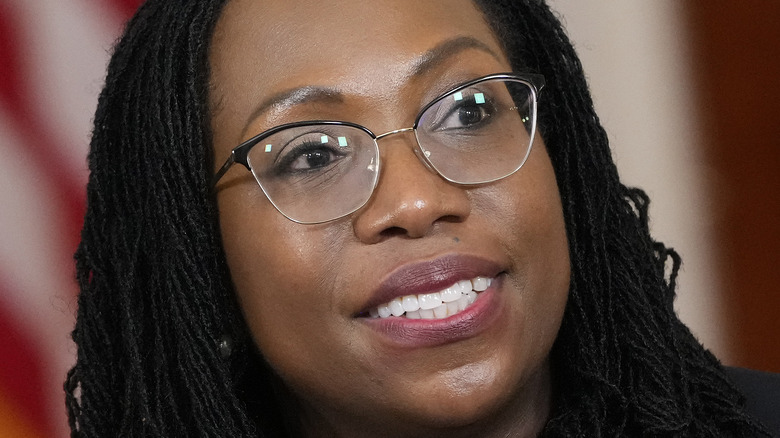 Drew Angerer/Getty Images
U.S. President Joe Biden announced his Supreme Court nominee to replace retiring Justice Stephen Breyer — Ketanji Brown Jackson (per The White House). Currently a judge on the U.S. Court of Appeals for the D.C. Circuit, Jackson boasts an impressive resume, previously serving as a U.S. District Court judge, public defender, and law clerk to Breyer himself.
A star student from her days as debate club champion and student body president of Miami Palmetto Senior High School, Jackson continued to shine in college by graduating magna cum laude from Harvard University and cum laude from Harvard Law School, in addition to becoming an editor of the "Harvard Law Review." However, Harvard University was special in other ways for Jackson as well.
According to the Associated Press, Ketanji met her now-husband, Dr. Patrick Graves Jackson, at Harvard University where they both were studying, and per NPR, Patrick was Ketanji's first "serious boyfriend." The couple got married in 1996 and went on to have two daughters — Talia and Leila.
On June 12, 2021, Patrick tweeted about the anniversary of the Supreme Court's landmark decision on the Loving v. Virginia case that invalidated state bans on interracial marriage (via The Associated Press). "Happy Loving Day! I am especially thankful to be walking through life with a brilliant and compassionate partner who still takes my breath away, made possible by sacrifices like Richard and Mildred Loving," Patrick captioned in his tweet that featured a picture of himself and Ketanji.
Dr. Patrick Graves Jackson is a well-renowned surgeon at Georgetown University
Dr. Patrick Graves Jackson is not only a practicing surgeon, he is Georgetown University's chief of gastrointestinal medicine and an associate professor of surgery at the university's medical school, per Women's Health. According to his bio on MedStar Health, Dr. Jackson specializes in various minimally invasive procedures such as hernias, anti-reflux surgeries, and abdominal wall reconstructions. Dr. Jackson was also featured in a detailed interview with MedStar Georgetown University Hospital, where he spoke at-length about Gastroesophageal Reflux Disease (GERD) and the various treatments available, including the rarely conducted LINX procedure that he is skilled in performing as a surgeon.
Outside of his extensive expertise in gastrointestinal medicine, Dr. Jackson is also a loving and supportive husband to Judge Ketanji Brown Jackson. After Ketanji graduated from law school, Federal Judge Patti Saris hired her as a law clerk (per NPR). Saris recalls seeing Ketanji's doting husband drop by the courtroom after his on-call shifts as a surgical resident at Massachusetts General Hospital.
Patrick admired his wife and wanted to watch her at work. But because he would be wrapping up overnight shifts, he would often come into the courtroom looking disheveled and was once mistaken as a homeless man by the Courtroom Marshall.
Dr. Jackson is a supportive husband to Ketanji Brown Jackson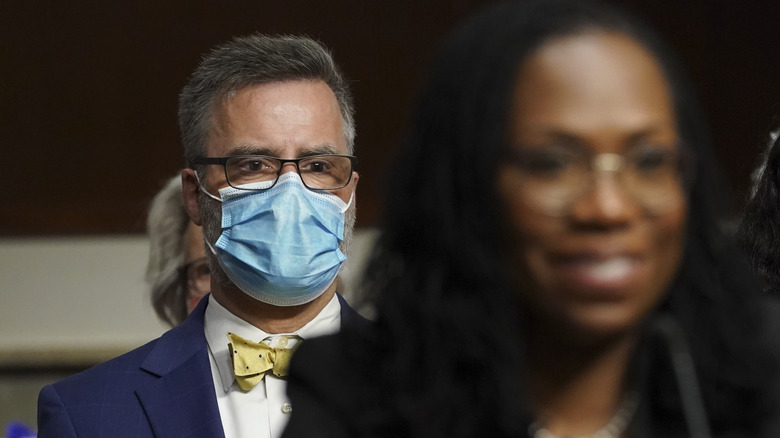 Pool/Getty Images
Clearly, the star surgeon and Supreme Court nominee are quite the power couple, and friends noticed this from the very beginning of their relationship. Nina Simmons, Ketanji Brown Jackson's college roommate, spoke to KTVZ regarding Dr. Patrick Graves Jackson and said, "At first we kind of gave him the side eye. The two were very different — but the same in terms of their values, ideals, and temperament."
The two come from vastly different worlds. In a 2017 address at the University of Georgia School of Law's 35th Edith House Lecture, Ketanji spoke about their contrasting backgrounds. "Patrick is a quintessential 'Boston Brahmin' — his family can be traced back to England before the Mayflower ... He and his twin brother are, in fact, the sixth generation in their family to graduate from Harvard College," she said.
She added, "By contrast, I am only the second generation in my family to go to any college, and I am fairly certain that if you traced my family lineage back past my grandparents — who were raised in Georgia, by the way — you would find that my ancestors were slaves on both sides." But as NPR reports, the small differences they have in their backgrounds are overshadowed by the common ground between them, with Dr. Jackson being the supportive man behind the successful woman that is Judge Jackson. While the two may have come from different places, they are united in the love and common vision they share.