Is Curology Actually Worth The Hype?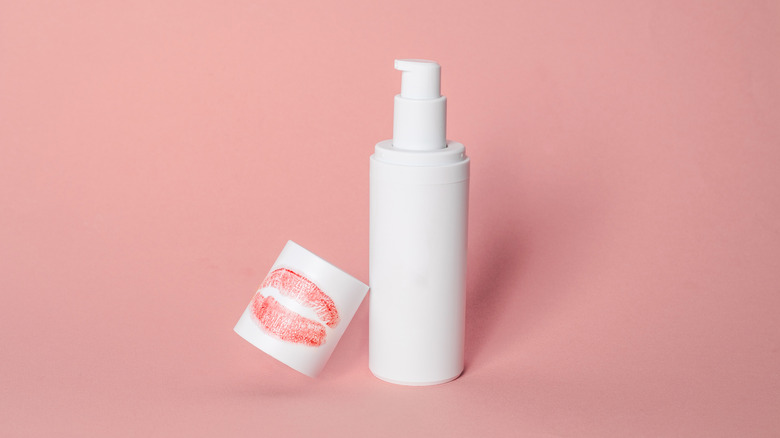 Hasmukh Mevada/Shutterstock
These days, it seems as though you can personalize almost everything in your life. Thanks to technology, we can customize experiences on our phones and social media, so why not personalize our skincare too? The vast array of skincare brands and products on the market can often seem to blur into one. Sure, every brand has its own unique name and packaging — but at the end of the day, skincare products serve the same generalized purpose. As we know, you can mix and match different skincare products from different brands to build the perfect skincare routine to best suit your needs. But doing so can be overwhelming, so it makes sense that when a brand comes along promising to be your one-stop shop, everyone pauses to listen.
Skincare fanatics may have already heard of the Curology brand. According to its website, Curology works with a dermatologist provider to analyze customer selfies and formulate a custom serum that targets your exact needs. In addition to its die-hard fan base and rave reviews on social media, Curology also claims that 93% of customers find the product to be effective. So, let's explore a bit further ... is it *really* worth the hype?
Get prescription skincare without the trip to the dermatologist
At the end of the day, we know that consulting with a dermatologist is a sure-fire way to perfect your skin. While the Internet is chock full of skincare experts, and everyone can eventually pinpoint their perfect skincare routine with enough trial and error, professional help always helps our skin to look its best. However, in lieu of going to the dermatologist, Curology can take care of things for you. Per a Healthline review, the brand is the next best thing to the dermatologist, especially for anyone struggling with acne or blackheads.
Cosmopolitan points out another great thing about the brand. Because there's an expert involved in Curology, he/she determines the correct and safe combination of active ingredients like tretinoin and acids best suited to your skin needs — so that you don't have to! This takes the guesswork out of things. And while Cosmopolitan determined that the brand didn't cure acne entirely, it still worked to improve skin issues over time. So, whether it's a miracle worker or just a great serum, Curology seems to be worth the hype. For more proof, just look to the brand's customer reviews. One satisfied consumer wrote, "Curology completely restored my complexion and my confidence! It is such a freeing feeling to be comfortable in my own skin."