These Are The Best Perfumes If You Love Honeysuckle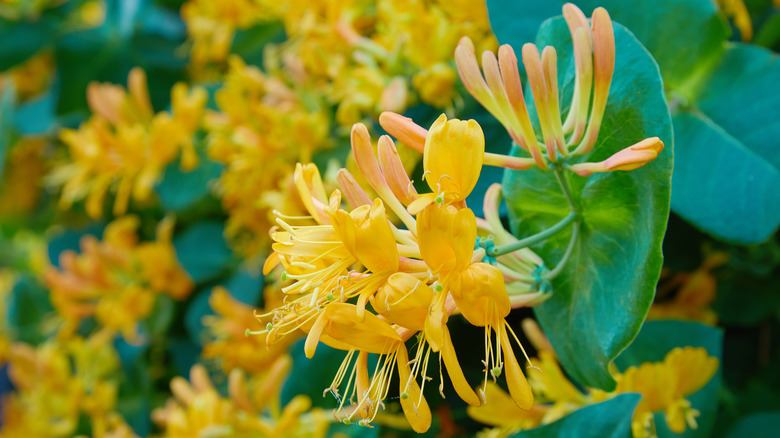 krolya25/Shutterstock
We may receive a commission on purchases made from links.
Just picture it: you're getting ready to head out the door, so you take a shower, run through your skin routine, pick out a dress and your favorite shoes, grab your handbag, and you're ready to go. If you feel like something major is missing from that scenario, such as a quick spritz of your go-to fragrance, then you are undoubtedly a perfume aficionado. If you love perfumes as much as we do, you may have a lineup of your favorite fragrances on the bathroom counter right now. You might adore Tom Ford's Soleil Blanc Eau de Parfum for its beachy, coconut-infused, spicy cardamom scent — but you might equally love Chloé's Nomade Eau de Parfum for its floral freesia and earthy oakmoss mixture. AND, there's always Chanel's iconic Coco Mademoiselle Eau de Parfum, for when you want something youthful and citrusy that also channels sex appeal. In short, it can be hard to choose a favorite perfume, but there's always room for one more in your collection!
When it comes to scents, there's a reason why we gravitate to certain ones. Of our five senses, smell is the one most linked to memory. Per Very Well Mind, smell and memory go hand-in-hand because the brain rapidly sends out scent signals to our limbic system, which is highly linked to our emotions. If you connect to the scent of honeysuckle, we've rounded up the best perfumes for you.
Here's why you might be drawn to the scent of honeysuckle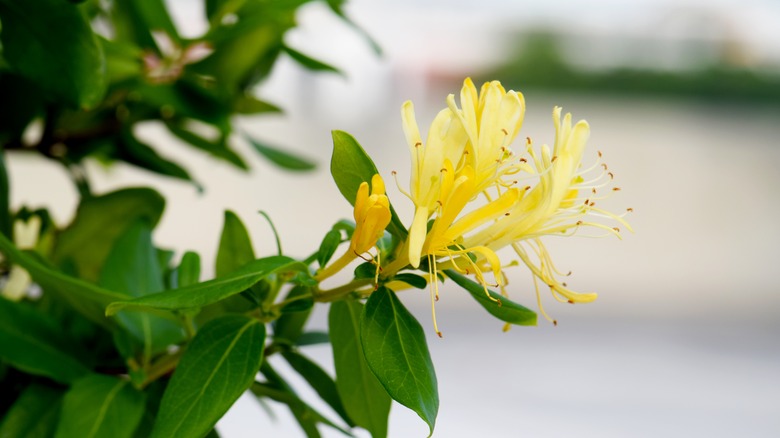 rminedaisy/Shutterstock
Gravitating to specific scents isn't just about memory. As aromatherapy expert Kerri Nau explained to InStyle, "It really comes down to personal preference. The scents that we 'like' are actually linked to what we innately 'need.' Inhalation of scents ... can alter our emotional and physical state. We are naturally drawn to scents that make us feel a certain way." In the case of honeysuckle, you might be craving a sense of serenity and sweetness in your life. Per Networx, honeysuckle smells as sweet as candy, with strong fruit and honey undertones. Those who love honeysuckle might be attracted to relaxation and meditation, and live life with a "glass half full" mentality.
Additionally, a connection to honeysuckle could be rooted in memory. For example, if you recall running through a honeysuckle garden as a child, then your current love for the scent is inspired by that experience. Or, if you remember smelling your grandmother's honeysuckle perfume when you were younger, it may be enough to make you adore the same fragrance today. As Everfumed reports, people usually associate honeysuckle with summer and the warmer months of the year, so your attraction to it could also mean you're craving springtime growth and summer beach days. Luckily, there are tons of amazing honeysuckle perfumes to get you through even the coldest of winters!
Here are the best honeysuckle perfumes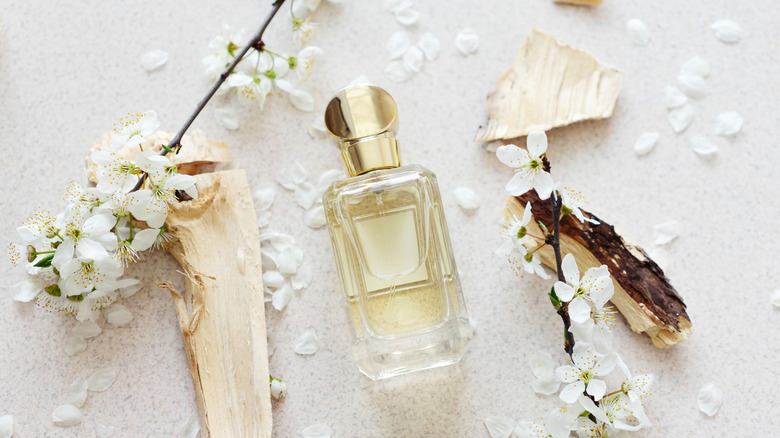 KaterynaTkachenko/Shutterstock
If you love the sweet, fruity scent of honeysuckle, there are plenty of perfumes for you. For starters, Byrdie calls the iconic Diptyque Paris Olene Eau de Toilette ($150) a must-have. The scent combines complex florals like rich jasmine and wisteria with soft honeysuckle — and according to its official description, it's just like walking underneath garden pergolas at dusk. Diptyque is always a good idea, but Brydie recommends a fruitier alternative in Fresh Honeysuckle Eau de Parfum, which retails for $93.38. Blackcurrant and golden peach give the perfume a fresh feel, while jasmine, honeysuckle and magnolia make this the ultimate flower-forward scent.
As Stylecraze suggests, another fantastic option is Jo Malone London's Honeysuckle & Davana Cologne ($145), which blends sweet English honeysuckle with notes of rose, moss, and davana. Meanwhile, Estee Lauder's Modern Muse Eau de Parfum ($95) is a classic, time-honored alternative that puts honeysuckle front and center. It layers the floral scent with a wide range of other notes, including mandarin, jasmine, tuberose, lily, patchouli, amber, musk, and even spicy-sweet Madagascar vanilla. Or, if you're looking for something truly refreshing, try Derek Lam 10 Crosby Drunk On Youth Eau de Parfum ($64.46), which brings together honeysuckle and crisp apple for a candied, yet still fresh, fragrance. No matter what honeysuckle scent you choose, you ultimately can't go wrong with any of these options.