Amanda Pace Shares What It Was Like Dating On Joe Millionaire - Exclusive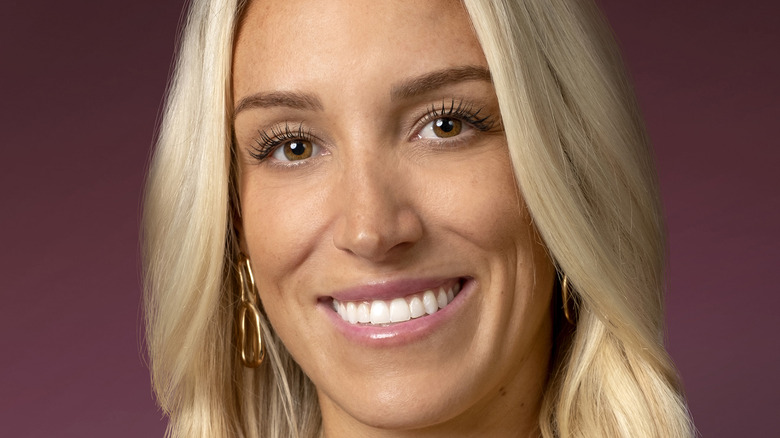 Wilford Harewood/FOX
FOX's new reality dating show "Joe Millionaire: For Richer or Poorer" is a fun twist on the 2003 show "Joe Millionaire." The 2022 reboot started with 18 women and two men, Kurt Sowers and Steven McBee. One of the two men is a multi-millionaire, but the women don't know who.
Amanda Pace is one of the 18 women competing on the dating show this season. Coming onto the show, Pace was more interested in seeing which of the men she hit it off with than who the millionaire was, especially because her mother revealed that Amanda already has millions to her own name. In a recent interview with The List, Pace shared what it was like trying to get to know someone while surrounded by cameras, what it was like dating with all the other women there, and some of the best and worst parts of dating on "Joe Millionaire."
The hardest parts of dating on Joe Millionaire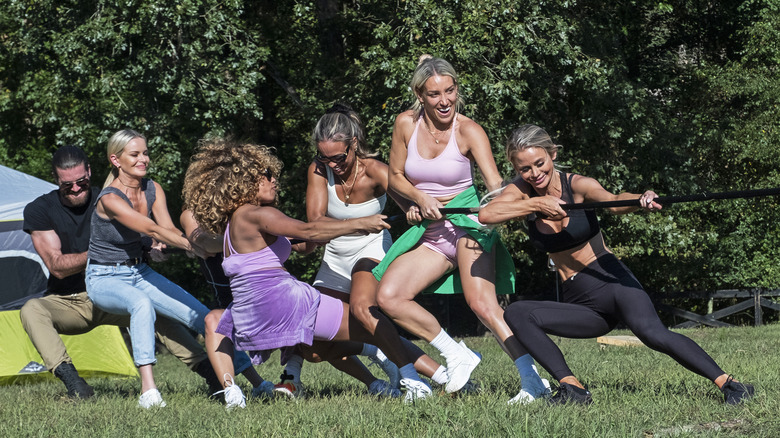 2022 FOX Media LLC. CR: Wilford Harewood/FOX.
Amanda Pace had never pictured herself on a dating show, but when she was approached about joining a new reality TV show, she decided to give it a try. As she put it, "I usually say yes to any experience that comes my way because I'm always like, 'It's meant to be.'" But, meant to be or not, going on "Joe Millionaire" was not without its challenges.
When the show started, Pace said, "It definitely was different than what I imagined. You get there, and there are a lot of moving parts, so many cameras, and a lot of downtime. My anxiety was definitely through the roof when I arrived because I had no idea what was going on." She added that all the cameras could make it difficult to be herself. "It's so hard because there are so many cameras around, so you're very ... You want to look perfect at all times ... But then you truly forget that the cameras are there, and you have fun with it."
Pace also struggled when there were 18 other girls competing on the show. It was hard to get enough time with Kurt or Steven, but she didn't want to get too pushy or act in a way that wasn't true to herself. "It's definitely a little hectic getting to know them because everyone's ... I'm not very aggressive. I hung in the back until it was my time," she said.
How she made connections on Joe Millionaire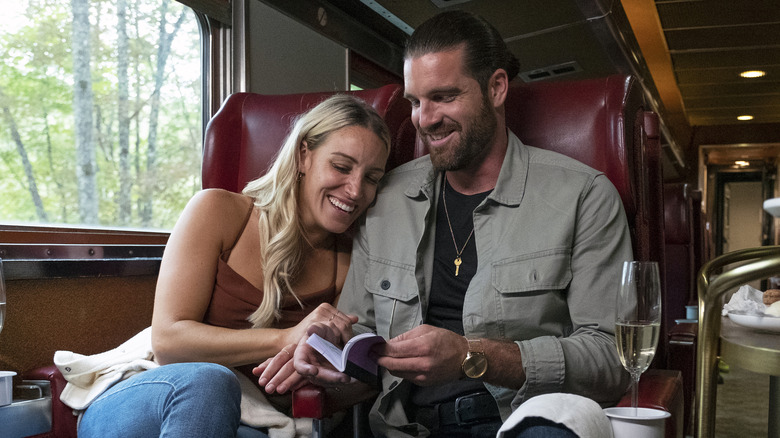 2022 FOX Media LLC. CR: Wilford Harewood/FOX
While there were challenges, Amanda Pace also said dating on a reality TV show made it easy to focus on the relationship. Without the distraction of her phone, social media, or friends to bounce her thoughts off of, Pace said she was left with "raw and real feelings." Those raw feelings made it easier to get to know Kurt and Steven, so it didn't take her long to develop a romantic connection with Kurt. "[Steven and I] felt more like a brother-sister relationship as time went on, and it was like, 'Oh, you're such a sweetheart,' but then, me and Kurt were forming a deeper connection," Pace said. As the season progressed, she got more one-on-one time with Kurt and was able to go on several romantic dates in a short period of time. "They call it dating in a microwave because everything's removed and everything's heated up," she explained.
Possibly Pace's secret to forming a strong connection with Kurt was not treating the show like a competition. She said some of the girls came to win, but she didn't want to chase or compete for someone's attention. Instead, she told herself, "If it's meant to be, I'll attract it naturally." She added later, "As far as the show's going right now, it seems like it's pretty on track to stay true to yourself, and what's meant for you will come."
"Joe Millionaire: For Richer or Poorer" airs Thursdays on FOX at 8/7c.