What Bridgerton Star Nicola Coughlan Did Before Becoming Famous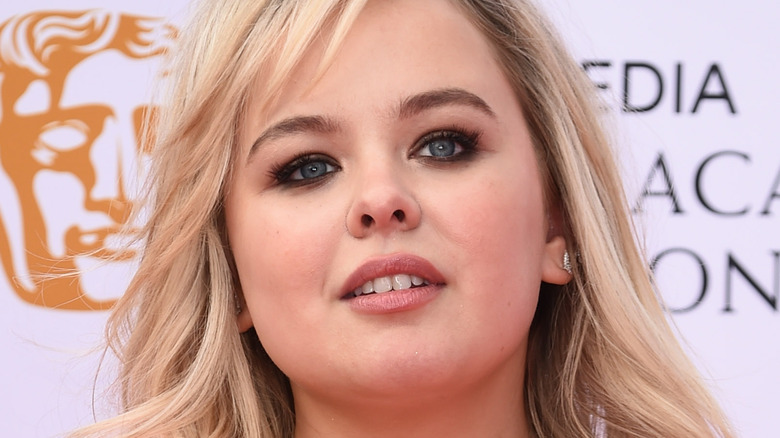 Featureflash Photo Agency/Shutterstock
When "Bridgerton" came to Netflix on Christmas Day in 2020, NBC News reported that it broke records and became the platform's most-watched series at the time. In fact, it was so popular that "Bridgerton" has already been renewed for Seasons 3 and 4 (and Season 2 hasn't even aired yet)! "More #Bridgerton love coming to this room soon! Renewed for Seasons 3 AND 4," showrunner Chris Van Dusen tweeted on April 2021. "I've poured every ounce of myself into creating this show and the way the world continues to embrace continues to AMAZE ME," he added.
Among the fan-favorite characters to emerge from Season 1 was Penelope Featherington, who was brought to life by actor Nicola Coughlan. Without giving away any spoilers, the finale of "Bridgerton" Season 1 revealed a huge secret about her character, and Coughlan teased the repercussions of that to Radio Times in October 2021. "The final moments of the series was definitely a peek into [Penelope's] life. I think in series two you kind of see how the sausage gets made and all that's happening," she said. "Bridgerton" has been a major step forward towards establishing the Irish star in a U.S. market, which begs the question — what did Coughlan get up to before filming the hit show?
Nicola Coughlan went nearly a year without auditions
Prior to finding success on "Bridgerton," Nicola Coughlan told The Guardian that she once didn't score any auditions for nearly a year, and that her bank account reflected her lack of prospects. During this time, she began working twice a week at an optician's office. But despite her "normal job," Coughlan never gave up her dream of making it big as an actor.  "I had these grand notions that I wanted to go off and be an actor," she shared with The Guardian. "I was always roping my friends into making my own movies and plays." Her belief paid off, and she quit her optician's job after a year and a half, when she scored the role of Jess in the play "Jess and Joe Forever." From there, Coughlan went on to become Penelope Featherington. "Literally, I was working part-time in an optician's five years ago ... I feel like I'm a competition winner. Like — how did I end up here?" she told The Guardian.
Coughlan did have other roles prior to her time in the optician's office. Per IMDb, she worked on "The Fairytales" between 2003 and 2005, portrayed Hannah Dalton in "Harlots," and landed the role of Clare Devlin on "Derry Girls." Undoubtedly, "Bridgerton" is her biggest mainstream hit. While Business Insider reports that "Squid Game" has since passed "Bridgerton" on the list of Netflix's top shows, viewers are counting down the days until Season 2 premieres on March 25.