Helen Mirren's SAG Acceptance Speech Is Raising Eyebrows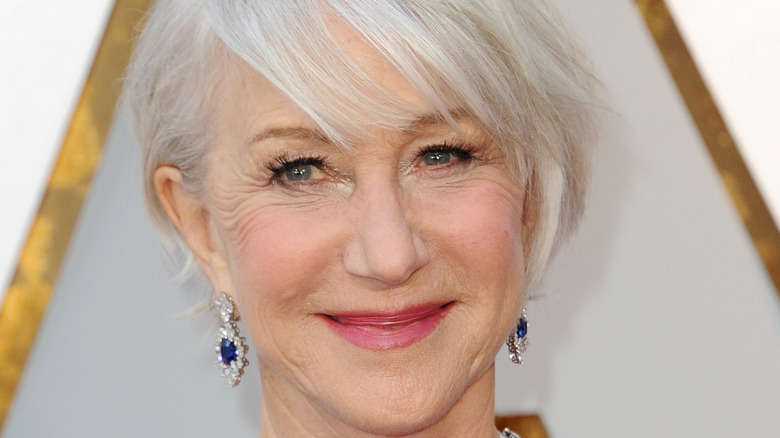 Tinseltown/Shutterstock
There are few actors who have the range or longevity of Dame Helen Mirren. The actress has appeared in everything from prestige dramas — playing Queen Elizabeth I and Queen Elizabeth II – to the "Fast and the Furious" franchise. She's even made an appearance on "Glee."
Mirren, however, isn't one for nostalgia. "I never keep any programs. I have no posters of myself up in my house. I just about keep my original working script. And even that, I lose, or give away, or something. I'm not one for keeping mementos of anything, honestly," she told Entertainment Weekly.
That being said, in advance of receiving this year's SAG Lifetime Achievement Award, Mirren agreed to look back on some of the highlights of her career, what drew her to certain roles — and why she's played a queen so many times. "I love a costume drama, I love costumes, I love getting fitted for costumes—when I see other actresses playing in costume dramas, I get jealous," Mirren said of her decision to star in 1994's "The Madness of King George," adding that "it's nice playing a queen because you always get great costumes."
As for how Mirren wound up on "Glee," her answer was simple: "I think a lot of my lovely gigs like that come from people thinking, 'Who's the most absurd person we could think of to do this?"
Honoring Mirren at the SAG Awards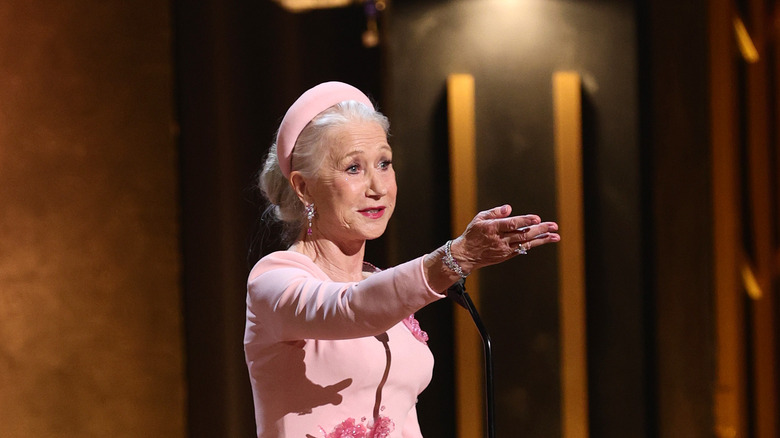 Dimitrios Kambouris/Getty Images
On Sunday, following introductions from fellow British actresses Kate Winslet and Cate Blanchett and a montage of all of her many roles over the years, Dame Helen Mirren accepted the SAG Lifetime Achievement Award. And, of course, she did it in the most Mirren way possible, with an acceptance speech that was equal parts inspirational, humble, and funny.
"Lifetime achievement, sounds so grand," the 79-year-old said, addressing the evening's attendees (via E! News). "I suppose I'm still alive, so by that measure, I'm eligible. But honestly, any achievement that I've succeeded in is the result of my mantra, which is basically, 'Be on time and don't be an ass.'"
Mirren then went on to joke about how, despite how glamorous they may seem, actors, truly, are just like us.
"I get really p–sed off when I read or hear about actors being maligned as a group?" Mirren asked. "That lazy and false assumption of vanity when in my experience, which by now is considerable, the opposite is true...Together, we laugh, we weep, we worry, we change clothes, we throw up and we suffer diarrhea. Don't you? I mean, I do." The audience laughed, even if they were not expecting to hear the words "throw up" and "diarrhea" out of Dame Helen Mirren's mouth.
Mirren then went on to dedicate her award to her fellow thespians. "You're a magnificent tribe stretching across culture, history and time," she concluded. "This is for the actors."