Donald Trump Jr.'s Latest Speech Has People Confused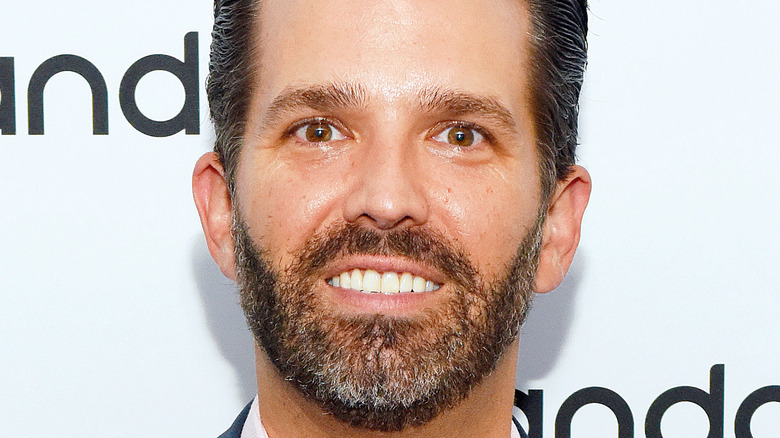 Bonnie Biess/Getty Images
Over the weekend, the annual Conservative Political Action Conference (CPAC) took place over the course of four days in Orlando, Florida. Though other conservative politicians took the stage at the four-day conference, former President Donald Trump proved that he was still one of the most popular conservative figureheads in American politics. Though the former president has yet to confirm whether or not he will be throwing his hat back in the ring for the 2024 presidential election, Trump did heavily hint at his desire to run again during a speech he gave at CPAC. "They're [Democrats] going to find out the hard way, starting on November 8 and then even more so on November 2024. They will find out like never before. We did it twice, and we'll do it again. We're going to be doing it again, a third time," Trump said in a speech at the event per Newsweek.
Trump, who has repeatedly praised Russian President Vladimir Putin in the days since Russia invaded Ukraine, calling the leader a "genius" and "savvy," also spoke somewhat positively of Putin during his speech at CPAC, per CNN. "He's a brave man, he's hanging in," Trump said of Ukrainian President Volodymyr Zelenskyy during his CPAC speech, according to CNN. "The problem is not that Putin is smart, which, of course, he's smart. The problem is that our leaders are dumb ... and so far, allowed him to get away with this travesty and assault on humanity."
Trump's son and namesake, Donald Trump Jr., also made some eyebrow-raising comments at CPAC. 
Donald Trump Jr.'s rambling speech about drugs at the CPAC was a bit confusing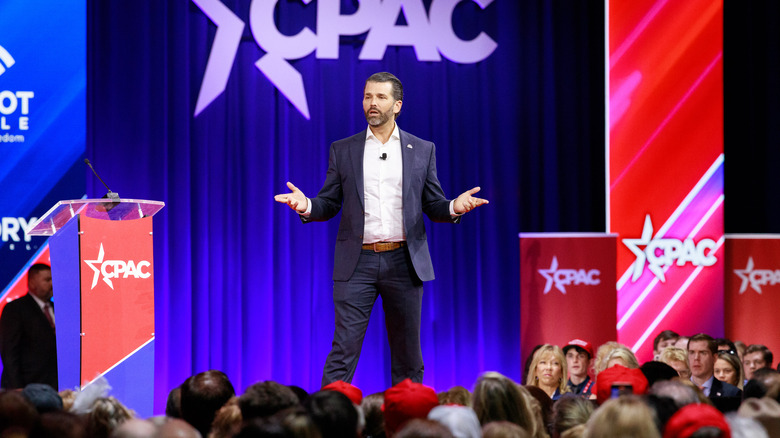 Bloomberg/Getty Images
On Sunday, Donald Trump Jr. gave the final speech at the conference. At one point in his speech, which many publications have called "rambling," Trump Jr. made a strange comment about drugs. "Crack's not really my thing, but it would be fine if I was on that [Democratic] side," Trump Jr. said during his speech, per the Independent. According to the publication, Trump Jr. was referencing a false claim that the Biden administration was providing crack pipes in their federal grant program designed to decrease the number of drug overdose deaths, per ABC 10.
"Think about how things are going right now. That the administration that currently is in charge wanted to put together a program to hand out crack pipes. Because you'd have to be on crack to think that they're doing a good job, right? At least they've got a program Hunter could be in charge of," Trump Jr. said, per the Daily Mail, referencing President Joe Biden's son, Hunter Biden, who has struggled with drug addiction throughout his life.
Trump Jr., who served as a senior advisor to his father during his presidency, also criticized the Biden administration's response to the conflict between Ukraine and Russia and joked that the older Democratic politicians had invested in Depends adult diapers amid the conflict.
If you or anyone you know is struggling with addiction issues, help is available. Visit the Substance Abuse and Mental Health Services Administration website or contact SAMHSA's National Helpline at 1-800-662-HELP (4357).