Barre Vs. Pilates: What's The Difference?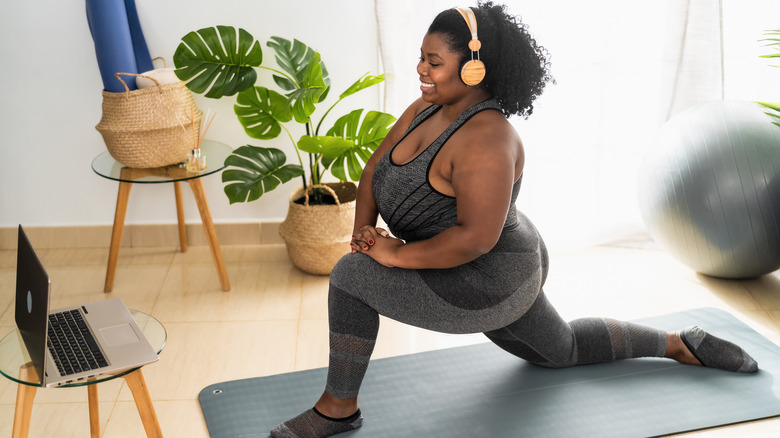 AlessandroBiascioli/Shutterstock
When gyms and studios shut down in 2020 due to pandemic precautions, working out from home became necessary to stay in shape — and also stay sane. Even as facilities open back up, many have gotten accustomed to exercising from the comforts of home. 
Two excellent ways to break a sweat without having to leave your living room are Pilates and barre. Both can be performed at any fitness level and require little to no equipment. The methods focus equally on flexibility and strength, two things that will relieve and prevent common work-from-home desk pains.
However, there are distinct differences between the fitness methods that may influence which you'd enjoy more. According to Peloton barre instructor Hannah Corbin, barre "focuses on small, isometric movements that are based in ballet." Pilates, on the other hand, is defined by the Pilates Foundation as "a holistic exercise system designed to elongate, strengthen and restore the body to balance; so much more than just building a 'strong core' or 'perfect posture.'"
Whether you're looking to advance your at-home workout or you're ready to try a new class at your local studio, we've laid out the differences between Pilates and barre so you can go into your next workout with confidence.
What is barre?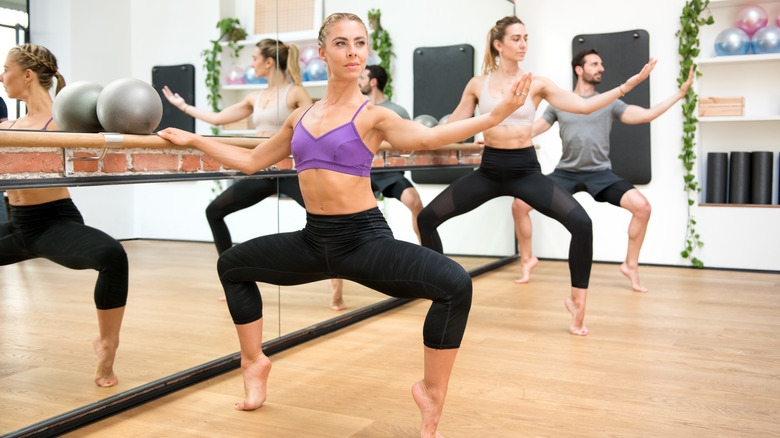 Photology1971/Shutterstock
Barre is a popular low-impact method of fitness created in 1959 by European dancer Lotte Berk. According to Peloton barre instructor Ally Love, "Barre is a modality that was created from dance and ballet. It's a combination of big movements followed by shortened movements, isometric holds, and pulses." Barre workouts consist of ballet-inspired movements like squat pulses, pliés, and other exercises that individually target specific areas of the body, "including the arms, legs, glutes, and core," says Women's Health. 
These exercises are performed to the point of muscle fatigue to create "a full-body, muscle endurance workout." The barre devotee understands that this workout ignites a burn. And just like you'll find in ballet, a key aspect to barre is in maintaining impeccable posture throughout the moves. Women's Health also notes that stretching is a key barre component which helps to "increase overall flexibility."
The great thing about barre is you can do it just about anywhere. You can easily jump into a workout with just the back of a chair and two soda cans as weights. The exercises use bodyweight resistance to train the entire body, says Kate Grove, a master trainer at The Bar Method (via The/Thirty). But you'll really start noticing toned back, shoulder, and arm muscles if you use 2–3 pound weights during the exercises, Grove adds. So although barre is low impact, it has moments of high intensity that will undoubtedly make you sweat.
What is pilates?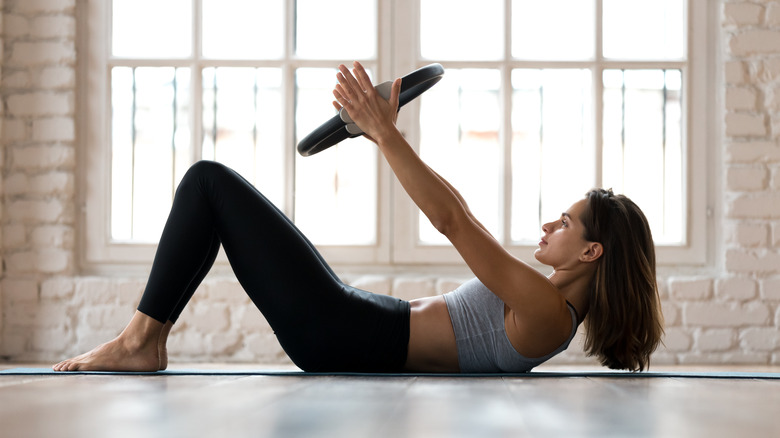 fizkes/Shutterstock
Pilates is a low-impact, full-body workout where every movement originates from your core. Just like barre, you'll see stretching and strengthening, but with a "mind/body approach" that combines deep breathing with intentional movements that balance the musculoskeletal system (via Pilates Denver Studio). Sonja Herbert, a Pilates instructor and founder of Black Girl Pilates, tells SELF that Pilates "will help you do everything better," adding, "It strengthens and stabilizes your core body, which is your foundation, so that you can move efficiently while improving your posture, flexibility, and mobility." So whether it's for taking care of kids or running marathons, anyone can benefit from adding Pilates to their routines.
For some context, Pilates originated in the 1920s when German-born fitness expert Joseph Pilates sought to rehabilitate injured patients through strength and conditioning exercises (via Pilates Foundation). The original exercises were performed on various machines invented by Pilates, but today, you also have the option of trying pilates mat classes, which emulate the moves you'd do on the machine. Regardless of your preferred Pilates method, you'll be doing core-focused, sculpting exercises using resistance bands, exercise balls, and the Pilates ring. However, you can certainly find plenty of workouts on YouTube that don't require any equipment.
Pilates is an excellent method of exercise to take up if you're recovering from injury or just looking to reduce daily aches and pains. It can also be a great complement to your preferred sport or cardio activities.