What To Expect During Your First Barre Class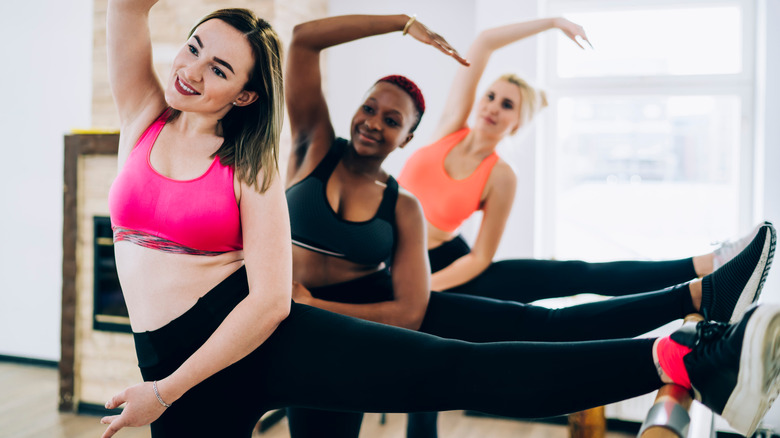 GaudiLab/Shutterstock
Barre is an activity you've probably seen listed at your gym as it's on trend right now, but it can seem frightening if you aren't sure exactly what it involves. It gets its name from the ballet barre used throughout many of the moves, and it incorporates dance, yoga, Pilates and strength training (via Cosmopolitan). Per Marie Claire, it was actually created by ballerina Lotte Berk, who injured her back and realized she could incorporate her barre into rehabilitation.
While it might seem a little more out of your comfort zone than a standard yoga or spin class, it could be worth branching out. Katelyn DiGiorgio, the VP of training and technique at Pure Barre told Women's Health that it can help "strengthen your body in ways that few other workouts can." Per the outlet, DiGiorgio also noted that the "full-body workout also develops agility and flexibility."
Here's what you need to know if you're ready to head to the barre.
Preparing for your first barre class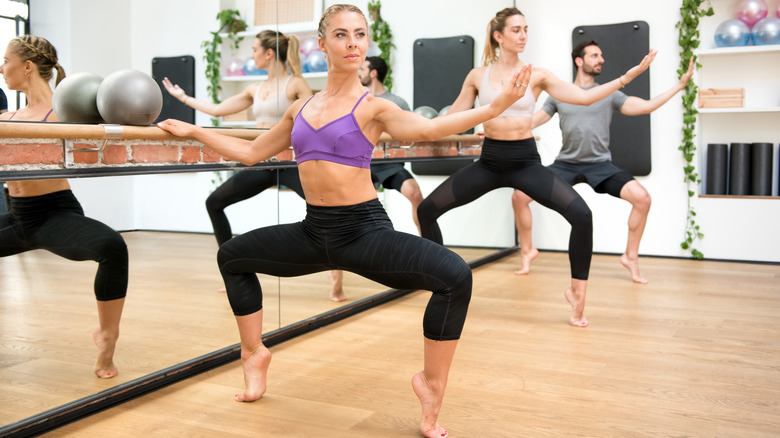 Photology1971/Shutterstock
If you're convinced a barre class might be something you could enjoy, book your first session and prepare yourself. One of the best things about barre is that it doesn't involve lots of equipment. According to Healthline, you should wear comfortable workout clothes, and you don't need to wear shoes — either bare feet or socks are best. Highlighting the things that she wishes she had known before her first barre class, Everyday Health contributor Ariana Marini explained that some studios prefer you to wear socks with grips on the bottom because of the possibility of slipping in normal socks. With that in mind, it might be a good idea to check with your local studio first.
Marini also recommended reading up on some of the terminology, especially if there will be other people in the class with a bit more experience. She also suggested learning what it means to "tuck," as it is one of the key concepts of barre. "The best way to explain the tuck is a pelvic tilt," Hollis Morris, a Pure Barre instructor and studio manager, told Marini. "Your pelvis tilts forward, your abdominals draw in, and your lower back tucks under. You're shortening the distance between your two hip bones and your rib cage."
What happens during your first barre class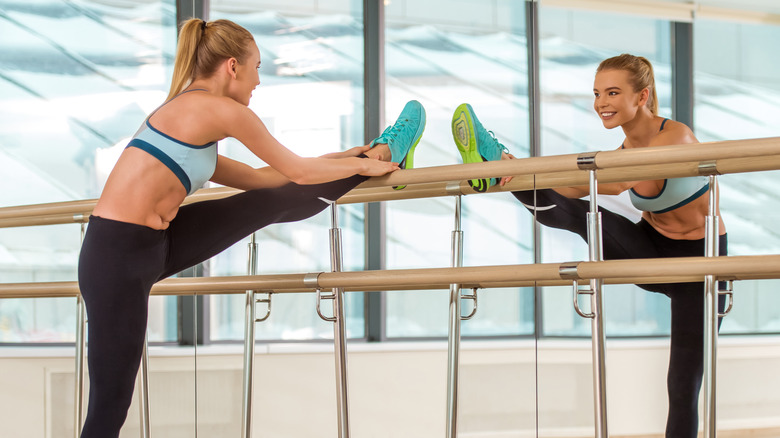 VGstockstudio/Shutterstock
Now that you've pulled out your best leggings and read up on "the tuck," it's time to get started with your first class. You're unlikely to master everything straight away, so take your time and don't be discouraged. The first thing you need to do is a warm-up exercise to help to prevent any injuries, particularly to the chest, triceps, biceps and back muscles. According to Shape, this will include a sequence of upper-body exercises, including free weights, push-ups and planks.
You'll then move to using the barre and your body weight while working through a series of moves, led by the instructor. You might notice your body shaking during the class but don't be alarmed –- it's perfectly normal (via Women's Health). Finally, per Shape, you'll finish with cool-down exercises, focusing on stretches to help your muscles to recover. 
If you want to get more practice for your next class, there are lots of barre workouts available online that you can try at home using a chair.